15 April, 2013
Stir Fried Long Beans – Achinga Payar Mezhukkupuratti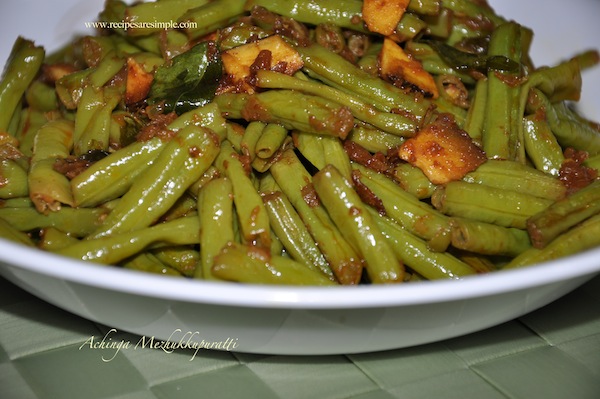 Stir Fried Long Beans – Achinga Payar Mezhukkupuratti
Long Beans, String Beans, Yard Long Beans, Achinga Payar – Whatever you call them.
This is a delicious Kerala method of preparing them. The trick to perfection is to cook them till they are crisp but tender without loosing their color and turning greyish. The sautéed onion with turmeric and bits of coconut are keys to the wonderful flavor.
Stir Fried Long Beans – Achinga Payar Mezhukkupuratti



Ingredients:
½ kg Long Beans, cut into 4.5 cm/1.5 " long pieces (For the tougher long beans, slit them open and use only the seeds).
1 large onion, finely chopped
2 green chillies, slit
6 curry leaves
3 – 4 Tbsp coconut oil
¼ turmeric
1 – 1½ tsp *chilli powder

( * only the hot variety and not kashmir chilly powder – it enhances the flavor and since the amount used is less it will not be spicy)

2 Tbsp Slivered Coconut 'Thenga Kothu'
salt to taste
Method:
Heat coconut oil in a heavy bottomed wok.
Add onion and saute till soft.
Add curry leaves and green chilly.
Saute just until the onions begin to turn brown.
Add turmeric and chilly powder and stir for a few seconds or till aromatic.
Add beans and salt and stir till well combined with the golden onion.
Add just a splash of water. Cover and cook on low for 2 minutes.
Open, stir well. Cover again and cook for another 2 minutes.
Repeat till the beans are tender. Add the coconut pieces and increase the heat for the last minute.(or you can add  them after roasting separately in a tsp of coconut oil)
Test for salt and Remove to a serving dish as they may turn too soft if left in the hot wok.
Did you enjoy our Stir Fried Long Beans – Achinga Payar Mezhukkupuratti?
You May Also Like :
Mildly Spiced, Slow Fried Chinese Potatoes – Koorka Mezhukkupuratti , Banana Flower Stir-Fry (Kodappan / Vazhapoo Thoran)