7 February, 2015
Spinach Pakora 50/50 – Palak Pakora – Indian Spinach Fritters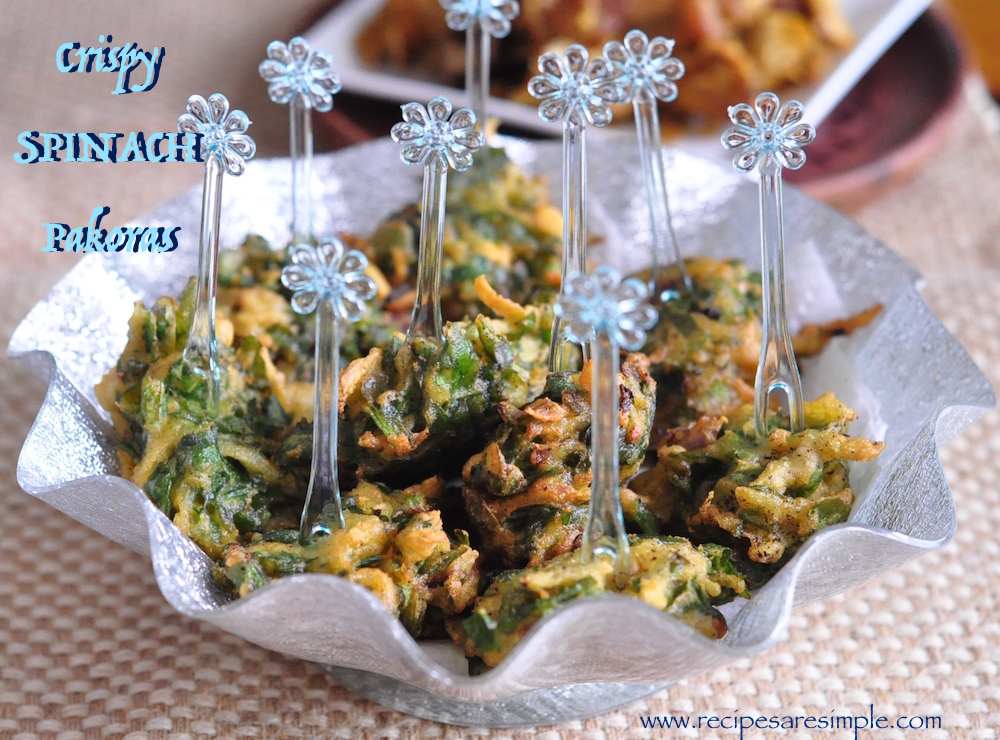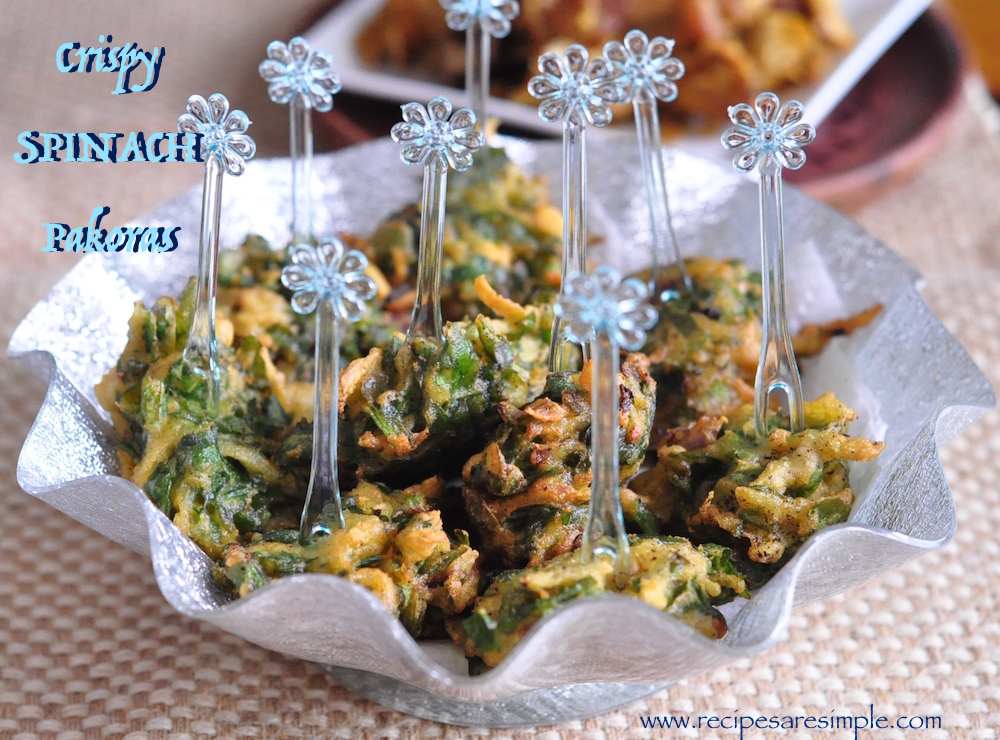 Spinach Pakora 50/50
This is my version of Palak Pakora aka Spinach Pakora.  Pretty Awesomely Simple! Finely chopped Indian Spinach (Palak) is combined with a few other ingredients in a chick pea based batter  and fried till golden and cooked through. Serve hot at tea time! Curious about the name? I call them Spinach Pakora 50/50 because they are 50 percent healthy, thanks to the spinach and 50 percent not so healthy, by way of the frying! The end result is nonetheless Tasty!



 

Recipe Name: Spinach Pakora 50/50 – Palak Pakora – Indian Spinach Fritters

Recipe Type: Snacks / Vegetarian

Author: Shana c/o Recipes 'R' Simple

Yield: 1 plate (20 pakoras)
You are here: Home > Vegetarian  > Spinach Pakora
Spinach Pakora 50/50 – Palak Pakora – Indian Spinach Fritters
Ingredients:
200 gms palak (indian green spinach)
1 medium sized potato, grated
1 medium purple onion, diced finely
2 Tbsp finely minced green chili (seeded)
½ cup chick pea flour (besan)
¹⁄3 cup plain flour
¼ cup cornflour
2 cloves garlic
1 " piece ginger
½ tsp chilli powder
¼ tsp cumin powder
¹⁄8 tsp baking soda
¾ – 1 tsp salt ( according to taste)
Oil for frying
Method:
Rinse the Spinach thoroughly. Chop finely.
Grate the peeled potato, using the medium holes on your grater.

(Not finely grated).

 Crush the green chili, garlic and ginger together to make a course paste.
Add all the ingredients to a bowl.
Add upto ¾ cup water, a little at a time till you can a nice smooth batter, that is not too thick but not runny either.
Heat oil in a small wok / kadai.
Using your hands scoop up little bits of batter, allowing excess to drip back into the bowl through your fingers. Immediately lower into the hot oil. Do not disturb for a few seconds.
Fry on a medium heat so that the outside does not brown before the inside gets cooked.
Once golden flip over gently, and allow the second side to get golden and crisp as well.
Fry 2- 3 at a time so that they do not stick to each other.
Drain. Serve hot with Tea!
Spinach Pakora 50/50
You can also bake these pakoras. In order to do so, reduce the quantity of water in the batter so that you can scoop out Tablespoonfuls on to a baking tray lined with wax paper. Bake in a  180° c (preheated) oven  for about 20 minutes. Oven temperatures may vary. Check if done.
Key Ingredients: Spinach, Potato, Onion, Garlic, Green Chilli, Spices, Oil, Salt
Let us know if you tried it – Spinach Pakora 50/50. Comments from you provide motivation to keep up the driving force behind this blog, bringing you more delicious and perfected recipes regularly. Please do leave a comment. We love to hear from you.