21 October, 2016
Spicy Grilled Baby Corn on a Stick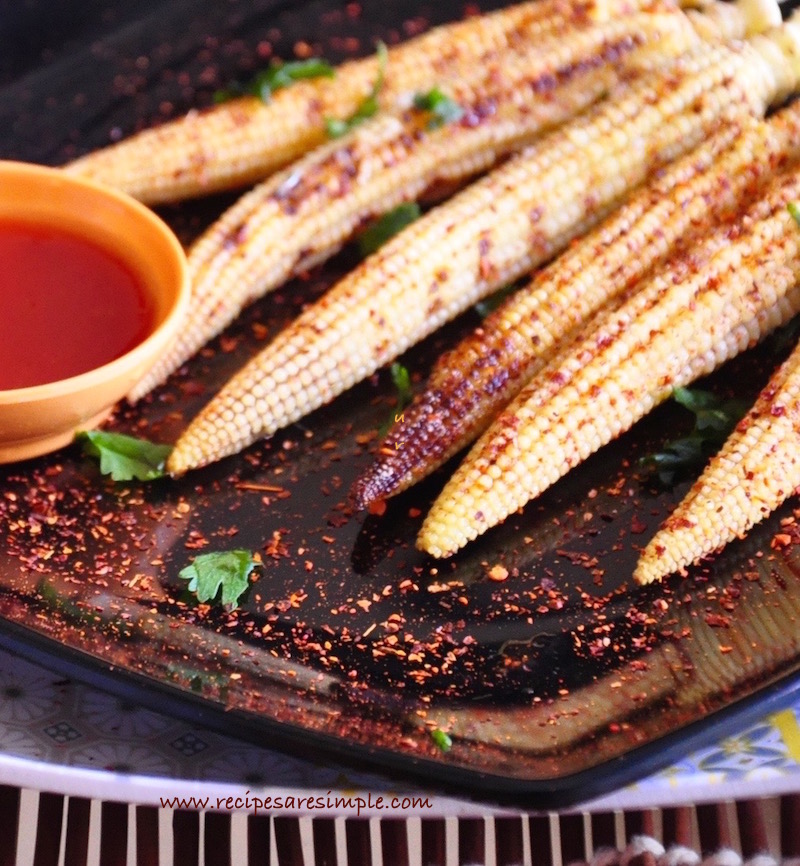 Spicy Grilled Baby Corn
My daughter often wanders into the kitchen, proclaiming she is hungry and that I must fix her something yummy to eat. Three meals a day is hard enough, it's not possible to give the kids cooked, tasty snacks everyday.. usually our tea time, is biscuits and Milo for the kids.  Naureen helped herself to the baby corn I was using for a salad. "Hmm, this is nice – maybe we could make something spicy with these and some lemon!", she giggled. She didn't think I would let her take the ingredients, I had intended for our salad. I thought it was actually a pretty good idea , so we ended up making these Quick, Tangy, Spicy Grilled Baby Corn Skewers!
I also skipped the 'grilling' part and simply seasoned some of the corn… kids liked that too!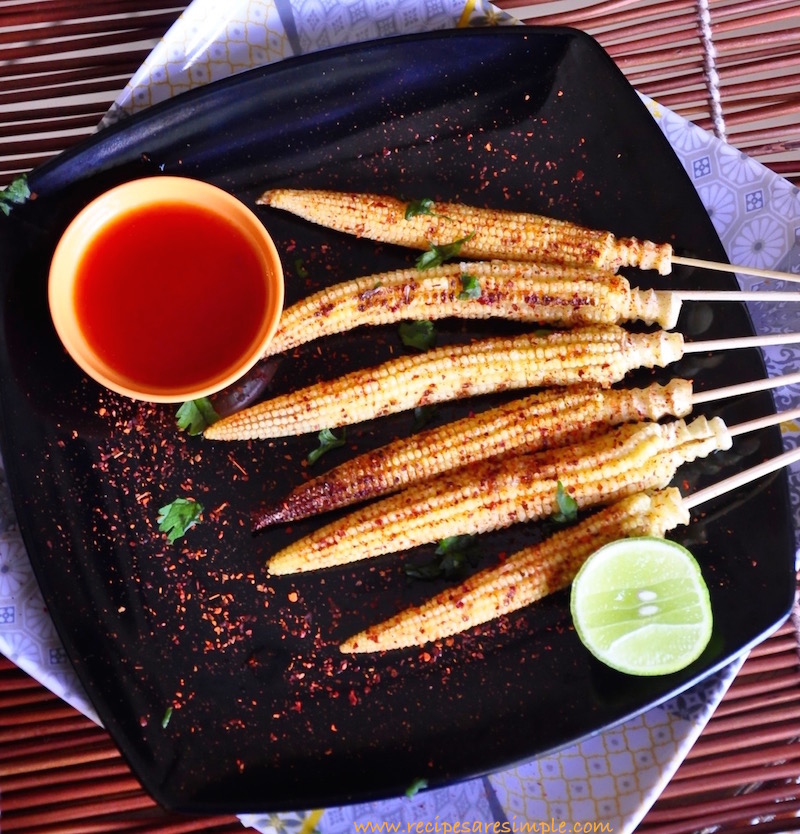 Spicy Grilled Baby Corn
You are here: Home > Snacks / Grills  > Spicy Grilled Baby Corn
 

Recipe Name: Spicy Grilled Baby Corn

Author: Shana c/o Recipes 'R' Simple
Ingredients:
12 baby corns
2 tsp mild and fine chilli flakes
1 small lime
1 Tbsp oil
salt to taste
Method:
Rinse and pat dry the baby corns. Use skewers to thread them if desired.
Smear a grill pan with very little oil, using a kitchen paper towel.
Heat the pan and grill the corn for a maximum of  2 minutes, getting all the sides slightly charred. Do not over grill them. (Fresh baby corn can be used too – no grilling or oil needed)
Slice the lime and rub the juice and zest directly onto the corn, without over doing it.
Sprinkle lightly with salt and  generously with the chilli flakes.  Task Complete. Happy Kids. Happy Mom! I think I will make a batch for my husband now 🙂
I must add, I have made these a few times already and even my friends who claimed they didn't like baby corn, ended up taking to these skewers rather fondly!
Spicy Grilled Baby Corn
Of course, corn on the cob can be prepared the same!
Key Ingredients: Baby Corn, Lime, Chilli Flakes, Salt, Oil.
Leave a comment if you tried – Spicy Grilled Baby Corn.