29 March, 2014
Special Yang Chow Fried Rice – 'Yang Zhou Chao Fan' with Shrimp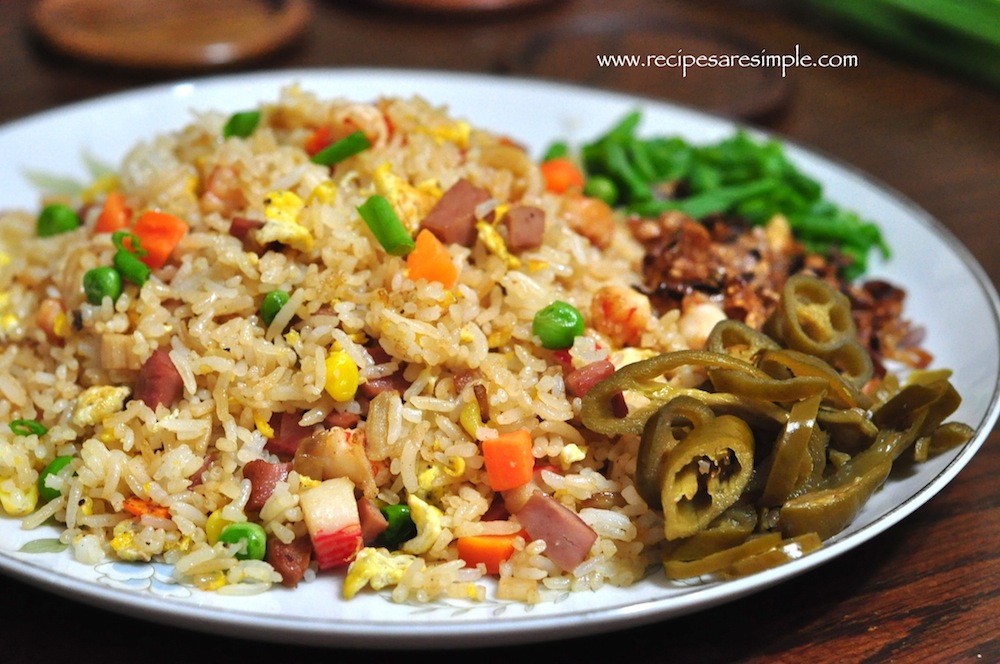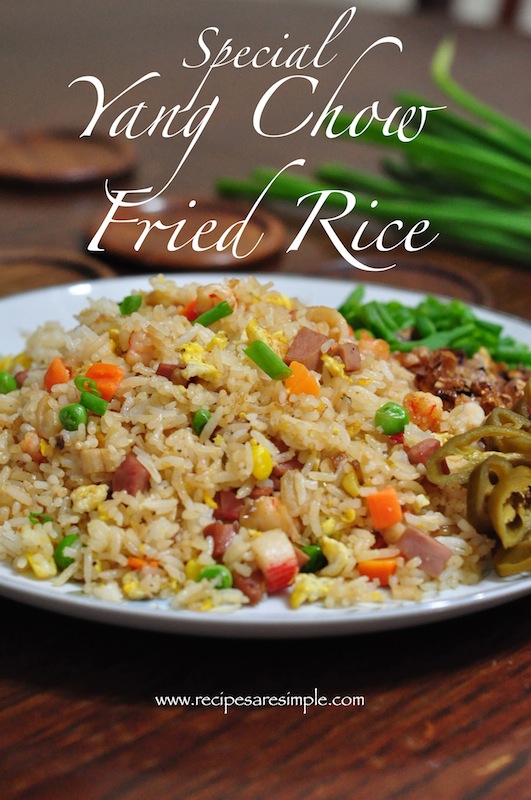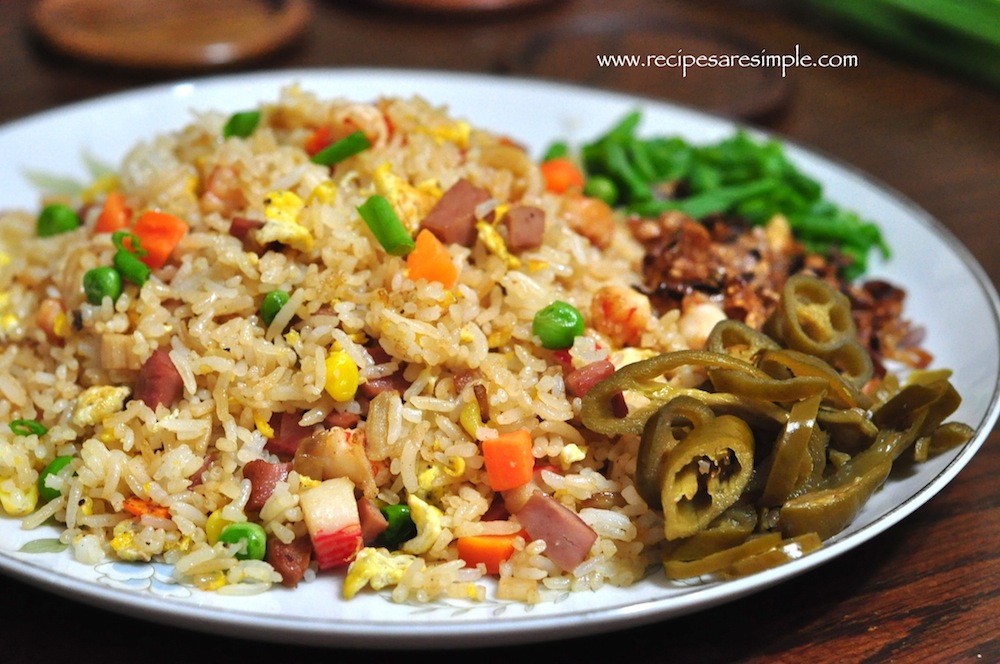 Special Yang Chow Fried Rice – 'Yang Zhou Chao Fan' with Shrimp
Yang Chow (Yeung Chow) Fried Rice is a speciality Chinese Wok Fried Rice that is popular in Asia and Western Countries as well.
Legend has it that the Emperor Yangdi of the Sui Dynasty, accompanied by General Yang Su visited the Jiangdu province, which is known as Yang Zhou now. The General is said to have loved 'Suijin Rice' – the classic Egg Fried Rice and introduced it to the chefs there. This 'original fried rice' was developed to make use of leftover rice to make a warm meal, thus preventing wastage of rice as well as turning out to be very tasty.
The Jianjgdu Chefs then reinvented it , adding all sorts of other ingredients. The addition of egg however is essential.
Some chefs will scramble the egg first and then set aside, to later introduce it into the fried rice mixture. Others will add the rice to the half scrambled egg and continue to fry the rice at high heat, tossing continuously so that each grain of rice is colored with egg.
Most Fried Rice dishes all over the world are spin offs of this 'original' Chinese dish!
This variety of Yang Chow Fried Rice is based on Shrimp as the main flavor factor, although it contains diced franfurters, egg and seafood sticks as well. It is extremely easy to prepare and gets a meal on the table on those overwhelming days, without too much effort.

Special Yang Chow Fried Rice – 'Yang Zhou Chao Fan' with Shrimp
Recipe Type: Rice / Chinese

Author: Recipes 'R' Simple

Prep time: 2

Cook time: 6

Total time: 

Serves: 4

Ingredients:
2 cups cooked rice.  You can use long grained rice or Thai /Jasmine Rice.
10-15 medium sized shrimp, peeled and deveined. (Reserve the shells to make a stock)
2 tsp light soya sauce and a few drops of asian sesame oil
a few drops of green pepper/ chili sauce
3 chicken sausages (Traditionally, "Lap Cheong" 臘腸 Chinese Sausage is used.).
3 seafood  sticks/ crab sticks (optional)
2-3 eggs
½ a Vidalia Onion OR Yellow Onion, diced
¾ cup frozen mixed vegetables

( this contains green peas, carrot and sweet corn)

2 tsp sea salt
pepper to taste
Vegetable oil or Peanut oil – 2- 4 Tbsp
For the Garnish: Do not skip this special garnish, it really  enhances this dish!
Spring onion greens
Pickled Green Chillies (Mild)
Shallots (fried)
Method:
Prep:
 The rice should be cooked tender but not overcooked.
Cook the rice in approximately 2 ¼  cups water in a rice cooker and leave in the fridge overnight for best results. If you are cooking the rice on the stove top you may need more water
Peel and devein the shrimp. Reserve the clean shells.
Cut each shrimp into 4-5 pieces.
Marinate the shrimp with the soya sauce and sesame oil while other ingredients are being prepared.
Bring a sauce pan with water to a boil.
Add the chicken frankfurters and cook for 1 minute. Remove and set aside.
Add the seafood sticks to the same boiling water for 1 minute. Remove and set aside.
Now add the frozen vegetables to the same water and cook for 30 seconds and remove.
Cut the frankfurters into small dices.
Cut the seafood sticks (optional) into small round slices.
Beat the eggs with a little salt and a good dash of pepper.
Make the stock:
Add 1 Tbsp oil to a small sauce pan and heat. Add the reserved shrimp shells and fry for 1-2 minutes till you get a nice  bright red color and a lovely aroma. Th oil will also turn reddish in color.
Add ½ cup of water and bring to a rolling boil.
Use a strainer to remove the shells  and set aside the strained stock.
Make the wok fried rice:
In a large wok (carbon steel preferred), add some oil and swirl around so that the sides are completely greased to begin with. Use only about 2 Tbsp oil.
Add the diced onion and stir fry till softened.
Add the marinated shrimp and stir fry till tender. This should only take 1-2 minutes.
Add a dash of green chilli / pepper sauce.
Once the shrimp is cooked tender, add the diced sausage/frankfurters and sliced seafood sticks(if using).
Now add just over half of the cooked rice to the wok and on high heat, toss the rice with all the ingredients well. Do this swiftly without breaking the rice. (If you are new to making fried rice, it is easier if you fluff up the rice thoroughly, separating the grains prior to frying the rice. With practice you can fluff up the rice as you cook.)
Add  a little over half the amount of salt specified, and toss through.
Pour the reserved shrimp stock over the rice. Continue to toss over high heat till the liquid is completely absorbed.
Remove this fried rice to a bowl.
Heat a Tbsp of oil again in the wiped wok.
Add the whisked egg and allow to set a bit.
Continue to scramble quickly and before the eggs harden ( ie.. still remain soft in texture /slightly wet), add the remaining rice and toss well. frying the rice with the egg, coating the grains with the golden egg and achieving a fluffy, glossy texture.
Add the mixed vegetables to this and remaining salt. Toss thoroughly.
Return the first batch of fried rice to this and mix it all together, tossing from the bottom of the wok, folding the rice over till it uniformly colored.
Fry the shallots in a small amount of oil, till golden crisp.
Serve this rice immediately garnished with the fried shallots, chopped spring onion greens and sliced pickled green chili. (This garnish makes this dish awesome. Please don't skip it!)
Special Yang Chow Fried Rice – 'Yang Zhou Chao Fan' with Shrimp
Try it and let us know – Special Yang Chow Fried Rice – 'Yang Zhou Chao Fan' with Shrimp .
If you are unable to cook the rice the previous day (recommended), cook the rice and spread it in a large tray and leave to cool thoroughly.
Do not use too much oil for fried rice, it will ruin the taste and texture.
It is important to serve this dish immediately. Reheating makes the fried rice smell very 'eggy'.
You could also prepare the first batch of fried rice (with shrimp,sausage etc) ahead of time, and make the egg fried rice just prior to serving and toss it all up together.
Instead of shrimp you could use diced chicken and omit the sausage.  The variations are endless. But this one is pretty darn good.