23 June, 2016
Spanish Style Omelette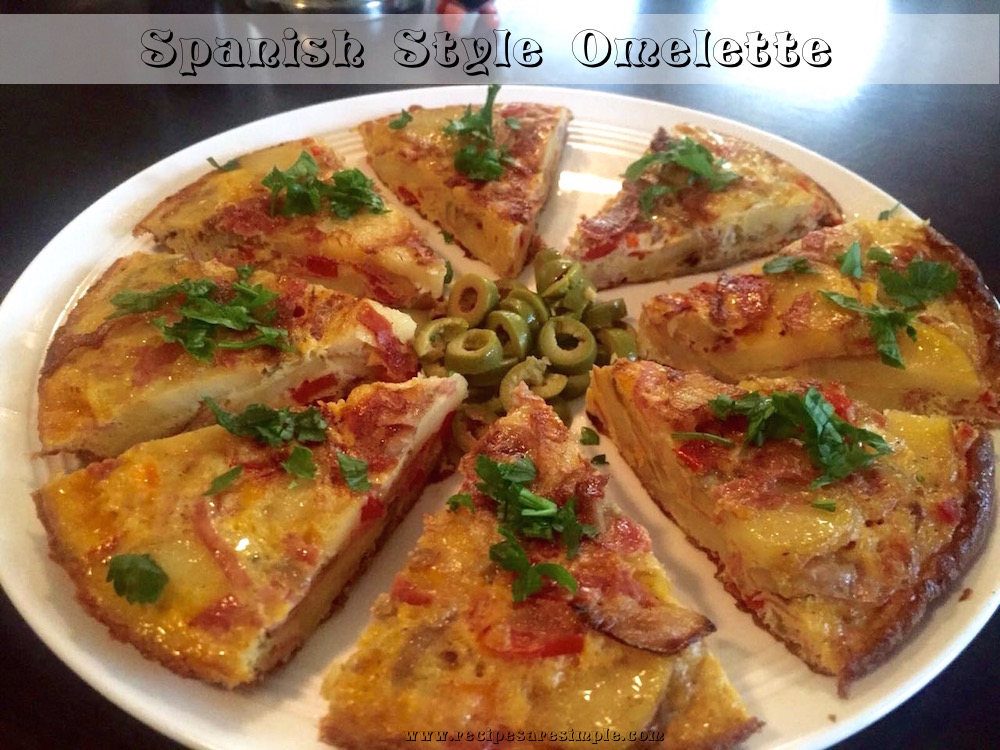 Spanish Style Omelette
A big thank you to my Niece, Aysha 🙂 for this delightful Spanish Style Omelette recipe. This recipe is a cross between a Spanish Omelette (Tortilla Española) and a Frittata. So what's the difference? An omelette is usually cooked from start to finish on the stove top and uses a good non-stick pan. Cooking a frittata, starts on the stove top and is finished up in the oven, so it is usually cooked in a cast iron pan or bake-ware.
The fillings for an omelette and frittata can be similar, but Fritatta's can contain extra toppings such as cooked meat, cheeses, vegetables and pasta. It resembles a crustless Quiche. The word 'Frittata' is Italian and roughly translates to "fried". A classic Spanish omelette contains just onions and potatos. In this recipe, we have combined the two to make this tasty and easy to make breakfast or brunch. Perfect, for when you are craving eggs and also need a hearty meal.
Spanish Style Omelette
You are here: Home > Breads & Breakfast > Spanish Style Omelette
Recipe Name: Spanish Style Omelette

Recipe Type: Breakfast / Eggs

Author: Aysha c/o Recipes 'R' Simple
Ingredients:
6 eggs
4 medium sized potatoes
1 large onion, thinly sliced
½ green bell pepper, diced
½ red bell pepper, diced
½ cup cooked chicken pieces
2 slices turkey bacon, chopped roughlyl
4 Tbsp chopped fresh parsley
Olive oil for frying
salt and pepper to taste
Method:
Peel the potatoes and cut into thin round slices.
Heat some olive oil in a pan and lightly fry the thin slices of potato till slightly golden. Drain on paper towels. Sprinkle a little salt and pepper to taste.
Sauté the sliced onion as well and set aside.
Beat the eggs lightly with a little salt and pepper in a large measuring cup/ bowl.
To this, add the diced peppers, cooked chicken, turkey bacon (if using), parsley, sautéed onion, fried potato.
Add salt and pepper to taste.
Heat sufficient oil in a large non stick pan (or cast iron pan – if you prefer to finish off the cooking in the oven).
Pour in the egg mixture. Distribute the ingredients gently if needed with a fork. Cook on low heat, (no stirring). About 5 minutes.
When the bottom has set and is ready to be flipped, gently flip by covering the pan with a heatproof plate and inverting the pan.
Grease the pan again lightly, cover the plate again and invert to continue cooking the other side, 2-5 minutes again.
OR – if transferring to the oven: transfer the cast iron pan to preheated oven (175 ºc /350ºF) on broiler setting and cook till the top has set).
Serve warm.
Spanish Style Omelette
Key Ingredients: Eggs, Potato, Bell Pepper, Onion, Olive Oil, Parsley, Salt, Pepper.
Leave a comment if you tried – Spanish Style Omelette.