31 May, 2015
Spanish Potatoes – Angry Potatoes – Patatas Bravas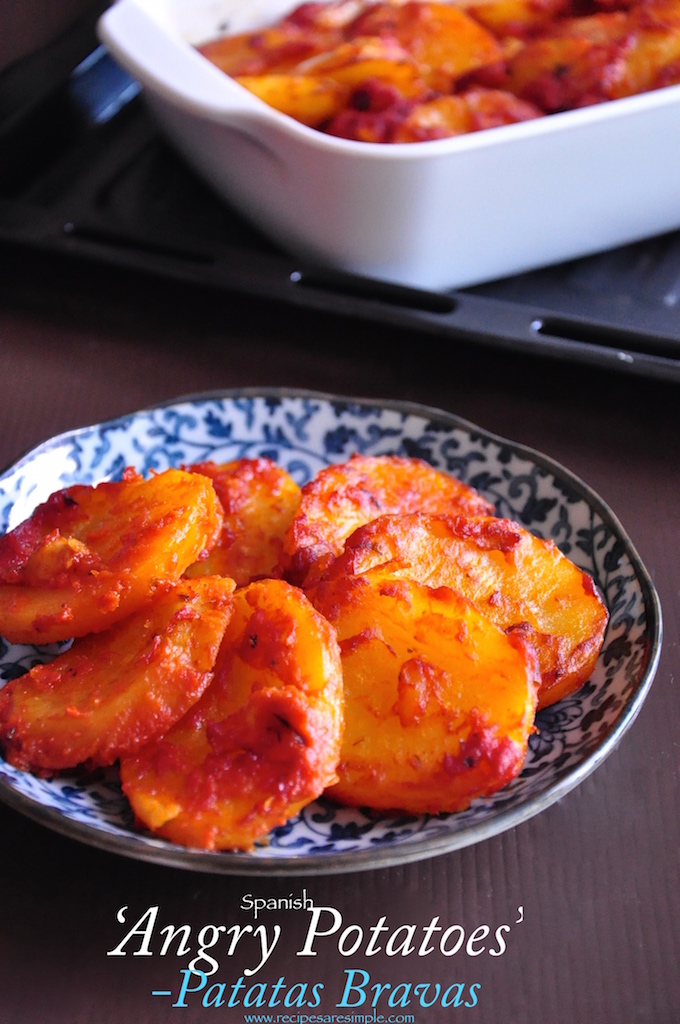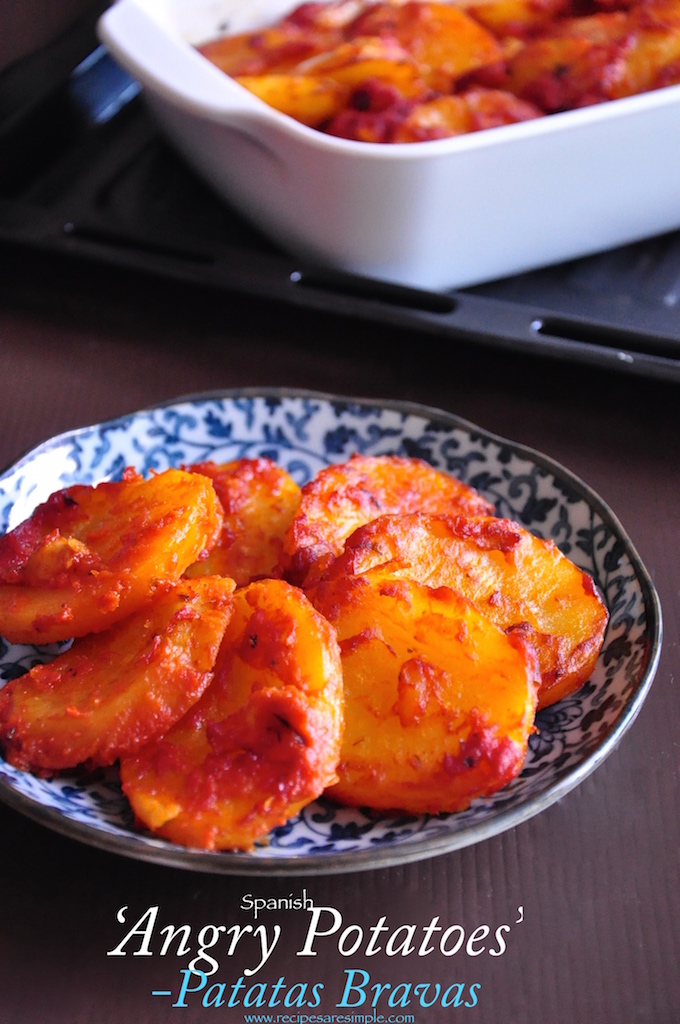 Spanish Potatoes – Angry Potatoes – Patatas Bravas
'Patatas Bravas' or 'Angry Potatoes' is a Spanish Potatoes dish. Popular in the Spanish 'Tapas' Menu.  Spiced with Pimentón (Spanish Smoked Paprika), garlic and tomato sauce, this is an appetizer enjoyed by all.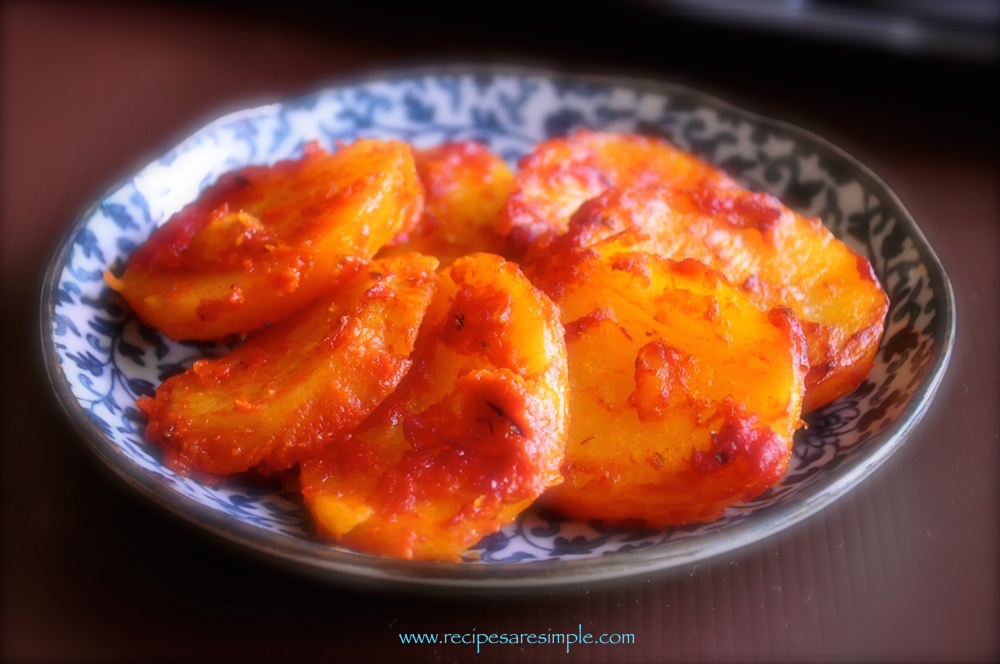 You are here: Home > Vegetarian > Spanish Potatoes
 

Recipe Name: Spanish Potatoes – Angry Potatoes – Patatas Bravas

Author: Shana c/o Recipes 'R' Simple
Spanish Potatoes – Angry Potatoes – Patatas Bravas
Ingredients:
5 medium sized potatoes – I use the lighter skinned variety

10 cloves garlic

1 cup tomato puree

1 tsp tomato paste

1 tsp or more Pimentón ( Spanish Smoked Paprika) – may be substituted with a mixture of cayenne and regular smoked paprika

1 tsp chilli flakes

½ tsp dried parsley

¾ tsp salt or to taste

Olive oil or Rice bran Oil for shallow frying
Method:
Preheat oven to 250°c / 480 F.
Peel and slice the potatoes.

May be sliced in cubes, circles or wedges, but make sure they are of even size.

Boil the potatoes briefly. 

T

his step is optional, to tenderize the potatoes. If boiled, lay the slices on cloth to absorb the water for 10-15 minutes.
Heat oil in a pan and shallow fry the potatoes in single layer batches.
Fry on both sides till just getting crisp and not fully fried.

(The potatoes should not be brown).

Remove the potatoes and discard excess oil.
Add the crushed garlic to the remaining oil. Fry till fragrant and light gold in color.
Add the smoked paprika and chill flakes. Stir fry for just 10 seconds.
Add the tomato puree and tomato paste.
Stir till the oil separates and the color changes to deep red.
Add salt to taste.
 Boil the sauce till it gets thicker.
Return the potatoes and toss to coat nicely with the sauce.
Add dried parsley.
Once the sauce thickly coats the potato, transfer to an oven proof dish in 1- 2 layers.
Place in bottom rack of oven for about 25-30 minutes till the crust is crisp and potatoes are cooked tender.

(Oven temperatures may vary so check after 20 minutes).
Spanish Potatoes – Angry Potatoes – Patatas Bravas
Instead of shallow frying, you may also drizzle the  half boiled potatoes with olive oil and roast in the oven. Roast for 25-30 minutes, till half tender. Prepare the sauce on the stove top and add the oven roasted potatoes to this. Then continue with the recipe, returning the potatoes to the oven to complete cooking.
You can make your own tomato puree by boiling two tomatoes, till he skin peels off. Drain for 10 minutes. Puree without water and then strainthrough cloth or fine mesh.
Tomato paste is available in small cans or tubes and is a thick paste (concentrate). Not to be confused with tomato sauce or puree.
Key Ingredients: Potatoes, Tomato Puree, Tomato Paste, Pimentón (Spanish Smoked Paprika), CHilli flakes, garlic, Oil, Salt
Let us know if you tried it – Spanish Potatoes – Angry Potatoes – Patatas Bravas . Comments from you provide motivation to keep up the driving force behind this blog, bringing you more delicious and perfected recipes regularly. Please do leave a comment. We love to hear from you.