17 February, 2016
Spaghetti Alla Puttanesca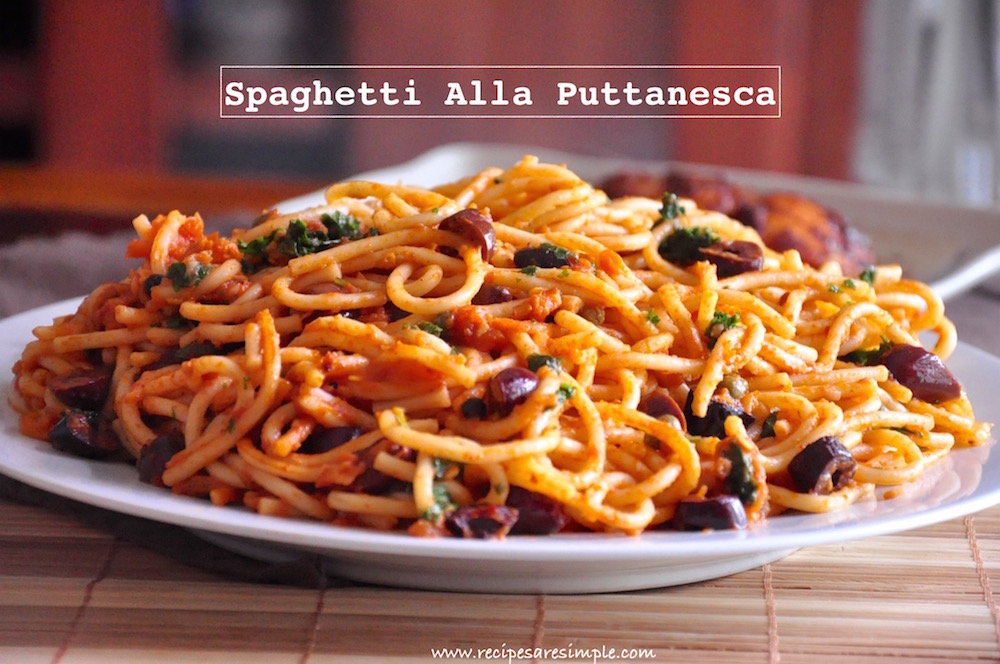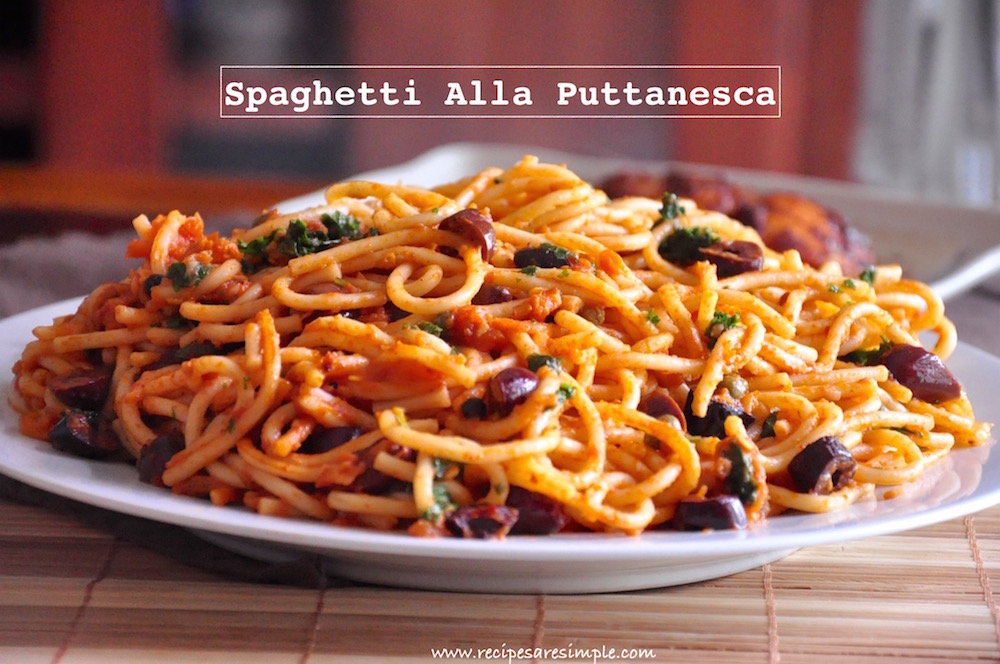 Spaghetti Alla Puttanesca
Spaghetti Alla Puttanesca is very quick pasta dish to prepare when you are desperate for time, but still want something  a little tangy, salty and savory. The typical ingredients are tomatoes, anchovies, capers and olives. (Good to have these in the pantry). Although there are some variations. Some recipes omit the anchovies. Some add raisins or green peppers.
The Puttanesca Sauce  or 'Sugo alla Puttanesca' in Italian is incredibly easy to prepare for a hearty addition to your pasta. Spaghetti is popular choice but other pasta,  like Penne or Linguine may be used as well.
Be sure to rinse the anchovies and capers to avoid too much tartness. When I had Puttanesca for the first time, I wasn't crazy about it but I found that spicing it up just a bit could do wonders. And it's so terribly easy that the recipe is quite handy! Serving with grilled Salmon or Shrimp is recommended.
Spaghetti Alla Puttanesca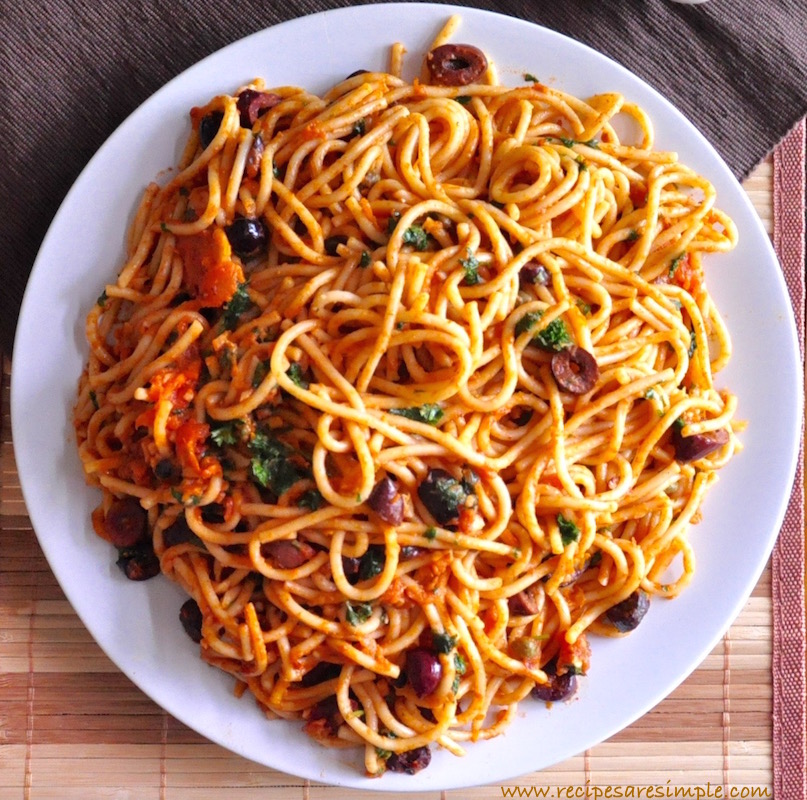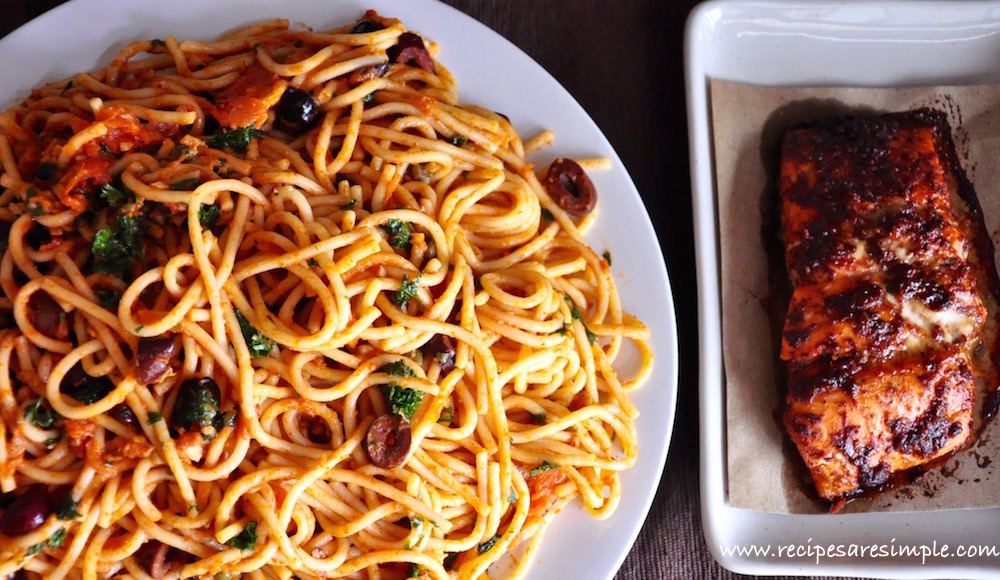 You are here: Home > Pasta & Noodle Recipes  > Spaghetti Alla Puttanesca
 

Recipe Name: Spaghetti Alla Puttanesca 

Recipe Type: Pasta / Pasta Sauce

Author: Shana c/o Recipes 'R' Simple
Ingredients:
225 gms spaghetti or pasta of choice
2 Tbsp extra-virgin olive oil
2 cloves garlic, minced
1 tsp crushed red pepper flakes
3 oil-packed anchovies, rinsed
1 ½ cups whole tomatoes – boiled, peeled and crushed (or use canned tomatoes)
1 Tbsp capers, rinsed and drained
¼ -¹⁄3 cup chopped pitted Kalamata olives or black olives
2 tsp green pepper corns in brine (drained) – optional
plenty of chopped fresh parsley
course salt to taste, pinch of sugar to balance
black pepper to taste ( if not using green peppercorns)
Method:
Bring a large pot of salted, boiling water to a rolling boil.
Add the pasta and cook till al dente.
Meanwhile, add the olive oil to a non stick pan and heat.
Add minced garlic and chill pepper flakes. Saute till fragrant. Do not allow to go dark.
Add the rinsed anchovies and mash up into the mixture. Allow to get very fragrant.
Next, add the crushed tomatoes and bring to a simmer, crushing the chunks of tomatoes as your do so.
Now add the rinsed capers and chopped olives. Simmer the sauce for 5-8 minutes.
I like to add some mild chill powder and green pepper corns.
Finally add salt and a pinch of sugar to balance it all out.
Drain the cooked spaghetti and add to the sauce. Toss well to coat.
Top with lots of chopped fresh parsley and you are DONE!
This is great served with grilled shrimp or salmon.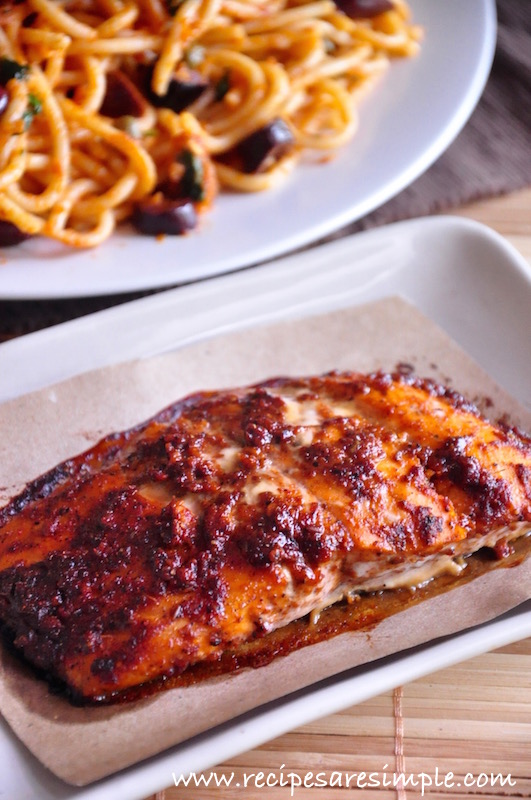 Spaghetti Alla Puttanesca
The name Puttanesca is derived from the Italian word Puttana which means 'Whore'! Why on earth you would ask. Well the general consensus seems to be that this is a sauce whipped together by those slatterns who can't bother to get some fresh ingredients and rely on this tins and jars in the pantry at the last minute. We all do this every now and then, don't we??  The name might also simply be because of the robust tart and salty mouth taste!! Go figure.
Key Ingredients: Spaghetti, Tomatoes, Olives, Capers, Anchovies, Parsley, Olive Oil, Chilli Flakes and powder, Salt and Pepper
Leave a comment if you tried – Spaghetti Alla Puttanesca . Comments from you provides motivation to keep up the driving force behind this blog, bringing you more delicious and perfected recipes regularly.  Help us to Keep On Keepin' On (: !