14 May, 2016
Soya Chunks Roast | Meal Maker Roast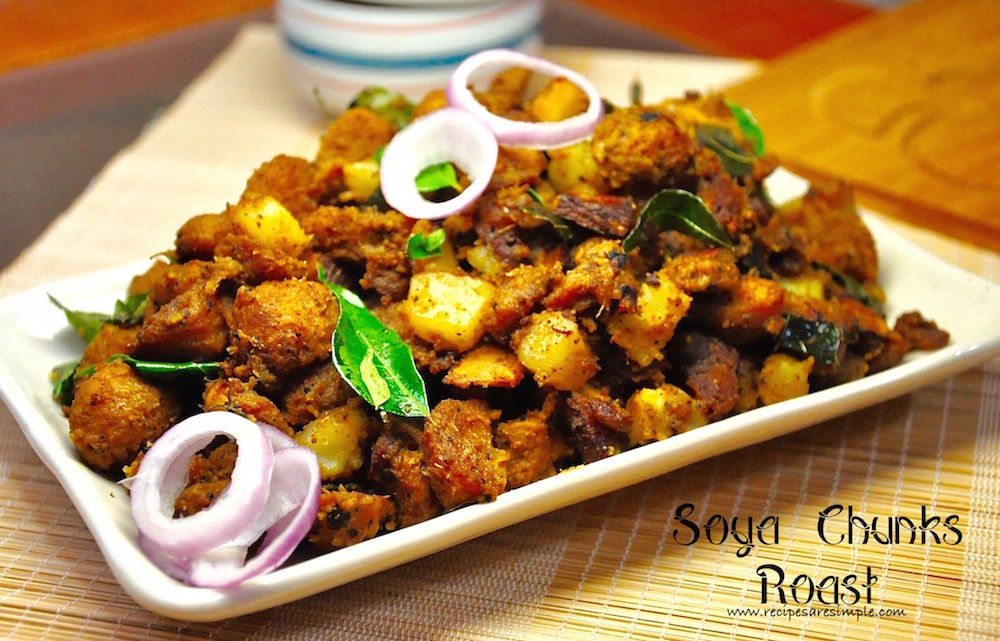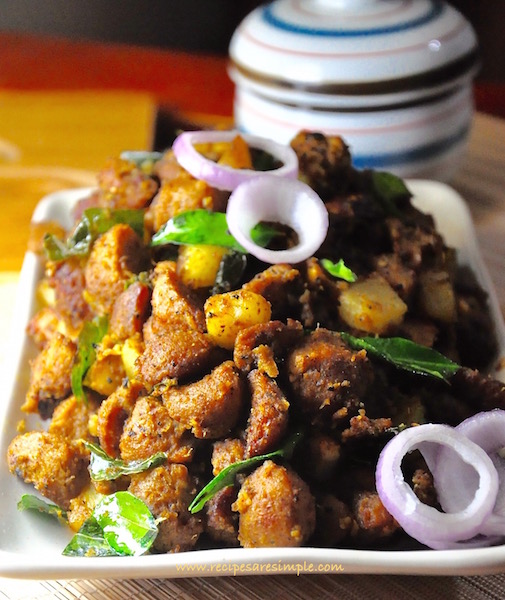 Soya Chunks Roast | Meal Maker Roast (Vegetarian Meat Roast)
This Soya Chunks Roast is a vegetarian recipe that will be a favorite amongst even die hard non vegetarians. Soya Chunks require some effort to change the otherwise bland and strange textured Soy Product into and extremely flavorsome, juicy and very meaty textured dish.
This dish tastes just like a meat stir fry, perfectly spiced and perfectly cooked. Even skeptics will be bowled over at first bite… So yummy!
Note that this recipe requires 1 hour of soaking followed by 30 minutes of marination. Aside from this waiting period, the dish is a synch.
Soya Chunks Roast | Meal Maker Roast
You are here: Home > Vegetarian  > Soya Chunks Roast | Meal Maker Roast
 

Recipe Name: Soya Chunks Roast 

Recipe Type: Vegetarian | Side

Author: Shana c/o Recipes 'R' Simple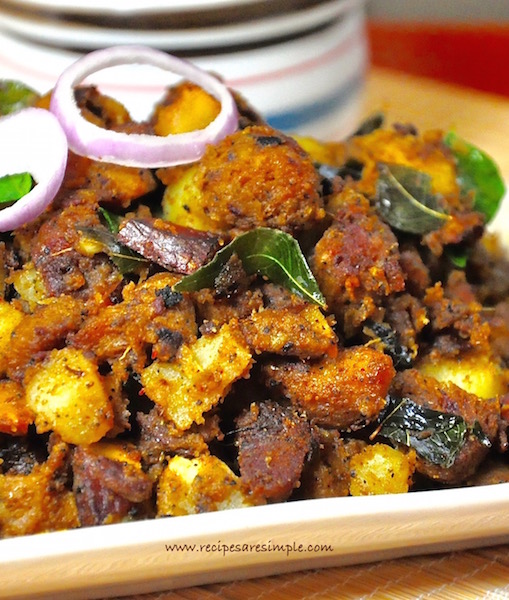 Ingredients:
150  gms soya chunks (medium sized)
1 small potato
1 Tbsp chopped fresh coconut bits (optional) – Not to be confused with grated coconut.
5 Tbsp fresh curry leaves
1 onion sliced (optional)
salt to taste (¼- ¹/3 tsp)
Oil for shallow frying (Coconut oil is preferred)
To be ground:
¼ cup shallots
1 ½ tsp garlic
1 ½ tsp ginger
1 tsp fresh turmeric root ( or ½ tsp powder)
2 tsp coriander powder
1 tsp kashmiri chilli powder
1 tsp fennel powder (Saunf)
1 tsp garam masala powder (I use my Malabar Garam Masala)
¾ tsp black pepper powder
4 Tbsp thick coconut cream ( cartoned cream) OR the thickest fresh coconut milk you can get.
For garnish (optional):
1 onion, sliced into rings
Fresh coriander
1 tomato, chopped
1 mild green chili, chopped




Method:
Place the soya chunks in a bowl for soaking. Pour enough cool water for soaking and place a small lid over the top so that the chunks remain submerged in water and not floating. Allow to soak for 1 hour.
Afterwards, drain and squeeze out most of the water from the soaked soya chunks. Chop/ Slice the chunks roughly to make smaller pieces. I use my kitchen shears /scissors to make this easier.
Add all ingredients for 'grinding' to a mixer/grinder, without water and grind to a smooth paste.
Reserve half of this paste for later. Add remaining half to the chopped soya chunks. Add salt, curry leaves and mix well with hands to coat evenly.
Set aside for 30 minutes.
Meanwhile, boil  the potato till tender, allow to cool and then peel and cut into small cubes.
Add enough oil for shallow frying the marinated soya chunks to a frying pan. Try to use as less oil as possible. (See Notes).
Stir fry  with occasional stirring for the first 5 minutes, followed by non stop stirring for the next 5 minutes.
The chunks will start to get golden brown. When golden brown but still juicy, set aside.
Add a Tbsp or two more of oil and add the chopped coconut bits(if using) first, and allow to change color.
Next, add the chopped potato. Fry till the potatoes start to get golden. Then add the reserved spice paste, salt to taste and sliced onion, if using. Stir till the paste is cooked, onions are softened  and potatoes crisp on the outside.
Return the  soya chunks and toss well. Add a sprinkling of water if the spices are getting dry or stuck to the pan. Toss  well.
Serve hot with Chapati or as a side with Rice.
Garnish with onion, tomato and chill – this is totally optional.
Soya Chunks Roast | Meal Maker Roast
Marinated Soya chunks may be deep fried but they can just as well be pan fried with constant stirring. I use about 5 Tbsp of oil and stir continuously  and patiently for about 10 minutes on medium low flame. The chunks will slowly start to get golden in color.
Key Ingredients: Soya Chunks(Meal Maker), Shallots, Garlic, Ginger, Spices, Curry Leaves, Oil, Potato, Coconut, Salt.
Leave a comment if you tried – Soya Chunks Roast |Meal Maker Roast.