2 November, 2014
Soft Fluffy Bhatura – Indian Puffed Bread using Yeast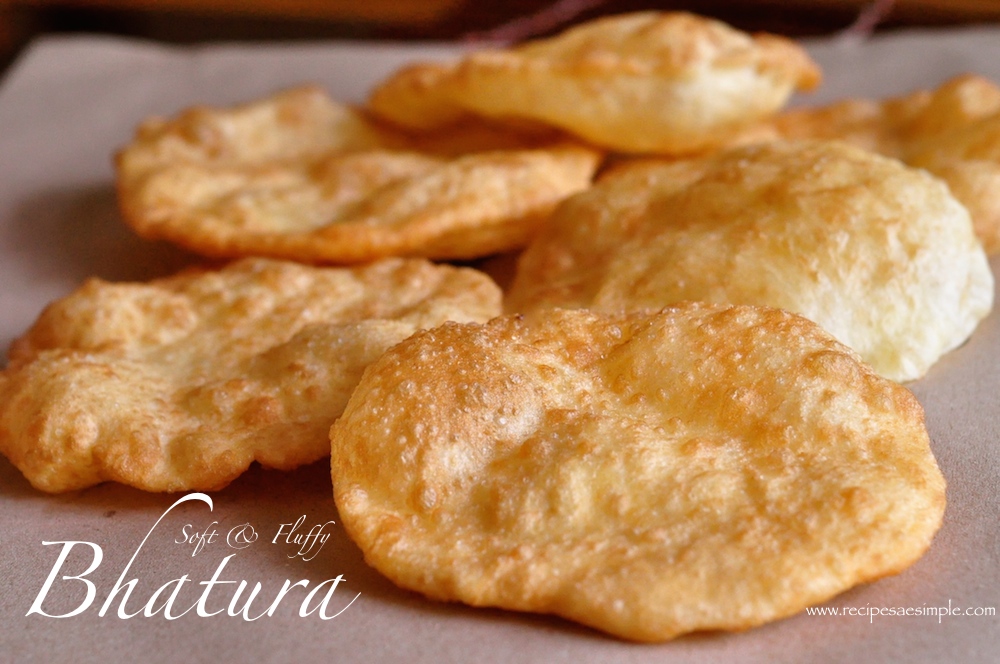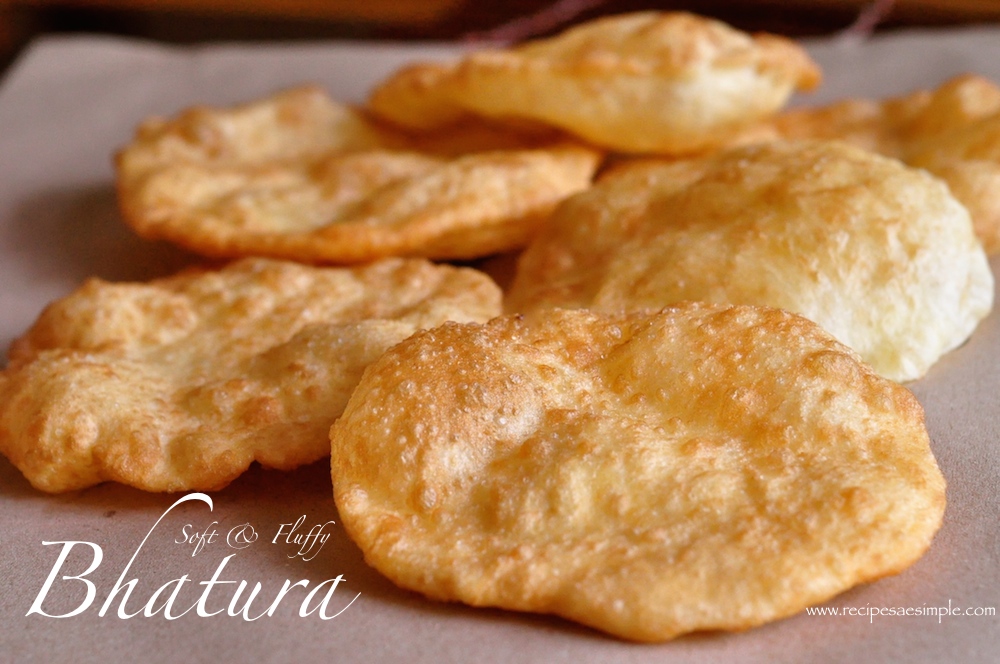 Soft Fluffy Bhatura – Indian Puffed Bread using Yeast (Bhatoora)
Bhatura is Fried, Puffed Indian Flat Bread that is leavened with Yeast. The addition of an egg yolk makes it soft and fluffy. Although there are many recipes for Bhatura, this yeast based one provides a softer bread, that remains soft even after sitting a while and doesn't absorb excess oil, rendering it greasy and unappealing. This is the original recipe, containing only all purpose flour (Maida). I shall be updating soon with various variations on the recipe using Semolina (Suji), Wheat Flour, Yoghurt, Potato and Eno fruit salt. I will post each recipe as they are perfected. Try this one to start with. Tasty Bhatura's  are everyones favorite. I love it with Chicken Manchurian.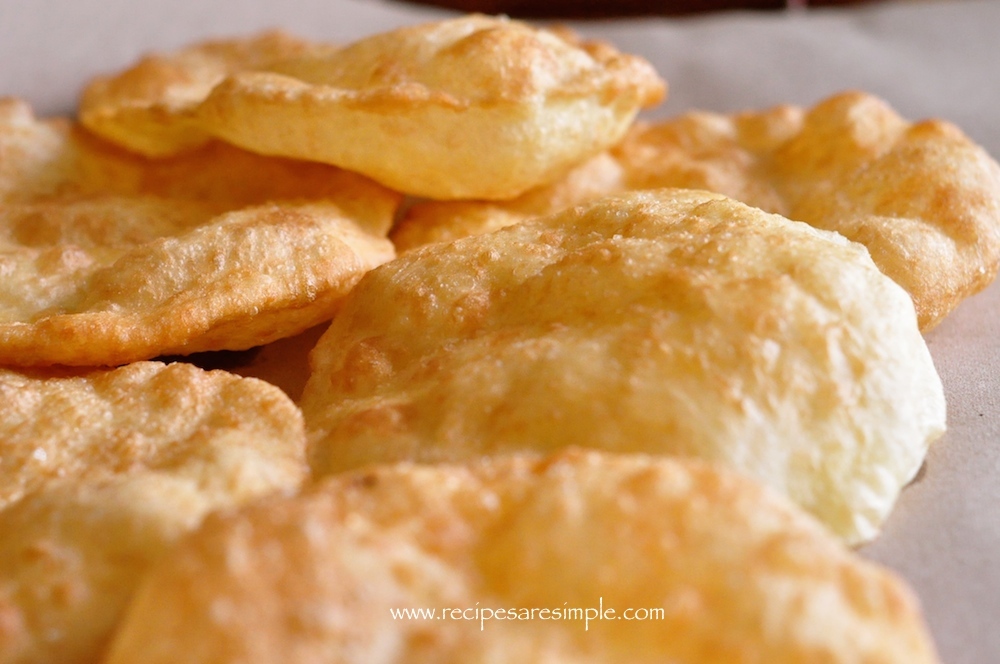 Soft Fluffy Bhatura – Indian Puffed Bread using Yeast
Recipe Type: Breads and Breakfast

Author: Recipes 'R' Simple

Prep time   : 5

Rising time : 30 mins

Cook time  : 10

Total time   : 45

Serves: 3 ( Makes 10 medium bhatura's)
Ingredients:
200 gms refined flour / all purpose flour / plain flour / maida – (approximately 1¾ cups)
1 tsp clarified butter (ghee)
½ tsp yeast (

I used active dried yeast)

1 tsp sugar
½ cup warm water (not too hot)
yolk of 1 small egg
¼ tsp salt or to taste
Sunflower or Vegetable oil for deep frying
Method:
Sift the flour into a bowl.
Add the ghee.
Mix with hands with a very gentle crumbling action for 2 minutes till the flour feels very silky and buttery smooth.
Allow this to sit for 10 minutes. Meanwhile prepare the yeast solution.
Get water to the correct temperature and add the sugar and yeast. Give it a stir.
Set aside for 15 minutes. The solution will turn frothy and rise some.
Add the yeast solution, egg yolk and salt to the prepared flour.
Mix with a wooden spoon till the dough holds together.
Continue to knead by hand till the dough is smooth and elastic. Do not add water. The dough should not be sticky. Do not add flour either.
Cover the bowl with a damp cloth ( not touching the dough). Leave for 30 minutes.
Heat oil in deep wok or pan. Do not use a pan that is too wide or you will require too much oil to deep fry the bhatura.
 Put a Tbsp of oil in a small plate to lightly grease hands. Pinch off lime sized balls from the risen dough. Form into a smooth ball.

( Lightly greasing your hands simplifies this process)

To roll out the balls into discs, you can either use a rolling pin or a chapati press. However, do not add flour for rolling the disk. I prefer the chapati press for this reason.
Use grease proof / wax / or parchment paper, as shown and press one ball at a time. Use only gentle pressure. Too much pressure and the bhatura will be stretched too thin. Too little and it will shrink upon lifting.
When the oil is quite hot, gently slide in one bhatura at a time.

(If the oil is hot enough, there should be an instant sizzle. If the oil is not hot enough the bhatura will soak more oil and not fluff correctly).

Once inside the oil, quickly flip it over.

Do not

wait for too many bubbles to appear. This gives a better puffed bhatura.
Once flipped over, use a flat perforated spatula, preferably the same size as the bhatura to push the bhatura gently into the oil.
The bhatura will puff up nicely. Drain carefully from the oil.
Place on Kitchen Paper to drain. Serve immediately.
Soft Fluffy Bhatura – Indian Puffed Bread using Yeast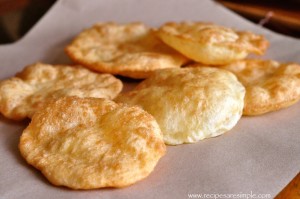 Try it and let us know – Soft Fluffy Bhatura – Indian Puffed Bread using Yeast .
 Make sure your water is warm enough but not too hot or it will destroy the yeast , thus inactivating it. Warmth should be such that you can keep your finger in the water without difficulty. Make sure you test the water temp JUST before adding the yeast and sugar so that it hasn't cooled off by the time it is mixed.
The Bhatura's Puff up wonderfully, although it is hard to get a  good picture during frying with oily hands. I will try to post the video soon. Once the bhaturas are placed on serving platter, they will loose their puff but remain very soft and fluffy. Serve immediately.
Read more about Bhatura (Bhatoora)