20 June, 2015
Sizzling Black Pepper Beef – Hot Plate Recipe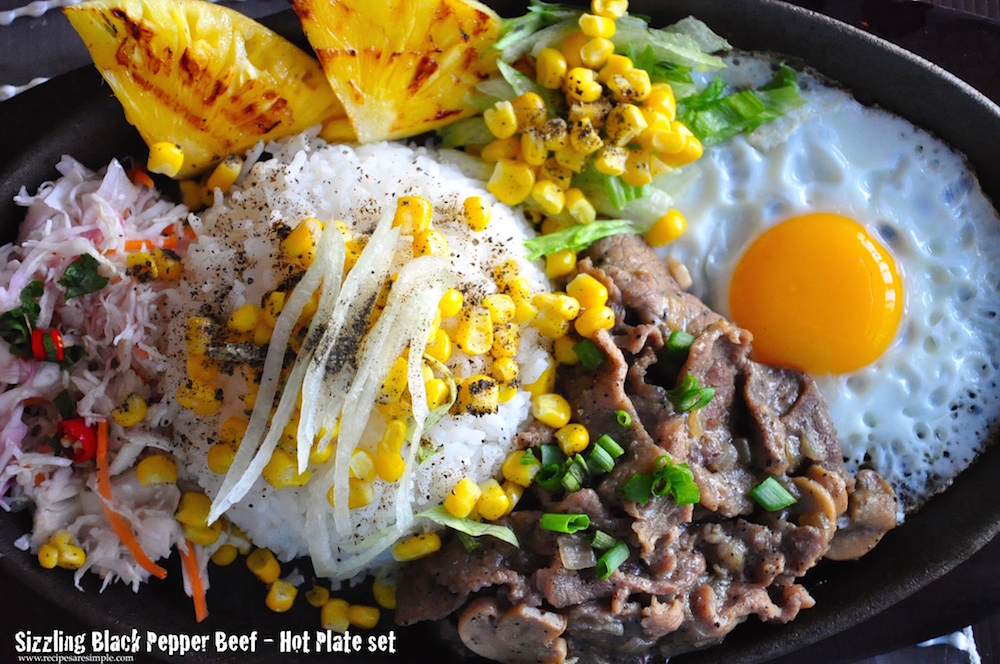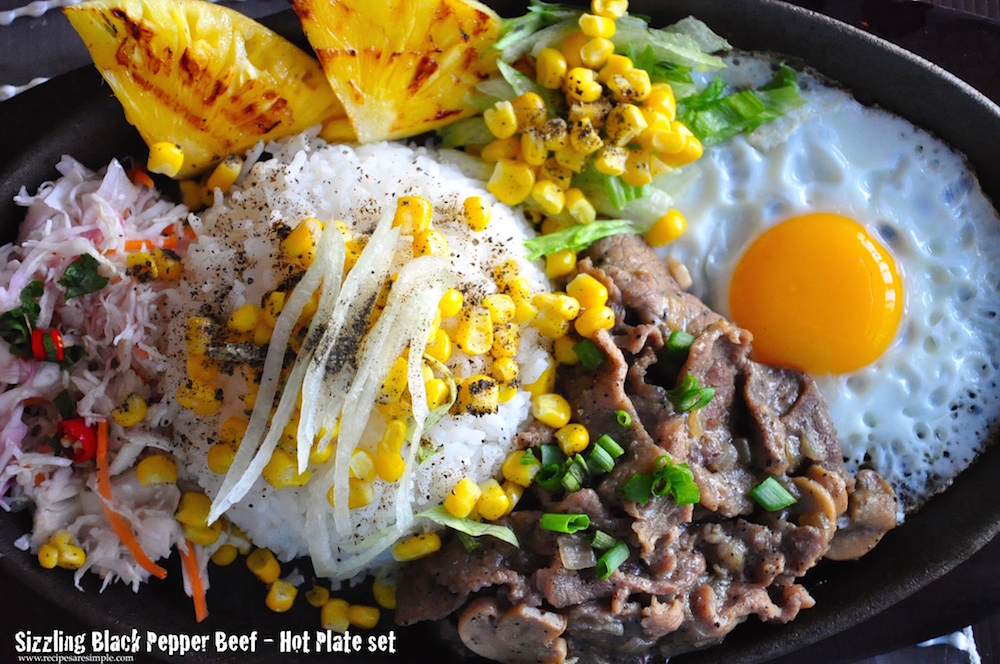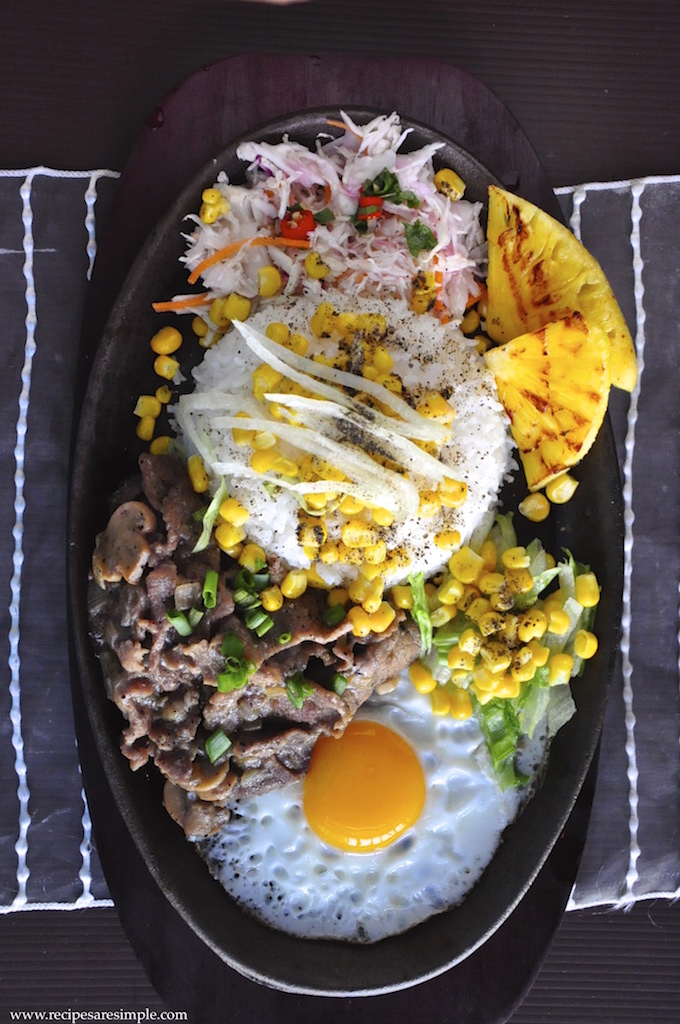 Sizzling Black Pepper Beef – Hot Plate Recipe
This is a complete set meal, the star of which is the Sizzling Black Pepper Beef. The peppery sizzler beef is just perfect served in the cast iron hot plate with sweet corn and eggs, sunny side up! Add some crisped lettuce, coleslaw and some grilled veg or fruit – and you have a delicious and inviting platter.
In commerical ovens, the hot plate is heated to the extremes  that you can actually sometimes cook the marinated beef at your table! At home our ovens and stove top may not be sufficient for this process, can lead to some accidents too. So I chose to cook the beef in a cast iron skillet or wok first. Then heat the individual hot plates on the stove top and plate the dish onto the hot plate. This way, if served immediately you still get some alluring sizzling charm!
Here is how to get this colorful, vibrant and delicious meal at home! If you don't have the hot plates, not to worry – Cook the beef in a cast iron skillet/wok (best) or even a good hot wok, and plate the same way.
You are here: Home > Beef Recipes > Sizzling Black Pepper Beef - Hot Plate Recipe
 

Recipe Name: Sizzling Black Pepper Beef – Hot Plate Recipe

Author: Shana c/o Recipes 'R' Simple
Sizzling Black Pepper Beef – Hot Plate Recipe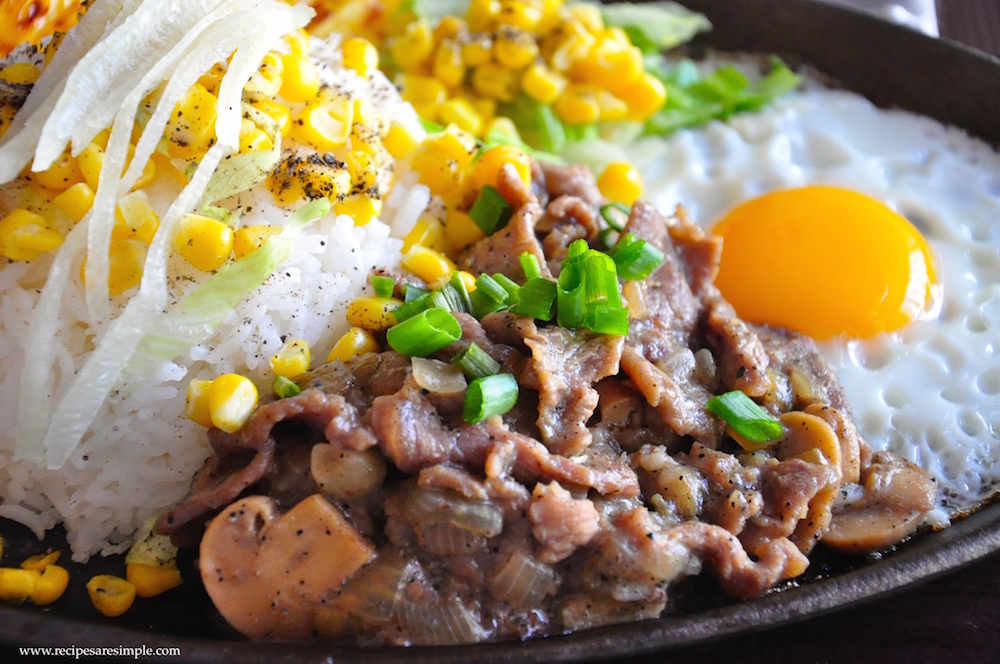 Ingredients:  See notes for possible substitutions
600 gms Beef

– suitable for stir fry

1 large onion (vidalia is good), chopped finely
3 large cloves garlic, minced
2 tsp freshly ground black pepper –

ground to a course grain and not too fin

e
2 ¼ cups rice

(white rice – like thai, jasmine or sushi rice)

½ cup sliced mushrooms

– canned variety is good for this recipe

4 Tbsp oil plus some plus a few drops for hot plate.
1 cup frozen or fresh sweet corn kernels, thawed or boiled and drained 
1 ½ cups grated fresh lettuce (medium shreds)
1 large carrot, finely grated
1 cup cabbage, finely grated (loosely packed)
¼ cup chopped scallions / spring onion greens
2 Tbsp fresh coriander / cilantro , finely chopped
Extra course grained freshly cracked black pepper  for garnish
Few slices of grilled fruit like pineapple or strawberry – optional
For Marinade:
2 tsp light soy sauce

1 Tbsp fish sauce

or ½ tsp salt

1 tsp garlic powder or minced garlic

½ tsp onion powder or minced shallots 

½ Tbsp brown sugar

– use white sugar if you don't have brown

2 egg whites
1 Tbsp cornflour / corn starch
For sauce mixture:
4 Tbsp Oyster Sauce
¾ cup water
2 tsp light soy sauce
For Asian slaw sauce:
1 birds eye red chili sliced
2 Tbsp light soy sauce
2 tsp lime juice
1 tsp brown sugar
3 Tbsp water



Method:
Rinse the rice well. Cook the rice in 3 ¾ cups water.
Fluff up the rice, once done. Keep warm.
Slice the beef into extremely thin sheet like strips, like I have done.

(Use a very sharp cleaver on slightly frozen beef to make this process easy).

Rinse well and keep drained for a while.
Marinate the beef with the ingredients under 'Marinade'. Rub well into the beef and set aside.
CHOP AND GRATE ALL THE REQUIRED INGREDIENTS.
Mix the grated cabbage and carrot together and set aside. Set aside grated lettuce separately.
Prepare the asian slaw sauce – mix all the ingredients listed and stir. Keep chilled tell ready to use.
For the sauce mixture, stir the oyster sauce, soy sauce and water together in a bowl and set aside.
Heat oil in cast iron wok or skillet.
Add chopped onion and sauté till softened.
Add minced garlic and saute well till slightly golden.
On very high heat, add the marinated beef and toss repeatedly for 2 minutes (The thinly sliced.marinated  beef will become tender very quickly). About 2 minutes.
Add the prepared OYSTER sauce mixture, a little bit at a time while continuously cooking on high heat.
Along with the last addition of the oyster sauce mixture, add the course black pepper.
Toss occasionally. Allow the beef to cook and the sauce to coat the beef well.
When the beef is tender and the sauce is reduced considerabely, keeping the beef quite moist, remove from heat.
Heat individual sizzler plates or plate normally.
I like to heat the sizzler plate on the stove top .
Brush with a tiny bit of oil on one side and break an egg onto one of the sides.
Fill a 'small bowl' with the cooked rice and invert onto the centre of the sizzler plate. Keep the bowl on top for a while while the egg cooks. This keeps the rice from breaking apart and losing the rice bowl shape.
Once the egg is set, place the hot beef on one side, topped with chopped spring onion.
Add the corn that has been heated on top of the rice as well as some on the side.
**Shake some course black pepper on top of the corn and rice too.
Top the corn with some shredded lettuce.
Remove sizzler plate from heat and place on its wooden tray.
Quickly place the shredded slaw on one side and some more lettuce on the other side.
Drizzle with the chilled 'Asian Slaw Sauce'.
Sizzling Black Pepper Beef – Hot Plate Recipe
**Do not omit the sweet corn in the recipe. It provides the perfect sweet tone to the pepper dish as well as texture. Also the fresh crisp lettuce is recommended. It absorbs the sauces and provides the crisp crunch.
Fish sauce may be substituted with light soy sauce, although the flavor will be slightly altered.
Oyster sauce is a key ingredient. It can be substituted with vegan oyster sauce or mushroom stir fry sauce. You can make your own by simmering dried porcini / chinese mushrooms (rehydrated and chopped) in a combination of light soy sauce and water. Add a tiny bit of cornflour-water solution to thicken.
If you don't have Asian Rice (Thai , Jasmine or Sushi Rice) – you can use other long grained white rice. Soak in water for 20 minutes prior to cooking.
Sometimes, thinly sliced beef slices are prepackaged in your supermarket. Use this to save time.
If you are skipping the hot plates, cook the eggs together, and set each plate in the same way, making sure the beef, rice and corn is very hot when served.
For grilled fruit, use a grill pan. Brush the pan with oil and heat to max. Grill the  firm, sliced fruit till grill marks appear. Sprinkle with smoked or plain paprika and salt.
Hope you will enjoy this as much as we did!
Key Ingredients: Beef, Rice, Corn, Black Pepper, Garlic, Onion, Soy Sauce, Mushrooms, Scallions / Spring onion, Lettuce, Cabbage, Carrot, Chili, Cilantro, Pineapple.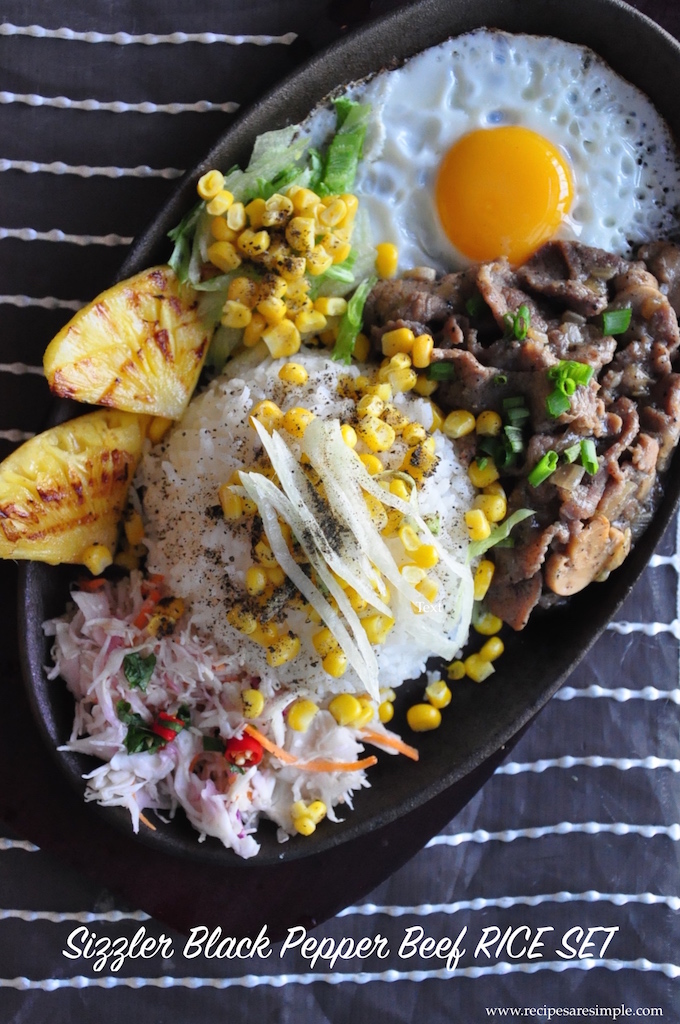 Let us know if you tried it – Sizzling Black Pepper Beef – Hot Plate Recipe . Comments from you provide motivation to keep up the driving force behind this blog, bringing you more delicious and perfected recipes regularly. Please do leave a comment. We love to hear from you.