8 May, 2015
Singapore Fish Head Curry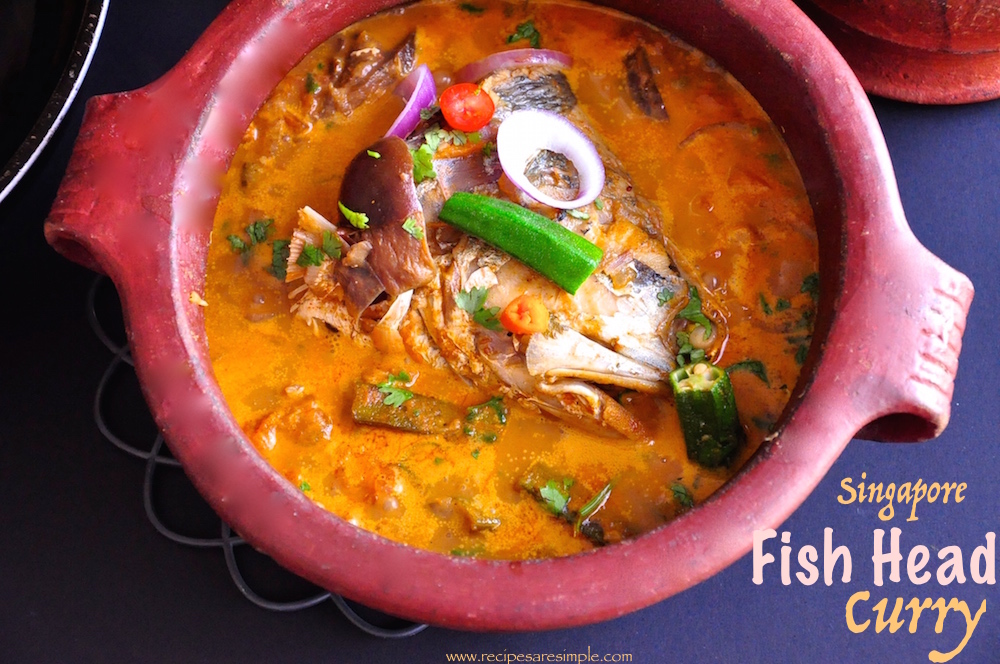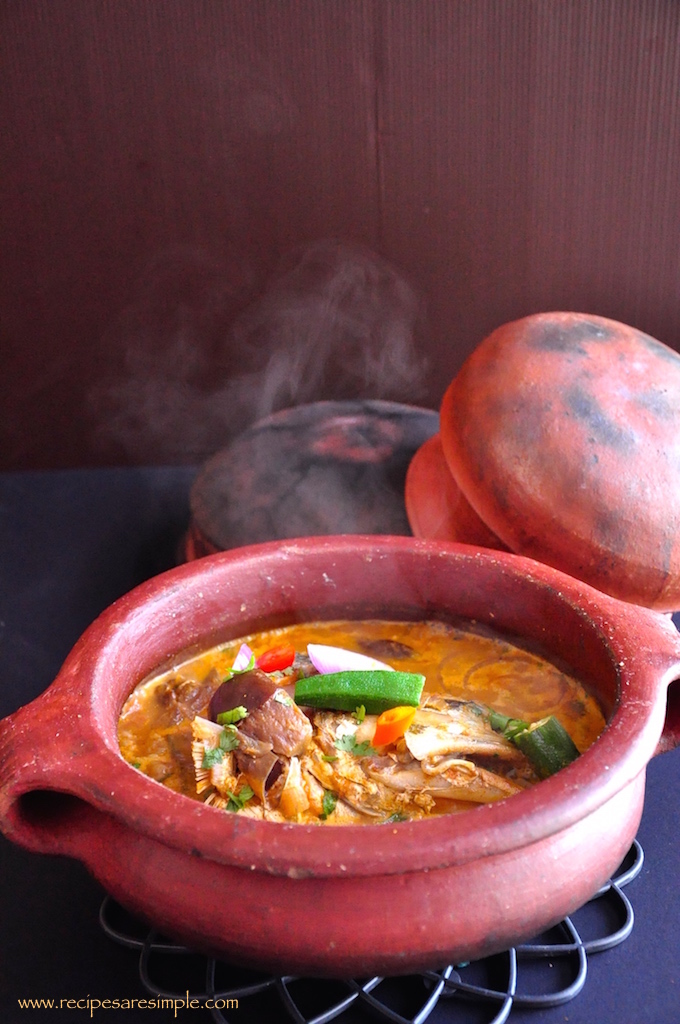 Singapore Fish Head Curry
Singapore Fish Head Curry is one of the most popular – Signature dishes in the Country. Right up there, with the Chilli Crab and Fried Carrot Cake. Although the exact origin of the dish is a matter of much debate, it was first created during the 70's as a method to use those fish heads that often get thrown in the bin.
The curry spice and flavor, is derived from a South Indian Style curry, with some Singapore touches added to it. Fish head curry in South India however, does not have the additional vegetables( usually eggplant and ladies fingers) in it. It is also heavier.
The Singapore Fish head curry, uses Large Fish Heads with white flaky flesh. Angoli (Gold Band Snapper) is a popular choice for the fish head curry,  but I have made it with  others including White Snapper too.  (I just look for a white fleshed fish head that does not look fierce 🙂 . Some of them look so scary! )
For something that often gets thrown in the Bin, this Fish Head Curry is quite expensive in restaurants in Singapore. It can feed 4-6 people. This recipe uses a medium sized fish head (around  500 gms) for a family of four. It's very tasty and must be served simmering!


You are here: Home > Fish&Seafood  > Singapore Fish Head Curry
 

Recipe Name: Singapore Fish Head Curry

Recipe Type: Fish / Curry / Main

Author: Shana c/o Recipes 'R' Simple
Singapore Fish Head Curry
Ingredients:
1 medium sized fish head, about 500 gms
1 large knob of ginger
2 Tbsp of coriander leaves plus 1 Tbsp for garnish
a pinch of fenugreek seeds
2 Tbsp curry leaves
1 large onion, chopped
1 Tbsp garlic, chopped
3 ½ tsp chilli powder
3  ½ tsp coriander powder
1 tsp cumin powder
¼ tsp turmeric powder
¹/8 tsp black pepper powder
½ tsp fish curry masala powder – optional
1 tsp tamarind (assam) pulp mixed in 1 Tbsp water
1 tomato, chopped
2 stalks of lemongrass, bruised
1 knob of ginger, sliced into rounds (1 Tbsp)
5-6 laies fingers, chopped,
2 small eggplants, quartered
1-2 Tbsp, long red chili, sliced
¼ cup thick coconut cream.
salt to taste 1- 1 ½ tsp
2 Tbsp oil
Method:
Firstly, rinse the fish head thoroughly. Important :

Make sure there are no scales left. You can feel around the entire skin of the fish with your hands, while rinsing to make sure all the scales are gone. You also need to remove any clots of blood or blackish bits completely from the insides. This will cause the curry to taste bitter.

Using a mortar and pestle, crush the large knob if ginger well.
Rub the fish thoroughly with this ginger and a good sprinkling of salt.
Sprinkle 2 Tbsp of coriander leaves over the fish.
Place on a steamer rack (above boiling water) and steam covered for 15 minutes. Set aside.
Heat oil in a wide carbon steel wok Or an earthen pot.
Add the fenugreek seeds and curry leaves. Allow to crackle.

(I forgot the curry leaves here).

Add the chopped garlic and as soon as soft, add the chopped onion.
Stir and cook till the onions are soft and light golden – do not allow them to go brown.
Now add all the spice powders

(Chlli powder, Coriander powder, Turmeric Powder, Cumin Powder, Fish Curry Powder & Pepper Powder).

Stir and cook, adding a sprinkling of water so that the spices do not burn.
Cook till the raw smell of the spices is gone.
Add 2 ½ cups of water. (Do not be tempted to add too much water.)
Bring to boil.
Add salt, tamarind solution, chopped tomato, lemongrass and sliced ginger.
Add the chopped okra to a hot pan with some oil and toss very briefly, just till they have turned bright green in color.
When the curry has simmered briefly, add the chopped vegetables. Also add the red chili.
Add coconut cream and cook on low till simmered.
Now add the  steamed fish head. Coat the fish head well in the curry.
Cover and cook on low heat for 5 – 8 minutes. Do not stir the curry or the fish head might come apart, instead swirl the pot when needed.
After the curry has rested a while, you may choose to remove the bruised lemongrass – so that the aroma does not become too strong.I prefer to do so.
When it's time to serve, bring to boil again. If using an earthen pot, it will continue to boil. Bring to serving table while still simmering.
You can also use a table top wax stove to serve the curry simmering.
Serve with steamed white rice. Yummy!
Singapore Fish Head Curry
Fish heads like King Fish (Batang), Pomfret, Mullet etc are not suitable for this curry.
You can also add a few fillets of fish to the curry if desired. Adjust ingredients accordingly.
Key Ingredients: Fish Head, Ginger, Garlic, Onion, Tomato, Coconut Cream, Tamarind, Spices, Green Chilli, Curry Leaves, Oil, Salt
Let us know if you tried it – Singapore Fish Head Curry . Comments from you provide motivation to keep up the driving force behind this blog, bringing you more delicious and perfected recipes regularly. Please do leave a comment. We love to hear from you.