8 July, 2013
Simple Tasty Veg Sandwich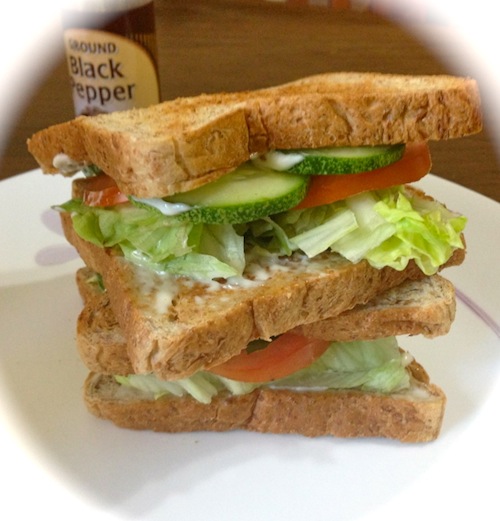 Simple Tasty Veg Sandwich
Everyones got their quick hunger remedy sandwich and this is ours! A Veg Sandwich Great for Anytime!
Simple Tasty Veg Sandwich



Ingredients:
(for 2 sandwiches)
4 slices of Wholemeal Bread – its not only healthier, it tastes better for this sandwich than white
4 slices of Cucumber
4 large slices of tomato
1-2 Tbsp Green Bell Pepper/Capsicum sliced julienne
2 tsp  lightly salted butter – room temperature
2 Tbsp Mayonnaise – we recommend Hellmann's Mayo
Pepper
¼ cup shredded Iceberg Lettuce- optional
Method:
Slice and Prepare the vegetable ingredients.
Toast the bread.
Spread Mayo on 2 slices and butter on the other 2
Lay 4 slices of cucumber, followed by 2 slices oftomato, then bell pepper on the buttered slices.
Add shredded lettuce to bread slices with mayo spread.
Sprinkle with Pepper.
Assemble.
Simple Tasty Veg Sandwich
 Notes:
The sandwich  may be made without lettuce too.
You may opt not to use butter and spread mayonnaise on both slices of each sandwich instead.
You May Also Like :