7 April, 2014
Simple and Tasty Green Peas Curry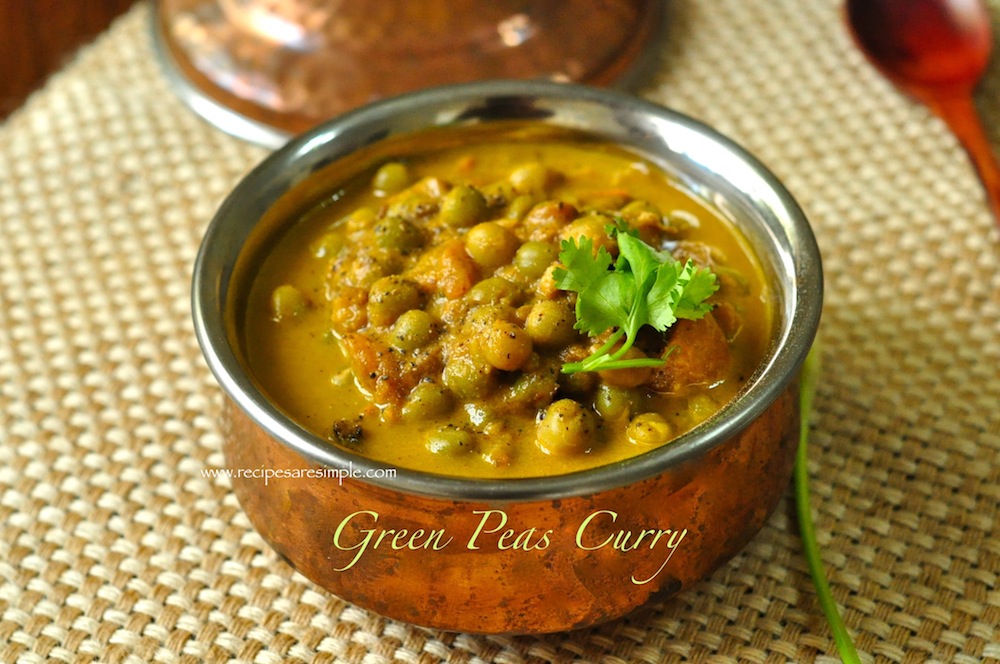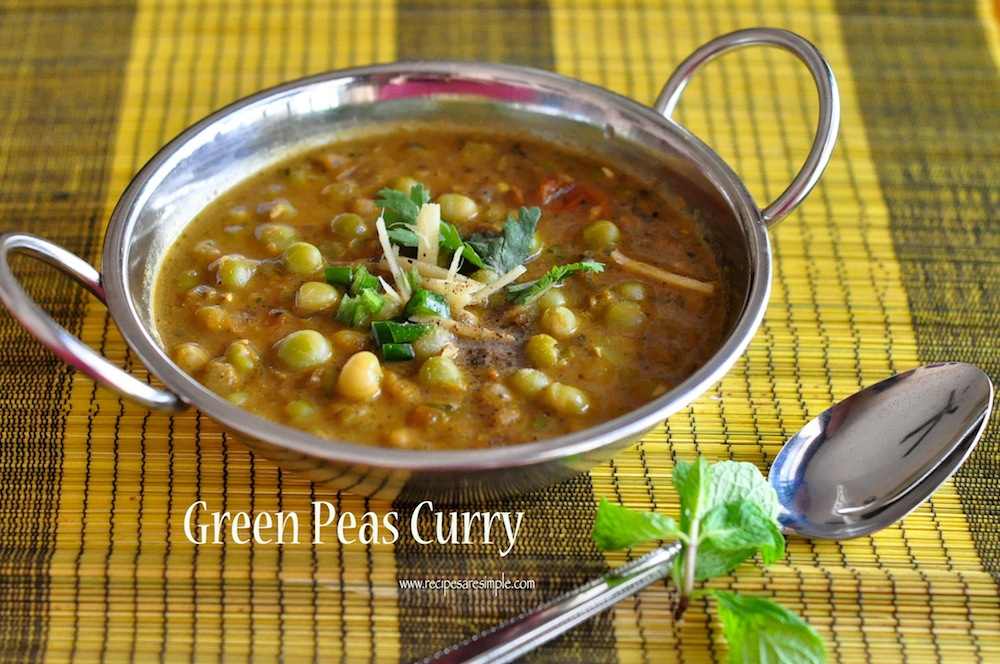 Simple and Tasty Green Peas Curry
A truly simple but tasty dish. This Green Peas Curry is great served with Indian Bread like Paratha, Bature, Chapathi or Naan. It's also yummy with Aappam, Idiyappam orr Puttu. My favorite is Green Peas and Paratha.
It is a flavorsome curry and great for a quick and lazy weekend breakfast

Simple and Tasty Green Peas Curry
Recipe Type: Curry

Author: Recipes 'R' Simple

Prep time: 

Cook time: 15 

Total time: 

Serves: 2-3
Ingredients:
½ cup dry green peas

( must be soaked 6 hours- overnight) 

¼ tsp fresh lime juice
1 medium sized onion, finely chopped
1 medium sized tomato, chopped
1 Tbsp mild green chili, sliced
1 Tbsp coriander powder
¼ tsp  turmeric
¼ tsp garam masala
salt to taste (¾- 1 tsp)
1- 2 Tbsp oil
water, as needed.
a dash of black pepper powder to season at the end.
coriander leaves for garnish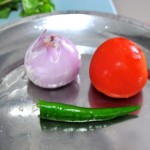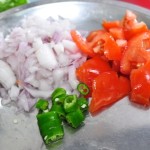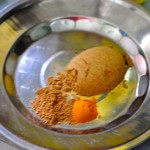 To be sauteed then ground to a paste:
2 cloves
2 cardamom pods
1 small piece of cinnamon
1 medium sized onion, roughly chopped
1 medium sized tomato, roughly chopped
1 Tbsp mild green chilli, sliced
4 small cloves garlic, sliced
1 inch piece of ginger, sliced
6 cashew nuts
1-2 Tbsp Fresh mint Leaves
A handfull of Fresh Coriander Leaves
2 Tbsp oil
Method:
 Soak the rinsed green peas overnight in a bowl of cool water.
When ready to prepare: Add the drained green peas to a pressure cooker.
Add sufficient water (approximately 2½ cups) and the lemon juice.
Close the cooker and cook on high for  till you hear the first steam whistle.
Then reduce heat to medium and cook for 5 more steam whistles.
Quickly place the cooker under running tap water ,so that it cools down quickly, ending the cooking process.
Open the cooker, the peas should have ample bite left and not cooked mushy.

(While the peas are cooking, chop up other ingredients)

Next prepare the ground paste:

Heat oil in a small pan / wok.
Add the whole spices; cardamom, cloves and cinnamon. Allow to crackle.
Add the onion, tomato, ginger, garlic and green chillies.
Saute till softened and light golden.
Add the cashew nuts and cook till tender.
Add the fresh herbs: mint and coriander and saute till  wilted.
Remove from heat, place in heat proof grinder jar and grind to a smooth paste.

(Or allow to cool and grind if your grinder is not heat resistant).  Set aside.

Make the curry:

Heat oil in a medium sized wok.
Add the onion, tomato and green chilli. Cook till the onions are slightly golden and the tomatoes are mushy.
Add the coriander powder, turmeric and garam masala. Stir and cook till the spices are cooked on medium heat.

Careful not to burn.

Next add the ground paste, stirring well.
Add a sprinkling of water as necessary. if the mixture sticks to the pan.
Cook till oil separates.
Now add the peas and  as much of the water as desired. Add more if needed. Bring to a simmer. Taste and add salt as needed.
Lastly, sprinkle a little fresh black pepper powder over the top as well as fresh ginger, coriander and green chillies for garnish.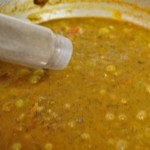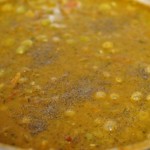 Simple and Tasty Green Peas Curry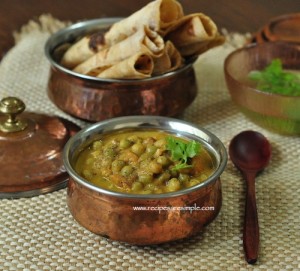 Try it and let us know – Simple and Tasty Green Peas Curry.
Adjust the water and salt to your taste but it should be a thick gravy.
If desired , swirl in 1 Tbsp of fresh cream into the dish just before serving. This creates an attractive swirl as well as adding flavor and creaminess.
For another version of Green Peas Curry without tomatoes and using a little coconut milk, follow my  Black Chick Peas Curry Recipe which can be made identically with Green Peas.