30 July, 2013
Indonesian Potato Patties – Perkedel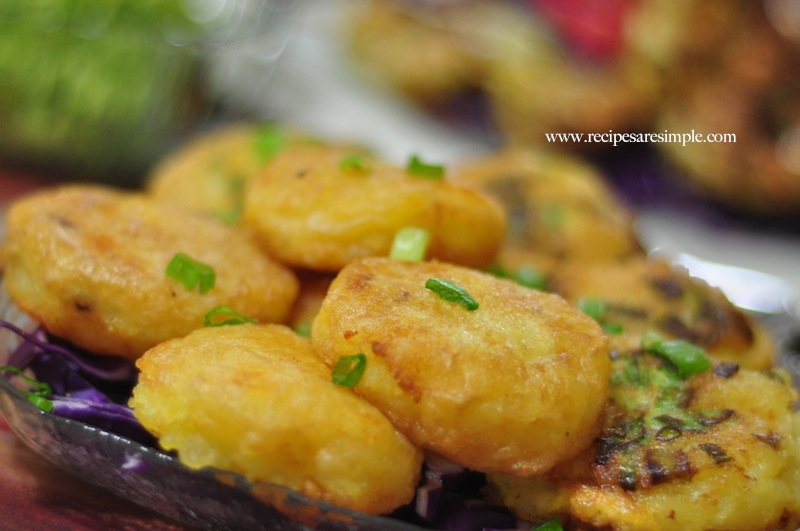 Indonesian Potato Patties – Perkedel
These tasty morsels are so easy to make anytime! Potato Patties or Perkedel Kentang – Indonesian mashed potatoes patties. 'Perkedel' was derived from Dutch 'Frikadel'.  In Indonesia, Perkedel is often served with Chicken soup!
Indonesian Potato Patties – Perkedel
You are here: Home > Snacks  > Indonesian Potato Patties - Perkedel
 

Recipe Name: Indonesian Potato Patties – Perkedel

Author: Shana c/o Recipes 'R' Simple
Ingredients:
4 Large USA Potatos
2 large cloves garlic
1 shallot – optional
¼ cup fresh herbs of your choice -scallion, celery etc
1 tsp cornflour , if needed
salt to taste
pepper – optional
oil for shallow frying
1 egg, beaten
Method:
Rinse and scrub the potatoes.
Keep the skin on, but make a cut into the skin all around the centre. This will help to peel the potatoes after they are boiled.
Boil till tender. I like to pressure cook for 6-7 whistles on high.
Drain. Rinse with cool water and set aside to cool off slightly before peeling.
Chop the fresh herbs finely and set aside.
Beat the egg in a shallow bowl and set aside.
In a Mortar (preferably), mash the garlic and shallots (if using ) to a fine paste.
Add the peeled potatoes, salt and pepper. Mash together, incorporating the garlic evenly into the potato mixture.
Do a taste test to check seasoning.
Once there are no thick lumps, add the fresh herbs.
Form into smooth balls and then flatten gently into patties.The thinner the better.
Due to moisture quantity of different varieties of potato, the patties will either be nice and firm or slightly wet.
If wet, use a small sieve to sprinkle the cornflour all over the patties.
Heat oil in a shallow pan or skillet (enough oil for shallow frying).
Dip each patty in the beaten egg and gently place in the pan. Do not overcrowd. You may fry in batches.
Using a slotted, flexible spatula (for best results) gently turn over the patties when *light golden* and fry the other side.
Drain on kitchen paper towels.
May be served with ketchup or soup.
Indonesian Potato Patties – Perkedel
If you don't have a mortar and pestle, you may mince the garlic finely and and incorporate into a bowl of mashed potatoes. The Indonesian authentic recipe requires a Mortar though.
You can also omit the herbs in some of the patties for fussy children.
Key Ingredients: Potato, Garlic, Oil, Salt, Egg.
Leave a comment if you tried – Indonesian Potato Patties – Perkedel .