29 October, 2013
Mutton Curry with Coconut Milk – Stewed – Kerala Style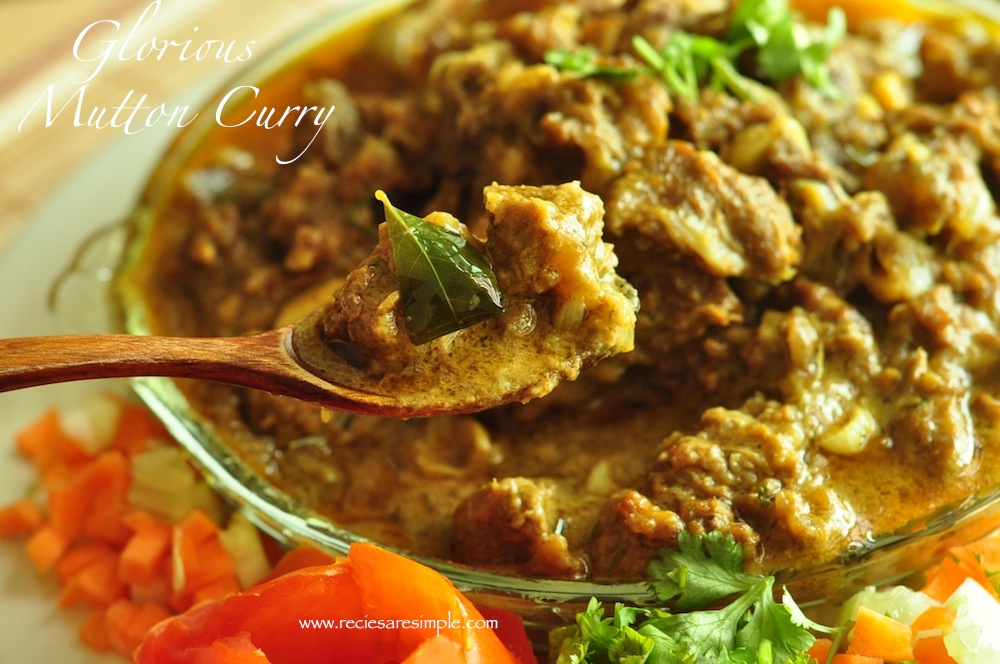 Mutton Curry with Coconut Milk

This is a curried lamb dish to devour!  It's so good. Light and Aromatic and just SUPER with rice  or any type of flat breads. We love it with Ghee Rice or Appam. Try it! You will be cooking lamb more often!
Mutton Curry with Coconut Milk




Ingredients:
1 kg mutton (goat meat) with bones, cut into small pieces
To marinate:
2 tsp coriander powder
1 tsp chili powder
½ tsp turmeric powder
8 cloves garlic – ground to a paste
1 tsp salt
1 tsp Kerala Style Garam Masala
¼ tsp black pepper powder
2 Tbsp yoghurt
For the curry:
3 Tbsp coconut oil or sunflower oil
2 large onions, sliced thinly
2 shallots, sliced
1 tsp garlic paste
1 tsp chili powder
¼ tsp turmeric powder
2 tomatoes, chopped
a handfull of curry leaves
¾ cup coconut milk
Method:
Marinate the thoroughly cleaned, washed and drained mutton pieces with the ingredients for marinade.
Allow to sit – 10 to 30 minutes.
Place in a pressure cooker with just  ½ cupp of water and pressure cook for 3 steam whistles. Set aside.
In a non stick wok or pan, Heat the coconut oil. Add the sliced onion and saute well, stirring continuously till the onion is a deep golden brown color.
Add the shallots and saute briefly.
Also add the turmeric, chili powder, 1 tsp of garlic paste. Saute without burning.
Add the tomato and curry leaves and saute till the tomato is cooked.
Now add the once cooked mutton. Add a little salt to taste( remember the mutton already contains salt)
Stir well to coat with all the ingredients.
Cover on cook on a low flame, opening very so often to give it a stir. Cook covered for about 30 minutes till the meat is tender.
Lastly and most importantly add the coconut milk and bring to a boil Turn off heat and allow to sit a while.
Serve warm over rice, paratta, appam etc!
Mutton Curry with Coconut Milk
Did you enjoy our Mutton Curry with Coconut Milk ?
The Mutton used is Goats meat and not Adult Sheep – which is very different. This curry is made with tender goat meat with bones.