5 July, 2013
Egg Curry with Coconut Milk or Ground Coconut – Simple Kerala Style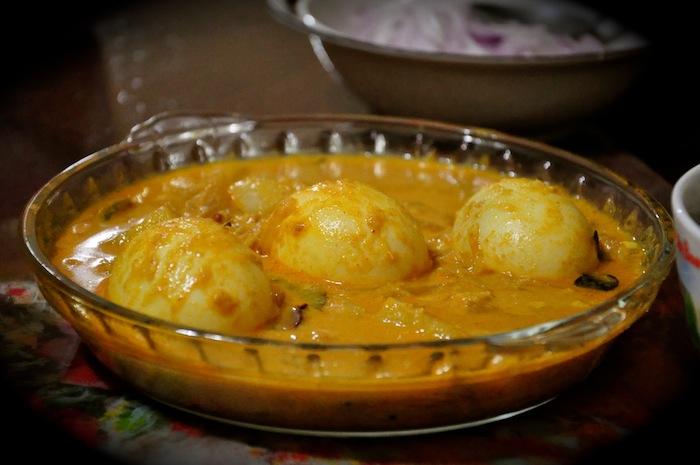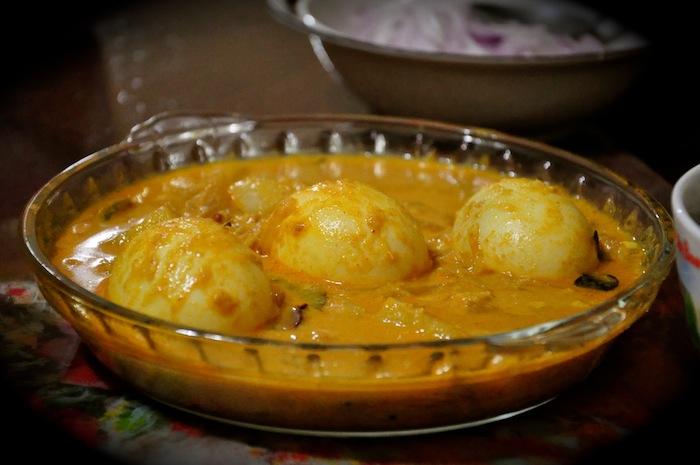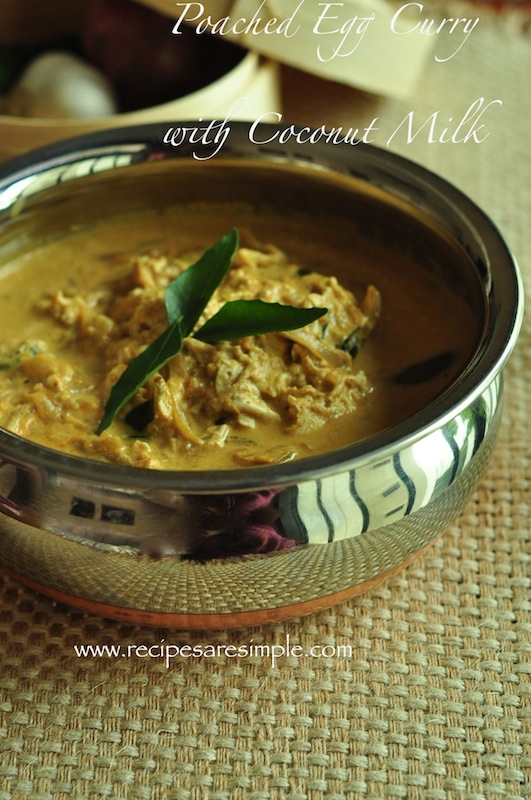 Egg Curry with Coconut Milk or Ground Coconut
Egg Curry with Coconut Milk or Ground Coconut – Simple Kerala Style – so simple to make and makes a perfect accompaniment for various breakfast meals like Pathiri, Idiappam, Puttu, Appam etc. Can be whipped up for dinner as well.
This dish can be made in a few different ways. Either Coconut Milk or Grated Coconut that has been ground to a fine paste may be used. Also, Either boiled eggs or poached eggs may be opted for.
  Egg Curry with Coconut Milk or Ground Coconut



 Ingredients:
4-6 eggs
2 medium potatoes cooked and cut into bite sized pieces(optional)
2 large onions sliced thinly
2 large cloves garlic, minced
Same amount of ginger as garlic, minced
1 green chilly, slit
1-2 stalks fresh curry leaves
2 tsp Coriander Powder
1-2 tsp Moderate Chilly Powder
¼ -½ tsp Fennel/Aniseed Powder
¼ tsp Turmeric Powder
1 cup thick coconut milk  OR ¾ cup grated coconut
1 ½ cups or more water
3 Tbsp oil- For authenticity use coconut oil
Note: The powdered spices can be adjusted to ones taste ; the proportions given above are for a very mild curry. Not recommended to use more turmeric though.



Method:
If using grated coconut, Put the coconut in a small grinder jar, with just a splash of water to grind to a smooth paste.Set Aside.
If using Boiled eggs, Prepare them and set aside.
Heat the coconut oil/oil, Saute the ginger 5 seconds, then garlic, 5 seconds.(use a wide mouthed non stick pan/wok especially if poaching eggs)
Add the onion and saute, stirring occasionally till the onion is quite soft and tender and just turning golden.
Add the green chilly and curry ,leaves and saute 5 seconds more.
Add all the spice powders, on low heat. Stir well till nicely aromatic without over cooking the spices.
Add the water and salt and bring to a boil
Now add the coconut milk or the ground coconut paste and bring just to a simmer.
For Boiled Egg Curry :Add the boiled eggs and potato and simmer(on medium low heat)-covered till the curry achieves a nice consistency.

For Poached Egg curry: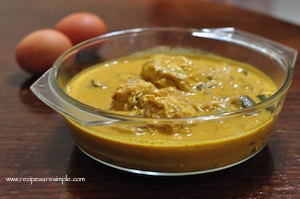 Add the cooked potatoes into the curry and stir once. Crack the eggs one at a time into a cup(Do not whisk or beat), Lower the cup gently near the simmering curry and tilt the eggs into the curry, spacing around the pan so that the eggs do not overlap. 

Do not stir the curry.

 if the eggs are not submerged in curry you may want to add a bit of coconut milk or water.Cover and simmer gently till the eggs are cooked well; 5 minutes or so.

 

Check a single egg to  confirm doneness. Turn off flame.Keep Covered for a while so that eggs may cook a little while longer in the steam. 
  Egg Curry with Coconut Milk or Ground Coconut
Notes:
Serve hot with  Idiappam, Pathiri,Puttu etc. Variation. After the eggs have been cooked and the curry is lmost set to take off flame, Add 2 Tbsp drumstick leaves and cook covered for 1 minute. This adds color as well as a different flavour, reminiscent of the olden days in my mothers home 'tharavadu' kitchen
A poached egg is an egg that has been cooked by poaching that is; cracked , gently poured into and cooked in simmering liquid.
A boiled egg is an egg cooked briefly in the shell in gently boiling water.
Try and let us know Egg Curry with Coconut Milk or Ground Coconut.