8 February, 2017
Simple Kabsa | Saudi Arabian Fragrant Rice with Chicken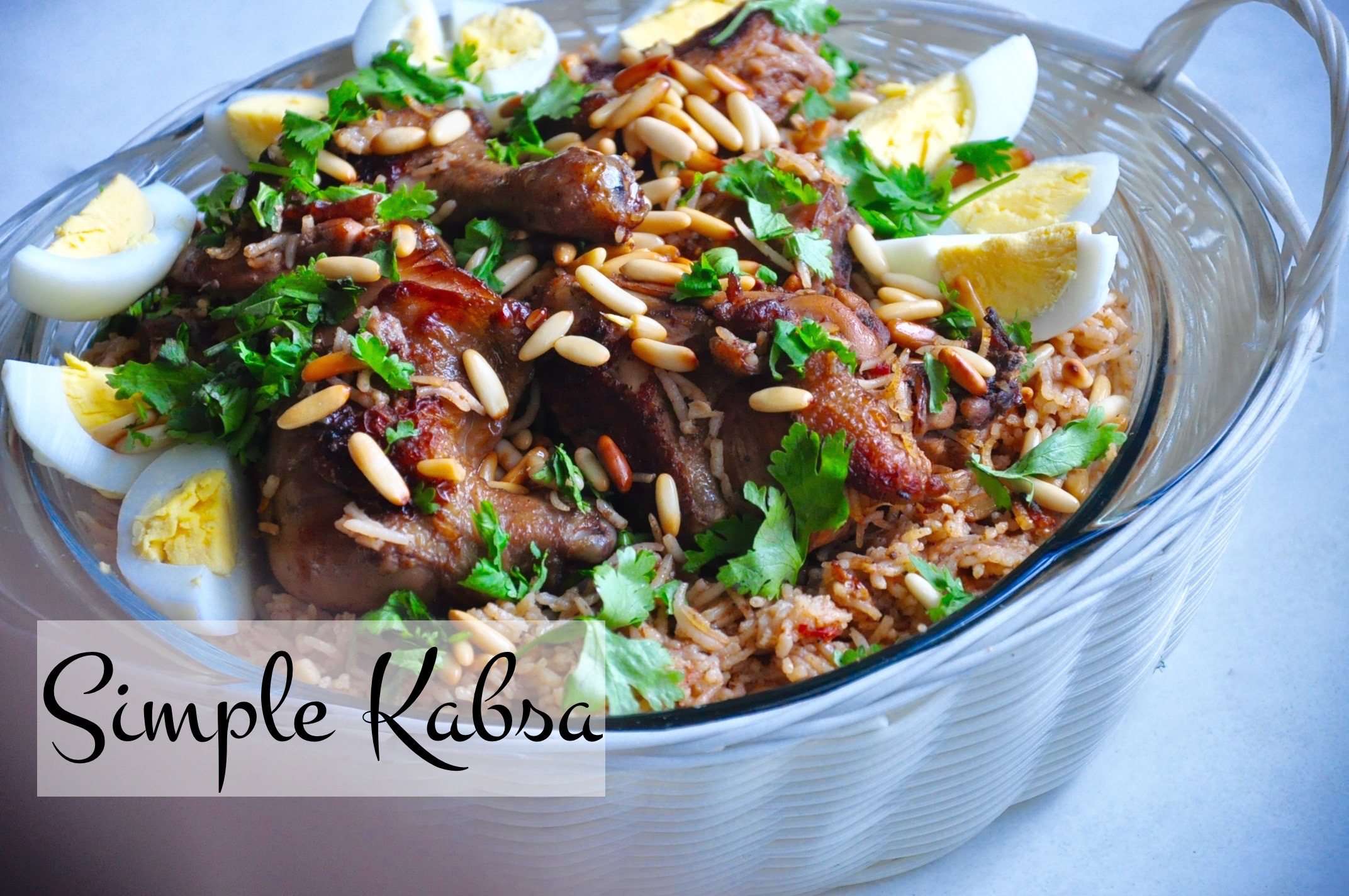 Simple Kabsa | Saudi Arabian Fragrant Rice
Kabsa, the National dish of Saudi Arabia, is quite the humble dish. Each home making it their own, with various methods.. but the most common, daily dish is a very simple one-pot dish. Check out my other popular Kabsa recipe, which has more steps involved and used for more special occasions. For your daily meal, however, I am sharing this favorite family method.
Simple Kabsa | Saudi Arabian Fragrant Rice
WATCH VIDEO ON YOUTUBE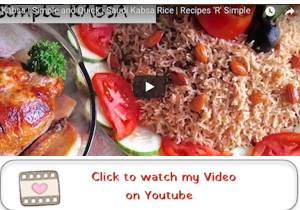 You are here: Home > Rice  > Simple Kabsa | Saudi Arabian Fragrant Rice
 

Recipe Name: Simple Kabsa | Saudi Arabian Fragrant Rice

Author: Shana c/o Recipes 'R' Simple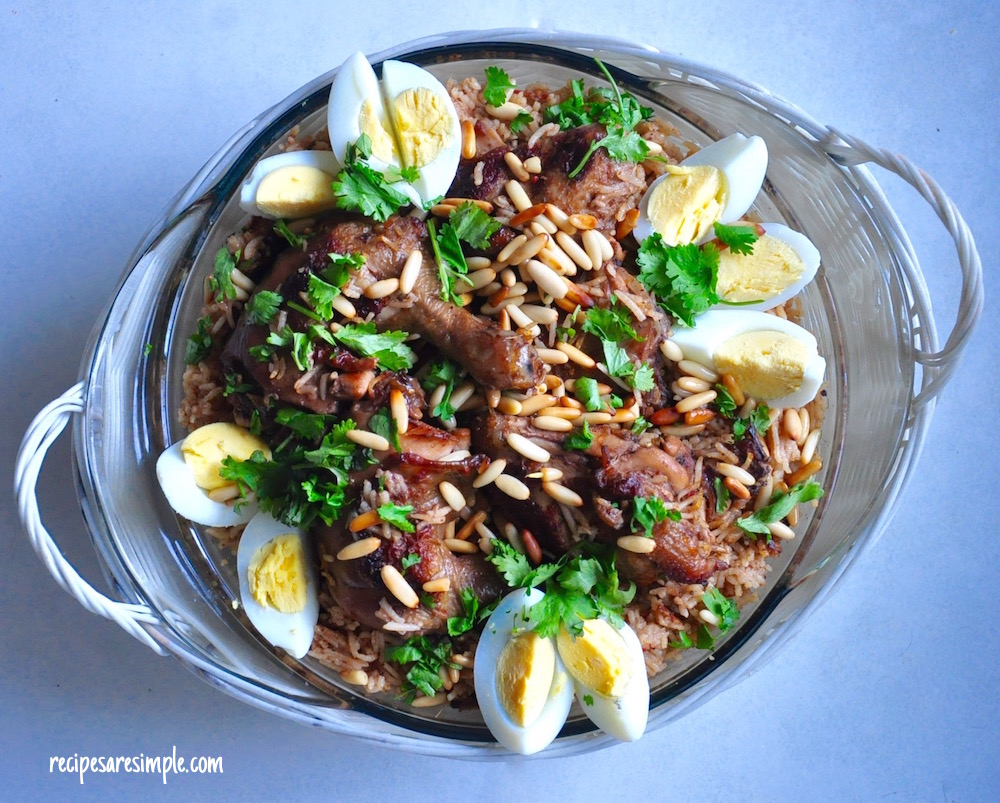 Ingredients:
1 chicken cut into large pieces with skin intact (

or use 4 thighs and 4 drumsticks)

2 Tbsp Arabic spice mix. You can use store-bought  (or see recipe below)
¼ cup oil
1 ½ cups sliced onion (yellow or red onion)
1 ¼ Tbsp tomato paste
a whole head/ bulb of garlic, crushed
400g canned, peeled tomatoes
3 cups basmati or long grain rice
JUST SHY OF 6 cups hot water or chicken stock
2 dried limes – yellow or black or both

( Dried limes are available in the Middle Eastern section of the Spice Aisle) – If unavailable use 2 tsp lime juice. (Flavor will be different).

2 medium carrots (peeled & grated) – optional
4 tsp Salt
Freshly ground black pepper, to taste
For Garnish :
Large handful parsley  or coriander (roughly chopped)
1/2 Cup toasted pine nuts
To serve :
Sliced boiled eggs, minted yoghurt with cucumber, pickled chillis or Arabian tomato sauce.
For the Arabic  Spice Mix:  (Note that some spices are used whole and some are powdered.. If you are using powdered spice remember that you need to measure out less than when actually measuring the whole spice).
4 tsp allspice berries
1 tsp whole black peppercorns
1 tsp ground cinnamon
1 nutmeg (whole)
2 generous tsp green cardamom  pods
1 tsp cloves
1 tsp ground ginger (powder)
2 heaped tsp dried rose petals – optional
1 tsp ground cumin seeds
1 tsp coriander powder (ground coriander seeds)
1 tsp hot chilli flakes
Method:
Firstly, prepare the

spice mix

. Add all the ingredients listed under the 'Arabic  Spice Mix', to a small spice grinder and grind to a powder. This will make a small amount of spice powder, enough for (double) this recipe. Use only 2 Tbsp of the prepared spice mix here.
Rinse the rice well. Soak for ten minutes in room temperature water. Keep drained.
Cut the chicken into large pieces with skin intact. Set aside.
Heat oil in a large pot.
Add the sliced onion and allow to sweat briefly.
Before the onion changes color, place the chicken pieces over the onion (skin side down). Leave undisturbed for 1 minute on medium heat. Then toss gently occasionally till a lovely golden color is achieved. Careful not to let the onions burn/stick to the pot.
Once the chicken is golden in color, add 2 Tbsp of the spice and toss to coat the pieces. Also, add 1 tsp salt and toss.
Fry for a  minute or two ( on medium heat)  till the spices release their aroma, tossing the pieces gently.
Next, add the crushed garlic and toss again. Fry with constant stirring on low-med heat till the raw smell of garlic is gone.
Follow this with the tomato paste. Once again, tossing to coat the pieces uniformly with the paste.
Add the canned (peeled) tomatoes and heat through.
Pour in 2 cups of the hot water or stock first and bring to a boil.
Cover the pot with a lid and reduce the heat to low. Cook for 10 minutes.
After 10 minutes, add the drained rice.
Pour in the remaining hot water or stock. (Just a little less than 4 more cups of water). Bring to a boil. Add 3 tsp salt.
Add the dried lime.
Also add the grated carrot now if using.
Cover and cook on low till the water is absorbed. Keep an eye on this as the time will vary according to burner heat capacity. Once the water looks to have been absorbed, listen for a light crackling noise. This lets you know that it's done. Overcooking will cause a layer of rice to burn on the bottom.
OPTIONAL: When there is very little water left, gently remove the chicken pieces and place in under a preheated broiler, to get a crisper skin. About 8 minutes on highest heat.
Remove the dried lime when the rice is cooked. Leaving them in will cause the aroma to overpower the dish.
Keep the rice covered for about 30 minutes before serving. This helps all the moisture to be absorbed and the rice to turn fluffy.
Garnish with toasted pine nuts or almonds. Chopped coriander or parsley and boiled egg slices.
I like to serve with pickled green chilli and a minted yoghurt with cucumber. Traditionally the Arab tomato sauce (Dakkous)  is also served.
Simple Kabsa | Saudi Arabian Fragrant Rice
The tomato paste is not to be confused with tomato puree or crushed tomatoes. The paste is thicker concentrated paste available in small tins, jars or sometimes tubes.
If time permits, you can marinate the chicken pieces with some lime juice salt and the cabs spice mix for 1 hour before cooking.
Canned tomatoes can be replaced with boiled and peeled tomatoes (crushed).
Key Ingredients: Chicken, Rice, Oil, Onion, Garlic, Spices, Tomato, Herbs, Pine Nuts, Lime, Salt, Pepper.
Leave a comment if you tried – Simple Kabsa | Saudi Arabian Fragrant Rice
SaveSave