28 April, 2016
Simple Curry Leaf Chicken (Malabar Style)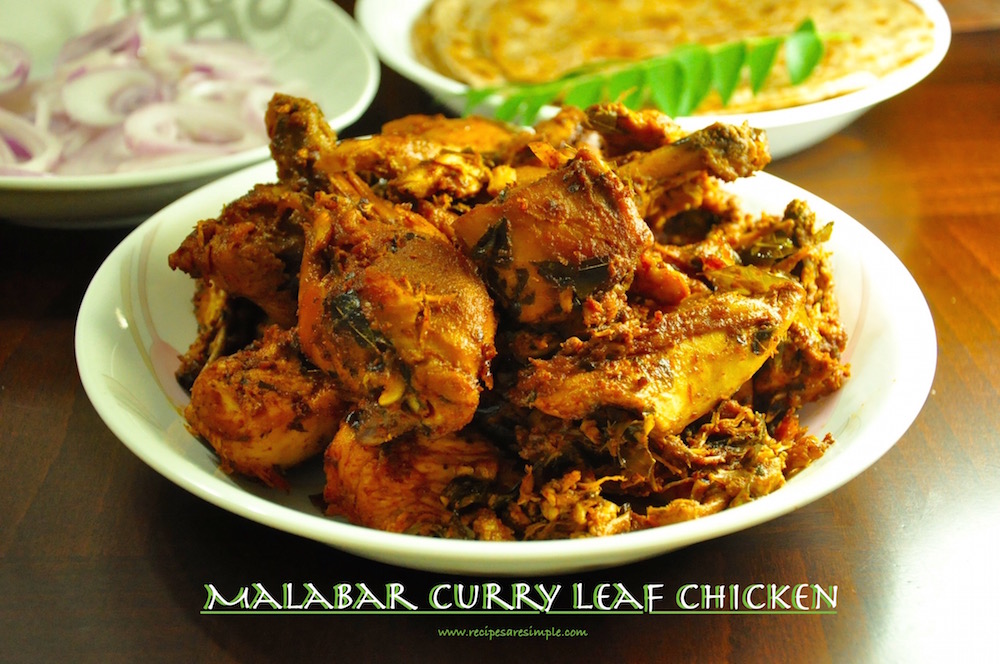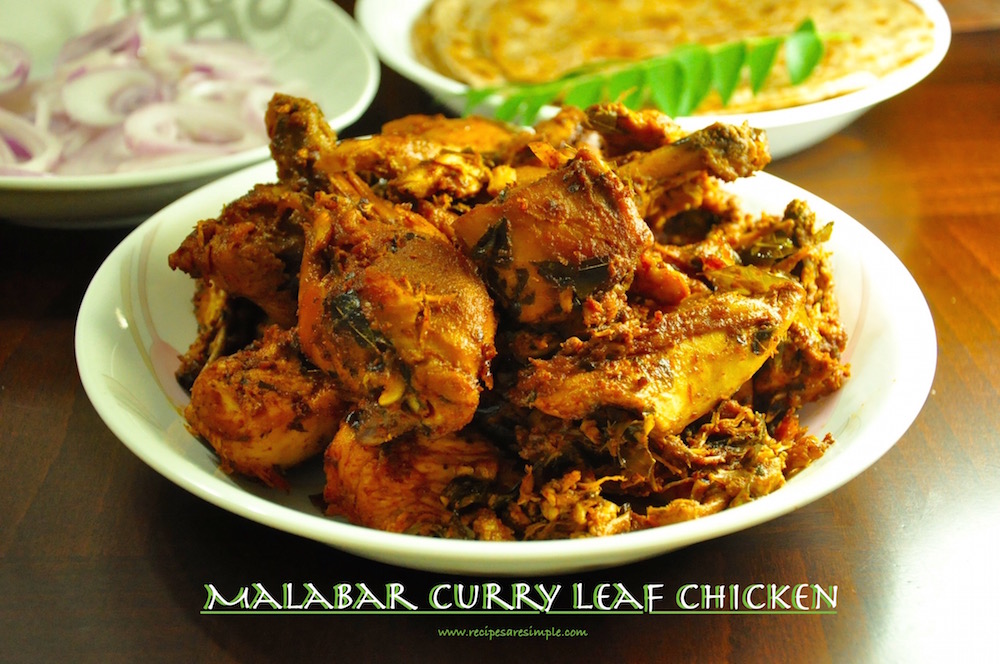 Simple Curry Leaf Chicken (Malabar Style) – 5 Ingredient Dish!
This Simple Curry Leaf Chicken is one of those dishes that requires very little effort. It's perfect for those nights when you want to get something on the table fast and make everyone happy too. The chicken is basically flavored with just 2 ingredients. Curry Leaves and Kashmiri Chilli Powder. Add some coconut oil for the True Malabar Taste, and you are set. Great to serve with Chapatis. My Aunt Ramla gave me this recipe of hers to try. Thank you!
Simple Curry Leaf Chicken (Malabar Style)
You are here: Home > Chicken > Simple Curry Leaf Chicken
 

Recipe Name: Simple Curry Leaf Chicken (Malabar Style)

Author: Shana c/o Recipes 'R' Simple
Ingredients:
1 kg chicken: skinless, bone in – small pieces is best
2 generous Tbsp Kashmiri Chilli Powder ( Bright Red and Mild in Heat)
2 generous handfuls of curry leaves, torn or chopped
4 Tbsp coconut oil
salt to taste
Method:
Cut the cleaned chicken pieces into small pieces for best results. Drain well.
Tear up the fresh curry leaves with hands into small pieces.
Add directly into cooking heavy bottomed cooking vessel with a tight fitting lid.
Add all other ingredients. Rub well into the chicken. Set aside to marinate for at least 30 minutes.
Without adding any water, bring to heat on medium flame.
Reduce heat to low and cover. Cook, opening occasionally to stir.
Cook till the liquids are released and all the moisture is evaporated, creating a nice thick coating for the chicken. One the chicken is done 'roasting' in the chill powder and curry leaves. Remove from heat.
Optionally, you can heat another 2 Tbsp of coconut oil and fry more curry leaves and pour over the chicken.
How is that for Simple? Yummy too.. I always love the flavor of fresh curry leaves!
Simple Curry Leaf Chicken (Malabar Style)
Key Ingredients: Chicken, Curry Leaves, Kashmiri Chilli Powder, Coconut Oil, Salt.
Leave a comment if you tried – Simple Curry Leaf Chicken (Malabar Style).