14 January, 2014
Simple Asian Cucumber and Carrot Salad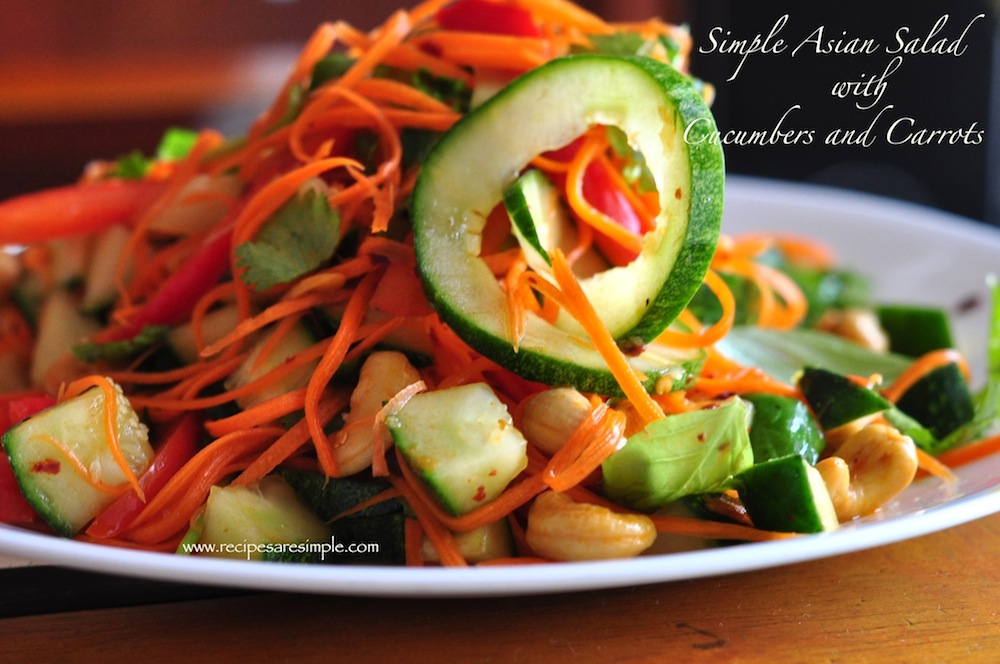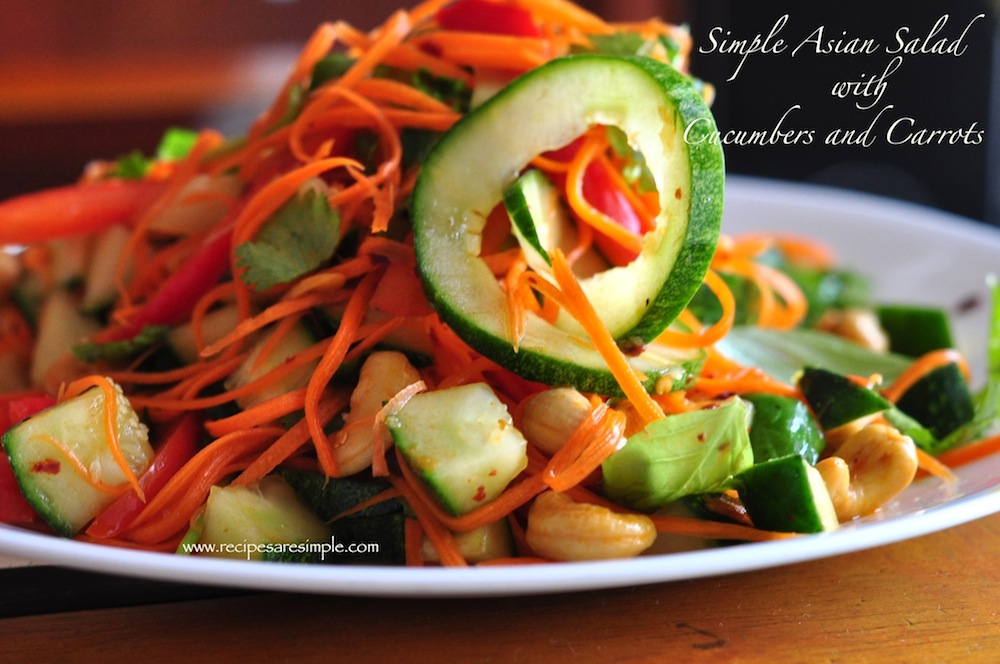 Simple Asian Cucumber and Carrot Salad
One thing I almost always have in my fridge is Cucumbers and Carrots. My Husband always likes a Salad with his meal so  coming up with new ones is always a challenge. One day I had no idea what to make. I stared at the cucumbers and carrots for a long moment and then made this Asian Inspired Salad. Went down pretty well and its so easy to toss up! Cucumber and Carrot Salad

Simple Asian Cucumber and Carrot Salad
Ingredients:
1 cucumber – any variety. Leave skin on if organic, else peel.
1 medium sized carrot
2 spring onion whites and greens
½ a medium bell pepper (red)
¼ cup fresh coriander, chopped
a hand ful of fresh basil leaves
¼ cup raw cashews
For the dressing:
2 tsp fish sauce or vegetarian oyster sauce
juice of half a lime
1-2 cloves garlic, minced
1 Tbsp light soy sauce
1 – 1 ½ tsp brown sugar
Method:
 Cut the ginger julienne.
Cut the bell pepper into sticks.
Cut the cucumber along the sides and remove the seeds. Continue to dice.
Cut the spring onion green, julienne and mince the whites.
Toast the raw cashews till crisped.
Toss all together.
Toss in the coriander and basil leaves last.
Prepare the sauce by mixing all the ingredients with a whisk/fork.
Taste and adjust seasoning.
Drizzle all over the salad. Do not over mix.
Serve at room temperature.
Simple Asian Cucumber and Carrot Salad
Try and let us know – Simple Asian Cucumber and Carrot Salad.