22 September, 2013
Silky Pumpkin Soup Recipe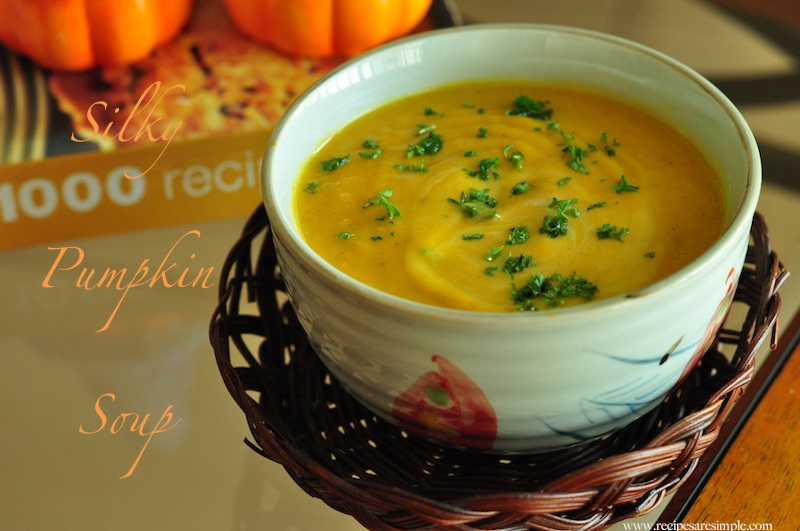 Silky Pumpkin Soup Recipe

This pumpkin soup comes together very quickly and is very tasty. A subtly tender, sweet and  savory soup that's hearty and warming!
Silky Pumpkin Soup Recipe



Ingredients:
2 cups pumpkin, diced
1 large yellow onion, diced
2 sticks celery, sliced
½ tsp thyme
2 ½ cups chicken stock or vegetable stock
½ cup cream or mascarpone
¼ tsp black pepper powder
1 Tbsp Fresh Parsley, chopped finely
2 Tbsp Olive oil
salt to taste




Method:
In a medium sixed saucepan, heat the olive oil.
Add the onion, celery and pumpkin. Saute the ingredients till softened.
Add thyme.
Add stock and bring to simmer.
Cover and cook till the ingredients and very tender. About 15-20 minutes.
Stir in the cream. Remove from heat.
Alow to cool slightly and puree in blender or with hand mixer. Blend till absolutely smooth.
If the soup seems too thick you may add a little boiled water.
This makes a silky smooth soup.
Add pepper to taste and garnish with the chopped parsley.
Silky Pumpkin Soup Recipe
Did you enjoy our Silky Pumpkin Soup ? Let us know.
Notes:
Add 2 dry shitake mushrooms that have been soaked in hot water while sautéing the ingredients. This adds a very earthy tone to this soup.
You May Also Like: