2 October, 2013
Shrimp / Prawn Varuval – Dry Gravy Spicy Fried Shrimp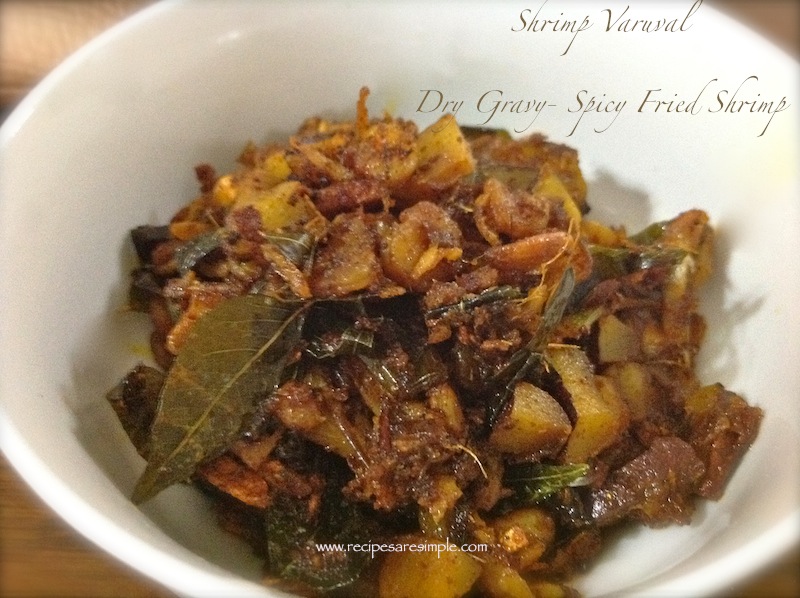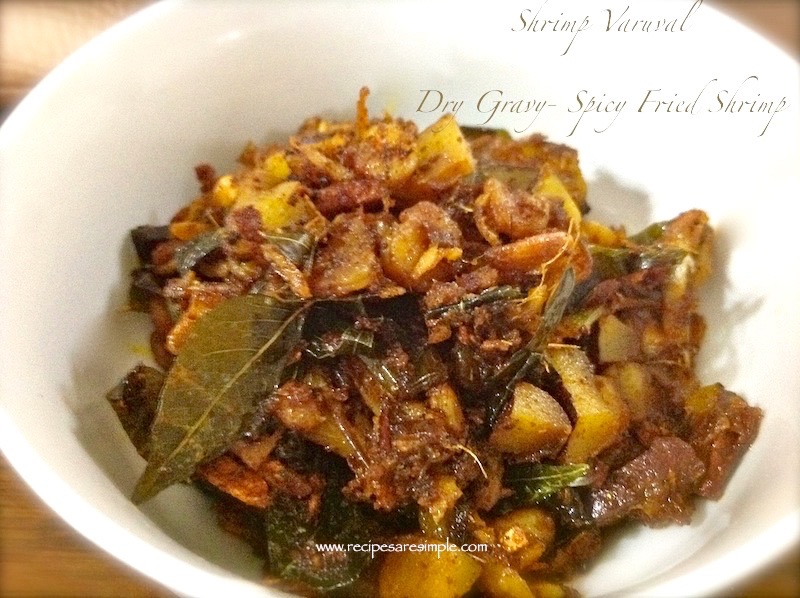 Shrimp / Prawn Varuval  – Dry Gravy Spicy Fried Shrimp

'Varuval'- which means to fry is a name of the method of preparation for various meat dishes. The gravy is on the drier side with a nice spiced coating. The flavors are wonderful in this version using small sized shrimp/prawn and coconut bits.
Shrimp / Prawn Varuval  – Dry Gravy Spicy Fried Shrimp
Author:
Prep time:
Cook time:
Total time:
Ingredients:
½ kg prawns, smaller variety if available. Cleaned, deveined.
Marinade:
2 tsp lime juice
½tsp salt
¼ tsp turmeric
¼ tsp chili powder
2 tsp Coconut oil
a Handful of curry leaves
For Varuval:
2 Tbsp coconut oil
a few curry leaves
1½ tsp ginger, minced
1½ tsp garlic, minced
4-5 green chillies or according to spice level
1 cup shallots,sliced into rounds
¼ cup sliced fresh coconut – coconut bits/flakes (not grated coconut)
¼ tsp turmeric powder
¾ tsp chili powder
¾ coriander powder
½ tsp Garam Masala powder
1-2 pieces of Fish Tamarind /Gambooge(Kudampuli)- washed well, soaked if needed.
Salt to taste
Method:
Combine all the ingredients for the 'Marinade' and rub into the cleaned and drained shrimp/prawn.
Set aside for 15 minutes.
Heat coconut oil in a wok. Add the curry leaves.
When spluttered, add the ginger, garlic and green chili and saute till softened.
Add the shallots and saute well.
Add the coconut bits and stir well.
Reduce the heat to low and add all the spice powders. Stir-fry till aromatic. Sprinkle some water.
Add the fish tamarind and the marinated prawns and stir well. Also add some salt to taste.
Raise the heat, Cover and cook, stirring occasionally till  oil separates, prawn is cooked & gravy is thick and coats the prawn well without becoming overly dry.(3-5 minutes)
Shrimp / Prawn Varuval  – Dry Gravy Spicy Fried Shrimp
Did you enjoy our Shrimp Varuval – Dry Gravy Spicy Fried Shrimp ?
The same method can be used to prepare calamari/squid