29 August, 2015
Shrimp Pickle – Kerala Style ' Chemmeen Achar'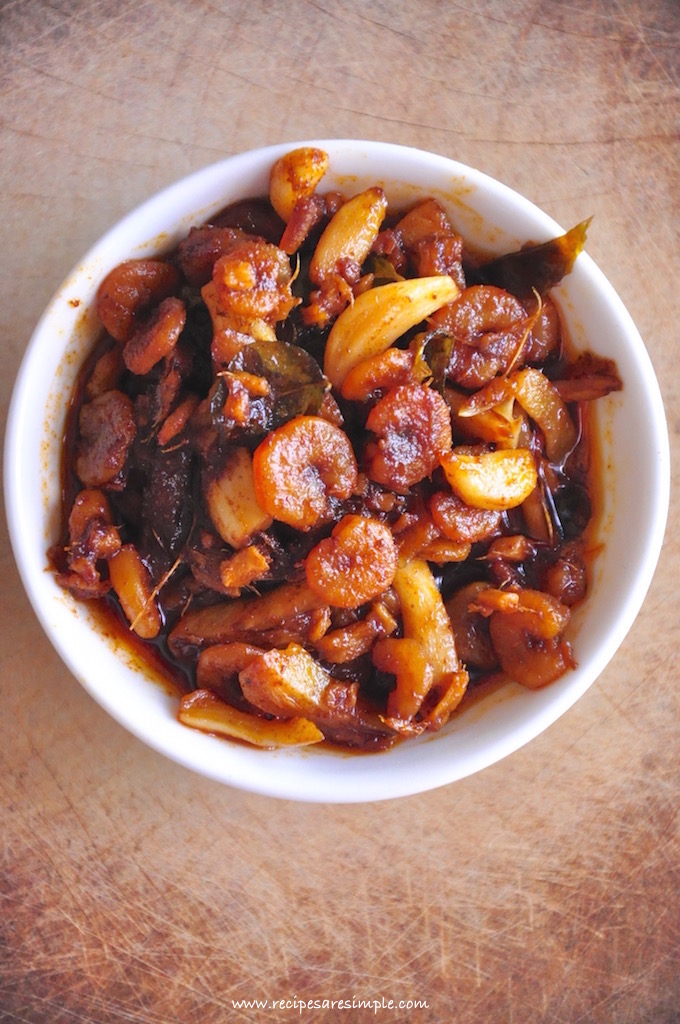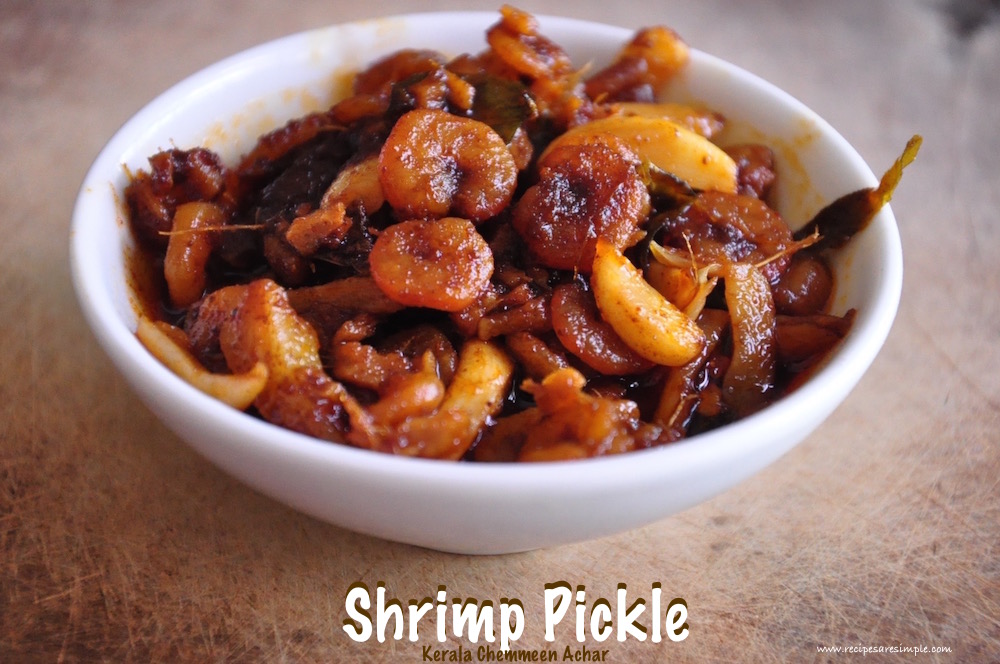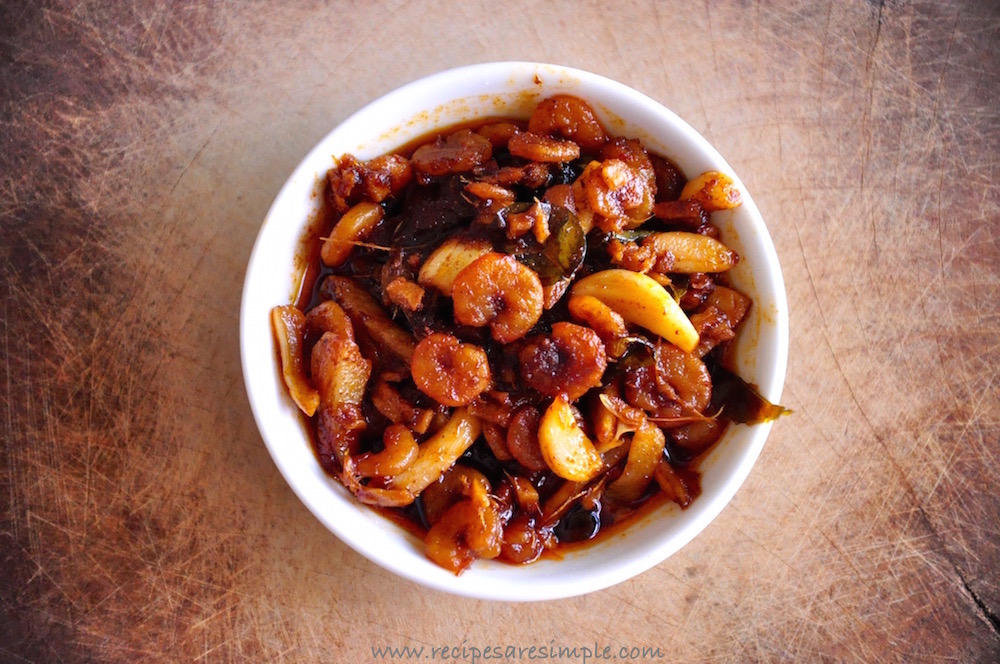 Shrimp Pickle – Kerala Style ' Chemmeen Achar'
This pickled shrimp is so easy and quick to make. And it is so yummy! Store in airtight bottles and serve spoonfuls along with your meal to give it a delightful, savory and tangy punch. It is a light pickle. Not too much oil or vinegar in this Shrimp Pickle. More oil and vinegar is used for pickles that are stored for longer. This one won't last too long, I assure you.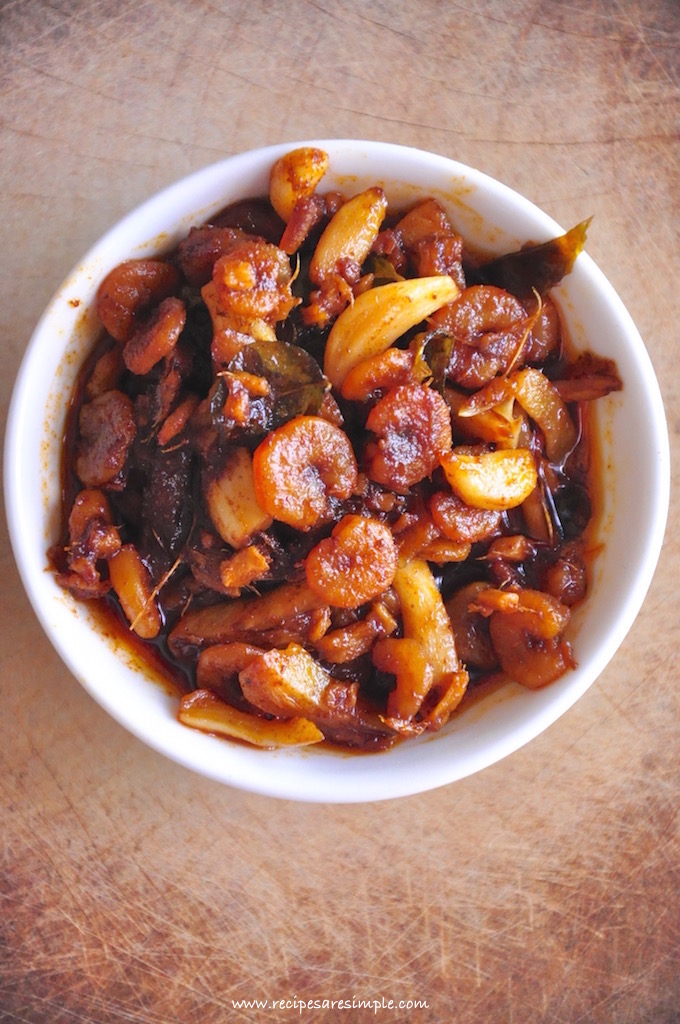 Shrimp Pickle – Kerala Style ' Chemmeen Achar'
You are here: Home > Fish and Seafood  > Shrimp Pickle
 

Recipe Name: Shrimp Pickle – Kerala Style ' Chemmeen Achar'

Cuisine: Kerala Traditional

Author: Shana c/o Recipes 'R' Simple



Ingredients:
1 cup cleaned and deveined fresh shrimp (small in size)

– measure the shrimp after peeled

 ¾ cup indian garlic cloves ( which are tiny in size)

– If using normal garlic cloves, cut vertically into thin slices.

½ cup ginger, very finely diced
¹/3 cup indian sesame oil / till oil / gingelly oil 

(Sometimes I use coconut oil too)

2 ½ tsp kashmir chilli powder OR mild fine chilli flakes

(use more if you want it spicier)

¾ tsp turmeric powder
½ tsp salt or to taste
¹/8 tsp mustard seeds, powdered
¹/8 tsp fenugreek seeds, powdered
2 Tbsp vinegar
1 Tbsp curry leaves
Method:
Start off by making sure shrimp has been cleaned, deveined, rinsed and thoroughly drained.
Marinate the shrimp with ½ tsp  or unto ¾ tsp of the chili powder, all the turmeric powder and some salt. Set aside for 30 minutes.
If using small indian garlic cloves, leave whole. If using larger garlic cloves, slice vertically to make 4-6 pieces to match the size of smaller garlic cloves.
Slice the ginger into

very thin sheets and then chop finely.

Do not crush.
For best results, add the marinated shrimp to an earthen pot and cook without water. The juices will be released. Cook just long enough for the juice to evaporate and set aside. (You might skip this step, but it provides better texture, also the earthen pot helps to absorb the juices better than others.)
Heat the oil in a small wok. Add the garlic. Fry till

light golden

and remove from oil with slotted spoon.
In the same oil, fry the finely chopped ginger. Fry till

light golden

again and remove with slotted spoon.
Again in the remaining oil, (add extra oil if needed) add the marinated shrimp and fry till

golden and crisp

. . Remove with slotted spoon BEFORE the shrimp goes dry or hard.
Mix the remaining chilli powder and vinegar to a paste.
In the oil remaining in the wok, add this paste and cook, stirring for 30 seconds. Careful not to scorch.
Add the curry leaves and when they turn crisp, return all the fried ingredients back to the wok. (Garlic, Ginger and Shrimp).
Add the mustard powder and fenugreek powder and toss well till cooked, about 30 seconds more.
Taste and add salt as needed. You can add a bit more oil if it seems dry.
Wait till completely cooled and store in airtight jars. If keeping more than 3 days: refrigerate.
Shrimp Pickle – Kerala Style ' Chemmeen Achar'
The tiny variety of shrimp is best for this recipe. If using larger ones, you might want to chop them up.
Use only fresh shrimp.
Careful not to scorch the spices, to avoid a bitter taste.
The ginger and garlic should be fried till golden and crisp and not turn dark in color. This way they don't become soggy in the pickle.
I use tiny sharp scissors similar to manicure scissors to help cleaning these tiny shrimp. It helps.
Key Ingredients: Small sized shrimp, Garlic, Ginger, Spices, Indian Sesame oil, Salt, Curry Leaves
Let me know if you tried  – Shrimp Pickle – Kerala Style ' Chemmeen Achar' . Comments from you provide motivation to keep up the driving force behind this blog, bringing you more delicious and perfected recipes regularly. Do leave a comment. Love to hear from you.