16 August, 2015
Shrimp Kabsa – Arabian Fragrant Rice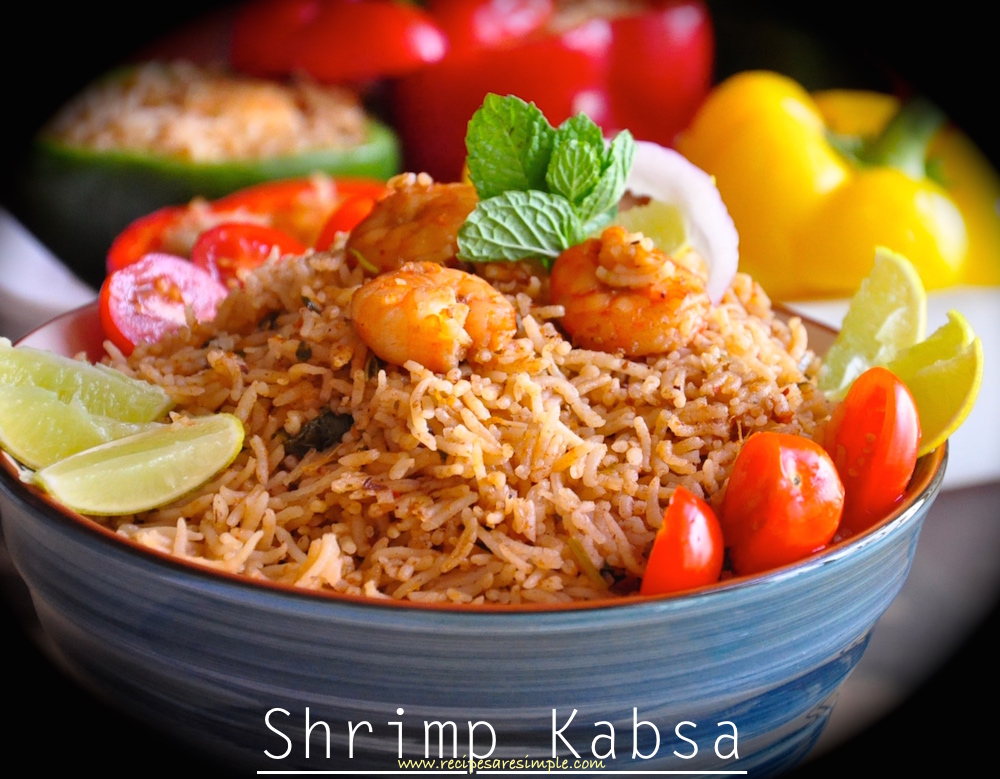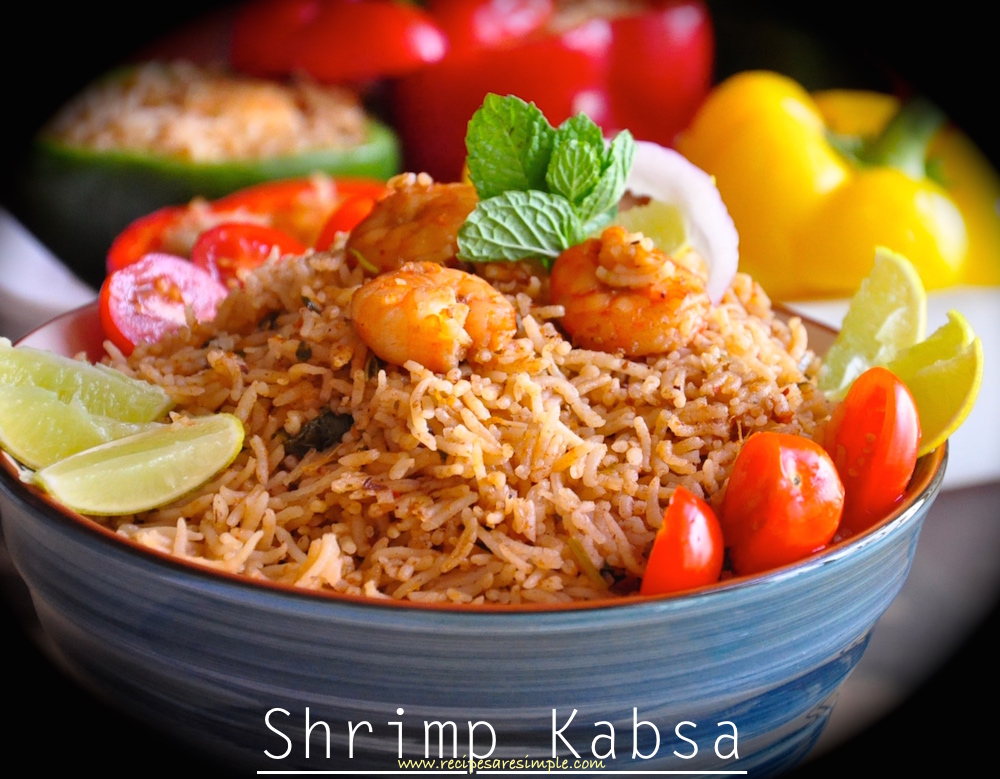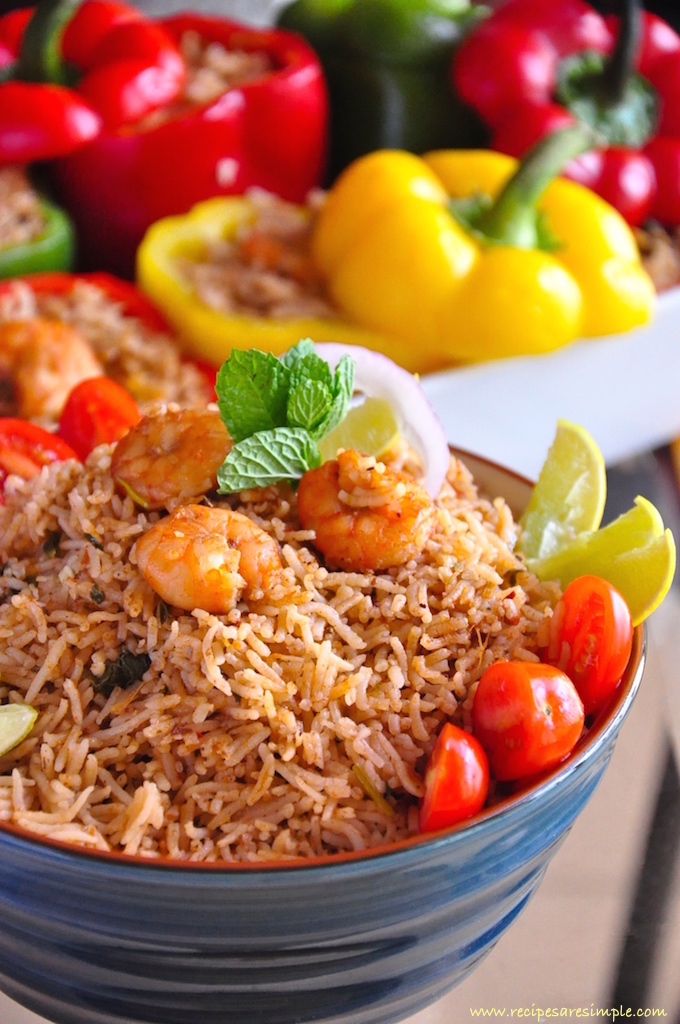 Shrimp Kabsa – Arabian Fragrant Rice
Aaah…. Kabsa or 'Kabsah' is an Arabian Dish that many are absolutely passionate about. The Saudi Arabian delicious and comforting rice dish is a common part of a weekly menu.
It can be made in a number of ways. From extremely simple, to a little more complicated. Every home has its favorite method of preparing it.
I love Saudi Food. It's the closest to my heart. I have a  Chicken Kabsa recipe, which is lip smacking, albeit there are more steps involved than this mouth watering, fantastic Shrimp Kabsa! The special method of preparing the shrimp for this rice, makes it exceptionally delicious. I often make extra shrimp to have the next day, cause my family loves them so much. Here is how we make this Shrimp or Prawn Kabsa  in Jeddah!



Scroll down for video.
Shrimp Kabsa – Arabian Fragrant Rice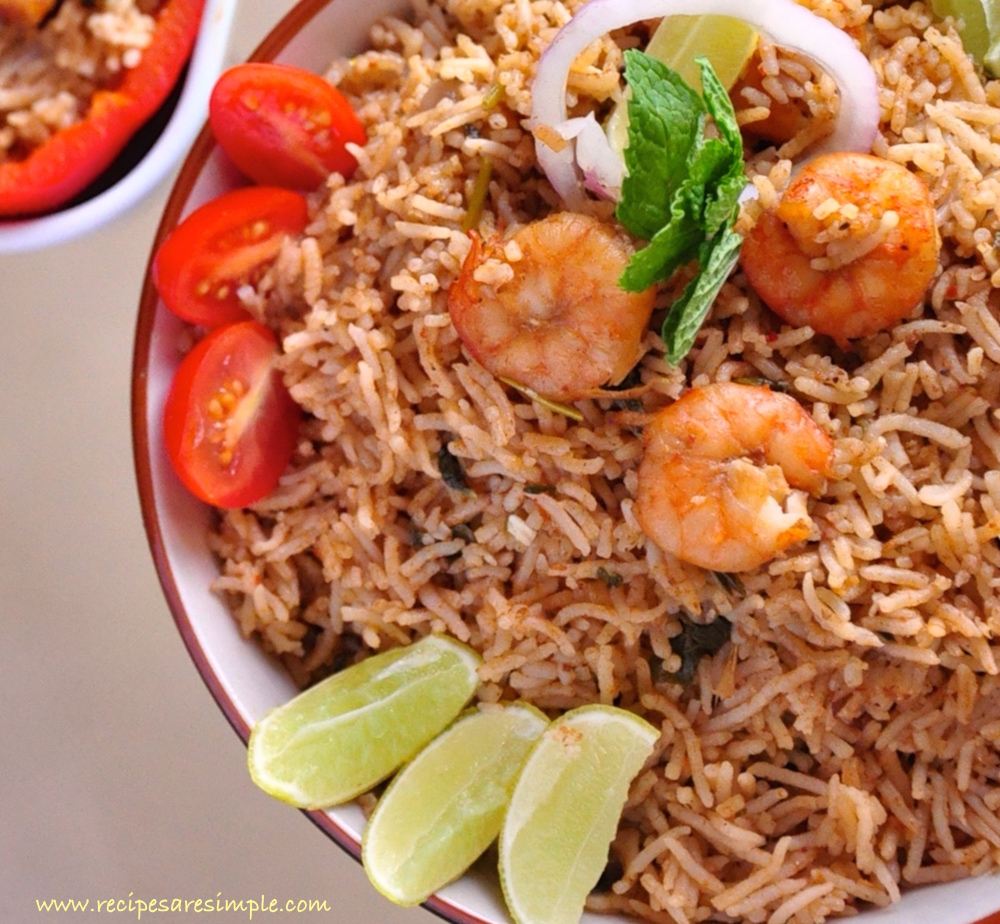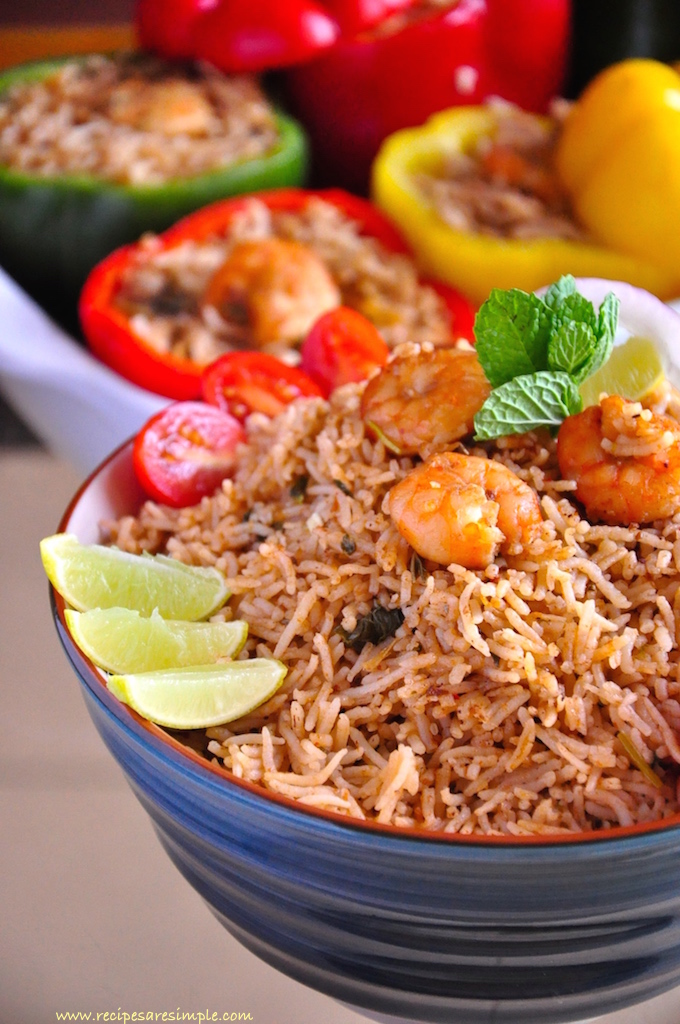 You are here: Home > Rice dishes  > Shrimp Kabsa
 

Recipe Name: Shrimp Kabsa 

Author: Shana c/o Recipes 'R' Simple
Ingredients:
700 gms medium to large sized shrimp. I used tiger prawns.
3 cups basmati rice
2 tomatoes, to be boiled
1 tomato, chopped
1 Tbsp tomato paste (concentrate)
2 large red onions, chopped finely
3 generous tsp ginger, chopped finely
3 generous tsp garlic, chopped finely
1 small bunch of fresh coriander, chopped
3 generous Tbsp fresh mint leaves, chopped
1 dried / black lime (LUMI)
1 chicken bouillon cube (knorr)
¼ cup  plus 2 Tbsp oil (sunflower, corn oil, rice bran etc..)
1-2 Tbsp unsalted butter
5 ¼ cups hot boiled water
2 tsp salt or to taste
optional: toasted pine nuts for garnish
For cooking the shrimp:
1 Tbsp onion, chopped
3 large cloves garlic
same amount ginger as garlic
1 long mild green chilli
½ tsp salt
dried/ black lime powder

(preferred – but if unavailable use ½ tsp lime juice)

½ red chilli powder (kashmiri)
For the Kabsa Spice Powder:
1 tsp coriander powder

¾ tsp chilli flakes

½ tsp cumin seeds

½ tsp fennel seeds

2 dried bay leaves
8 cloves
8 cardamom pods
2 small sticks of cinnamon
Method:
Peel the shrimp and devein. Rinse and keep drained.
Rinse the rice thoroughly, several times till the water runs clear.
Soak this rice for 10 minutes only and then keep drained.
Grind the onion, ginger, garlic and green chili

for cooking the shrimp

 to a course paste.
Marinate the cleaned shrimp with this and set aside for 30 minutes.
Add 2 tomatoes to a saucepan. Cover with water and boil  till the skin is coming off.
Drain and allow to cool completely. Remove the skin and blend to a puree without adding water. Set aside.
Grind all the ingredients for the Kabsa Spice Powder 

to a powder and set aside.

After 30 minutes of marinating, add salt to the shrimp and mix.
Without adding water, add these marinated shrimp to a nonstick pan  or earthenware pot.
Heat on medium flame. Stir occasionally. Precisely after 5 minutes from adding to the pot, strain the prawns from the liquid that has developed in the pan. Reserve this liquid separately.
(The shrimp should have turned opaque by now, without being fully cooked).
To the strained shrimp, add the lime powder and chilli powder. Mix well.
Heat ¼ cup of the oil in a non stick pan and add the prawns. Fry quickly, about 30 seconds per side only. You want to just get a slightly crisp texture around the edges.
Add the liquid left from initial cooking of the shrimp the pan now.
Cook, stirring till the gravy coats the shrimp nicely, without becoming dry.
Turn off the heat and set aside.
To a pressure cooker or pot, add the remaining oil.
Add the ginger and garlic and sauté  BRIEFLY till fragrant.
Add the chopped onion and sauté till very soft and just changing color.
Next add the chopped tomato and cook, stirring occasionally till softened to a pulp.
Add the prepared Kabsa Spice Powder now.
Stir till the raw smell is gone and it smells very aromatic. Make sure you do not burn the spices.
Add the chicken bouillon cube and mash into the mixture.
Add the prepared tomato puree. Cook till the oil separates on low heat, about 3 minutes.
Meanwhile heat the butter in another pan and add the drained rice.
Fry the rice till each grain is nicely coated and the rice is lightly toasted.
When the oil has separated in the pressure cooker, add the tomato paste and stir through till heated, about 1 minute.
Add the fried shrimp now and stir to incorporate.  Also add all the pan drippings. (Optional:

reserve some shrimp

for the top garnish).
Now add the chopped mint and coriander and cook till wilted.
Measure 5 ¼ cups of hot boiled water  and add to the cooker.

(I rinse out the pot used, for cooking the shrimp, the pan used for frying as well as the bowl in which the shrimp was set aside with this hot water to keep maximum flavors).

Bring to boil. Add salt and dried lime as well as the fried rice.
Close cooker and place the  pressure regulator. Cook for 2 steam whistles.
Allow to cool naturally.
Open and fluff up immediately. The rice will be moist. It will be perfect after resting briefly. Garnish the top with the

reserved shrimp

if desired as well as toasted pine nuts.
Shrimp Kabsa – Arabian Fragrant Rice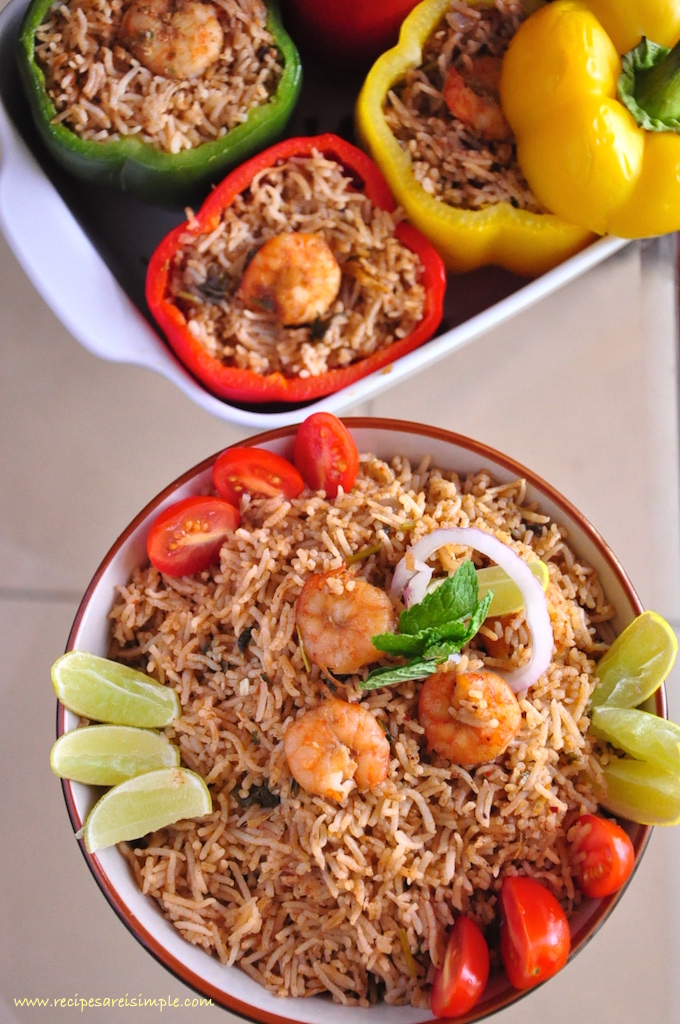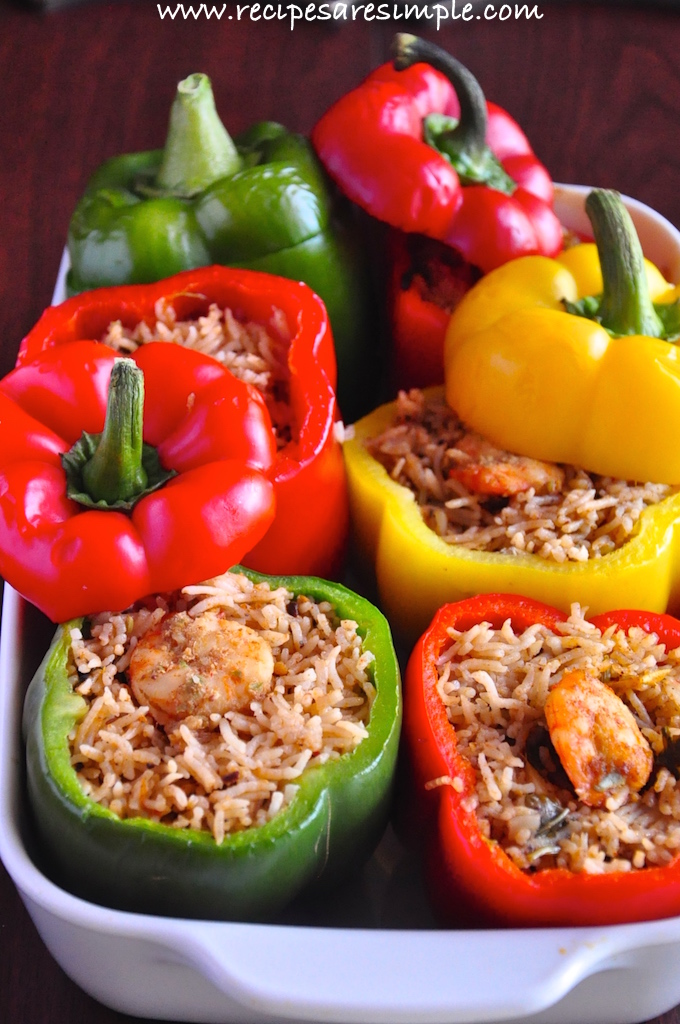 Optional variety: For pretty presentation, serve in  baked capsicum cups. ( I blend the capsicum later to make dip).
Key Ingredients: Rice, Shrimp, Spices, Onion, Ginger, Garlic, Green Chilli, Oil, Butter, Herbs,Dried Lime,
Let us know if you tried it – Shrimp Kabsa – Arabian Fragrant Rice . Comments from you provide motivation to keep up the driving force behind this blog, bringing you more delicious and perfected recipes regularly. Please do leave a comment. We love to hear from you.