31 October, 2013
Shrimp Curry with Coconut and Bilimbi Fruit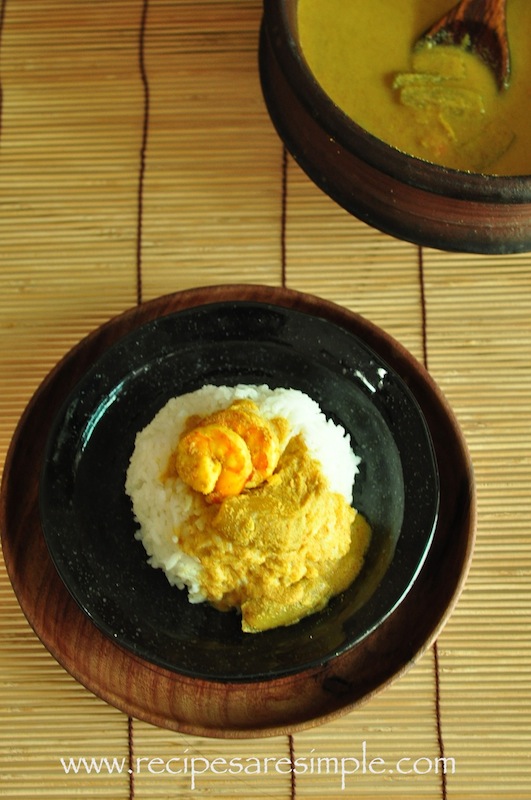 Shrimp Curry with Coconut and Bilimbi Fruit
Whenever I get this fruit known as  bilimbi fruit or 'irumban puli' is available, I love to prepare fish or shrimp with it.
I love the sour tone it adds. A change from using Gambooge, Tamarind or Mango for seafood. Have you tried it?
The fruit can be eaten along with the seafood. This fruit has various health benefits as well.
It is known to be good for eliminating phlegm , reducing heat from the body, has anti-inflammatory properties, is used in treatment of high blood pressure effectively, reduces the pain caused by cavities, helps with cough, rheumatism & acne. Good reason to add it to your diet if you can.
Shrimp Curry with Coconut and Bilimbi Fruit
Author:
Prep time:
Cook time:
Total time:



Ingredients for Shrimp Curry with Coconut and Bilimbi Fruit:
5OO gms cleaned prawns(

The pink tailed variety or the smaller variety is best for kerala curry and please only use fresh prawn as this is a mild spiced curry and using frozen prawn wont be forgiving!)

¾ cup bilimbi fruit / irumbanpuli, sliced lengthwise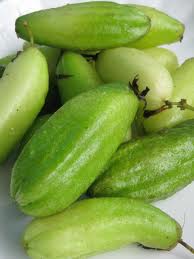 'irumban pulli '(Averrhoa_bilimbi ; a  thumb sized sour fruit)
¼ cup grated coconut + 2 Shallots + 4 curry leaves
1 to 2 tsp mild chilly powder
½ tsp turmeric powder
¼ to ½ tsp coriander powder
salt to taste
¼ to ½ cup coconut milk to adjust thickness




Method:
In an earthen pot, add  prawns JUST enough water to submerge them, the bilimbi slices, chilly powder & turmeric powder.
Bring to boil.
Grind together the shallots, grated coconut and curry leaves to make a fine paste.
Add to curry and bring back to boil.
Add salt and coriander powder. Cook uncovered on medium heat till the prawns are cooked and curry thickens.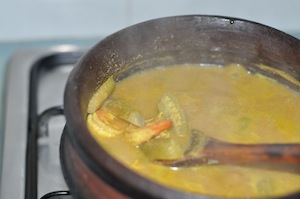 Add coconut milk to adjust the thickness of the curry.
Shrimp Curry with Coconut and Bilimbi Fruit
Notes:
Did you enjoy our Shrimp Curry with Coconut and Bilimbi Fruit?