8 December, 2013
Shrimp Curry with Coconut Milk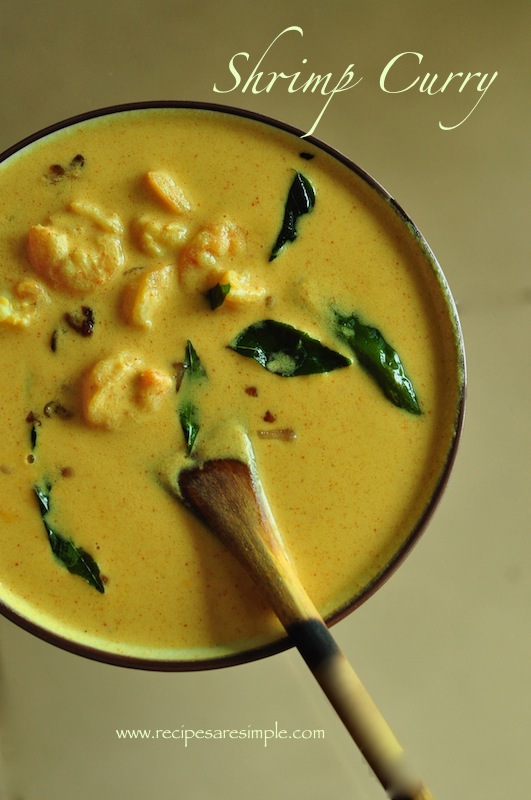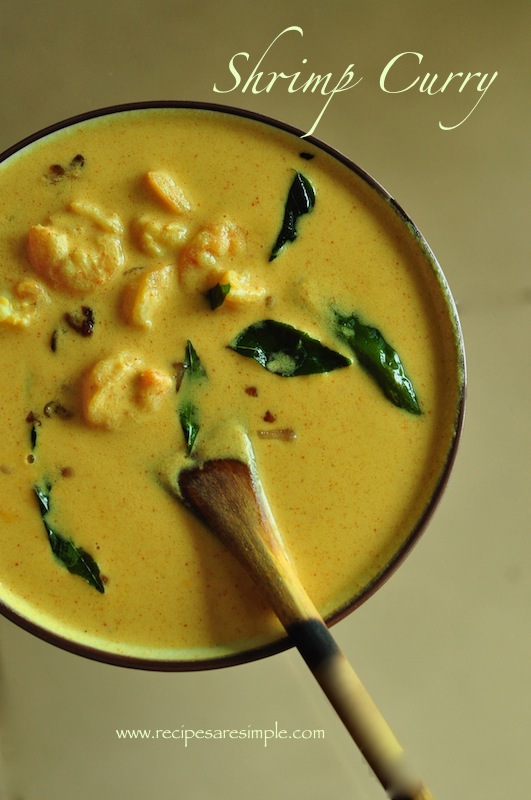 Shrimp Curry with Coconut Milk
 Growing up, this was my favorite curry. dolloped over plain white long grained rice…. It was just sooo good.
Moms friends from different  countries often requested that she make this too, so I believe it appeals to the International Palate. The recipe is very simple but I must warn you it does take practice.
You need to be able to tell when the curry is colored right and when the consistency is right… as coconut milk and chili powder are always different. Try this delicious Shrimp Curry with coconut milk.

Shrimp Curry with Coconut Milk
Ingredients:
around 20 medium sized shrimp, cleaned & deveined – use the freshest shrimp only!
2 ½ cups thin coconut milk
½ cup thick coconut milk
Lemon juice- freshly squeezed – to taste:  1 or 2 Tbsp approx.
2 or more tsp mild chili powder
½  tsp turmeric powder
1 tsp salt
For tempering: 
1 Tbsp oil – I use sunflower oil
1 shallot, minced
1 tiny clove garlic minced
a few curry leaves
This is a play it by color and texture curry: I have given you the initial amounts to start with for the spices and added ingredients. Start with this amount of coconut milk and adjust the chili powder, turmeric, salt and lemon juice to get the perfect light but golden color and perfect taste.
Method:
Add the thin and thick coconut milk to a deep pot.
Heat.
Add the chili powder and turmeric.
They will dissolve into the curry as it heats.
Bring to boil and add the shrimp.
Boil briefly and then add salt.
Cook partially covered on a low flame.
(Don't walk away from the curry as it tends to boil over quickly – If the curry rises , stir with a wooden ladle and " fan off" some of the steam so that it settles back down.)
Cook 5-10 minutes, till curry is thickened and shrimp is tender and no longer rubbery to bite.
Check for color and taste and add salt and chili powder as desired.
Now on low flame add  1 Tbsp of Lemon juice first. Stir the curry for a minute continuously so that it does not curdle. Taste and add the remaining lemon juice as needed.
Remove from heat.

Tempering:

Heat oil in a small pan, add the shallots, garlic, green chili and curry leaves and stir continuously till the shallots are a deep golden curry. Add on top of the curry. Do not Stir. Cover the pot and allow to rest.
Serve over plain white rice!
Shrimp Curry with Coconut Milk
Try and let us know Shrimp Curry with Coconut Milk ?
The curry should not be too liquidy, it should be thickened a bit.