21 November, 2013
Sheermal Recipe – The Saffron Scented Regal Persian Bread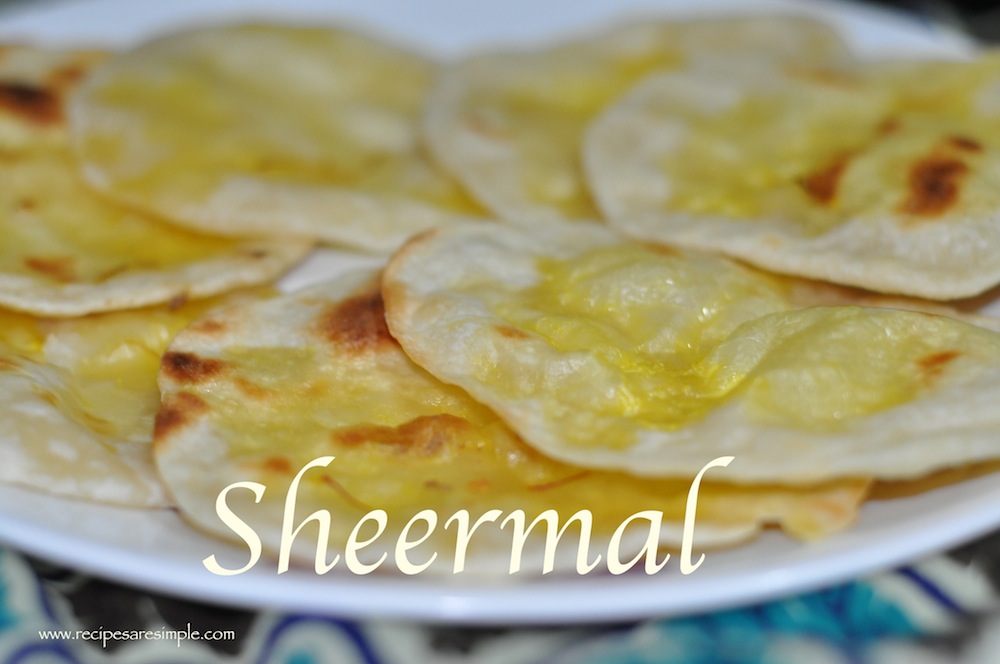 Sheermal Recipe
Sheermal is a delicately rich saffron scented flat bread, made soft with the use of ghee (clarified butter). The use of the saffron makes it a Regal Item and it is great with most  Tandoori Style Recipes. I love it

wit

h

Kadai Chicken

.
The literal meaning of Sheermal – is Milk Bread, and it is the incorporation of the lightly sugared milk that gives the bread a hint of sweetness.

Sheermal Recipe
Ingredients:
3 cups refined, all purpose flour.
2 tsp sugar dissolved in ¾ cup Milk.
3 Tbsp  

Hot

Milk.
A few strands of saffron ¼ – ½  tsp.
2-3 drop of Kewra/Screwpine Water.
¼ cup pure ghee / clarified butter.
optional 2 Tbsp butter for final brushing.
Method:
Sift the flour and salt together into a bowl.
Dry toast the saffron lightly and add to the 3 Tbsp of hot milk. Set aside.
Add the sweetened milk, kewra water to the flour and mix with a wooden spoon.
When it holds together Add jut enough water – a few Tablespoons to knead it to a smooth elastic dough.
Cover the bowl with a damp cloth and allow to rest for 10 minutes.
Melt the Ghee and add it to the dough. Mix well, till you get an smooth dough again. It should not be too greasy.
 Divide the dough into a dozen balls and set aside for another 10 minutes.
Preheat oven to 270 º  c/ 520º F for these 10 minutes. High Heat.
Flatten the balls on a lightly floured surface and roll out to make a 6 " round disc.
Prick the entire surface with a fork.
Place a waxed baking paper on a tray Or lightly grease the tray and place 1-3 breads on it (according to size of oven)
Place in the oven for 5-9 minutes, flip over once in between. The bottom should be golden.
You will see the bread puffing up gently in areas.
Brush the breads with the saffron milk and bake again for 3 minutes.
Remove, Brush lightly with butter (optional) – serve hot!
The Sheermal is so soft and lightly crisped. Enjoy!
Sheermal Recipe
Did you enjoy our Sheermal Recipe?