5 May, 2015
Sharjah Shake Special – Banana Shake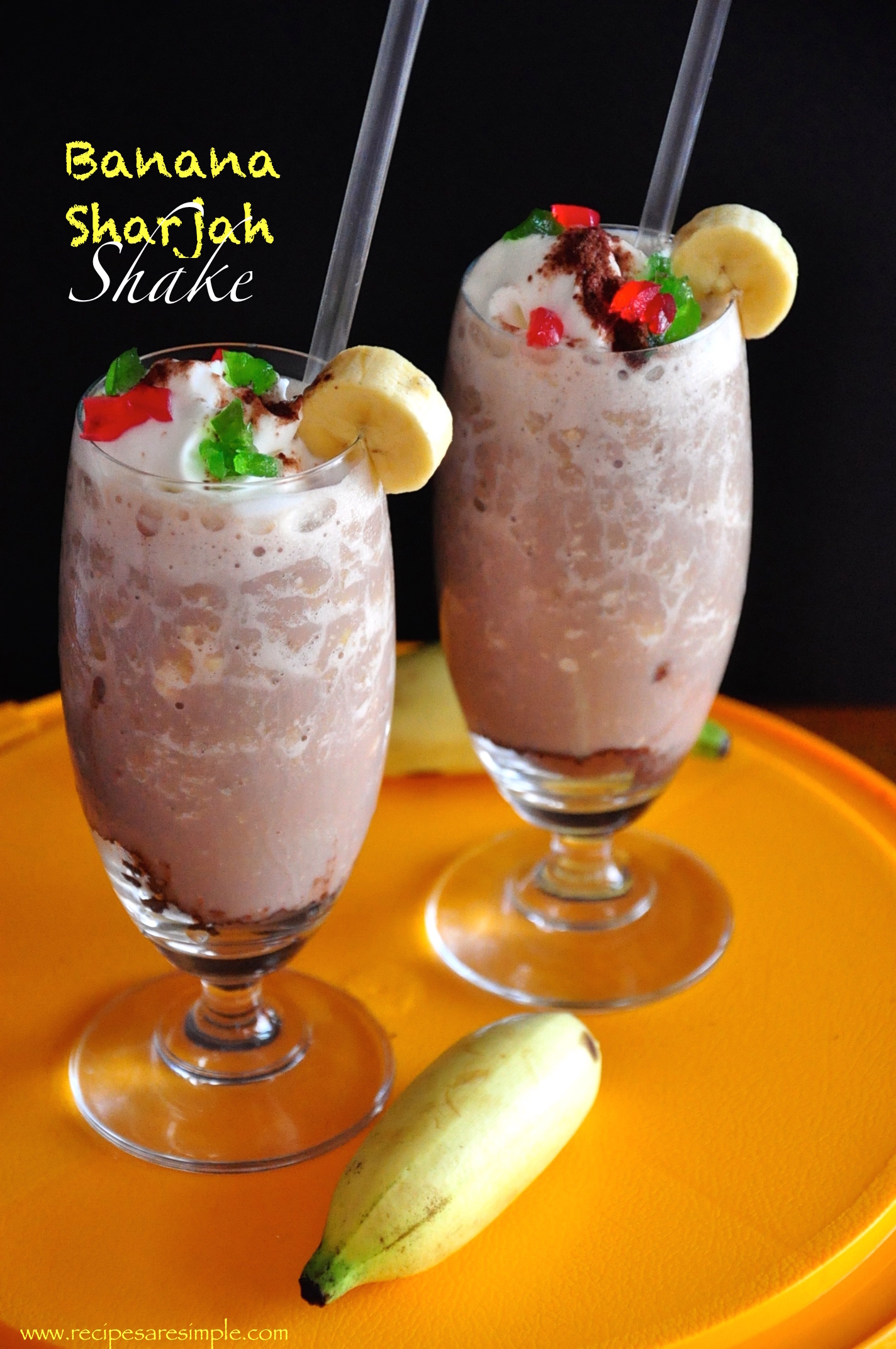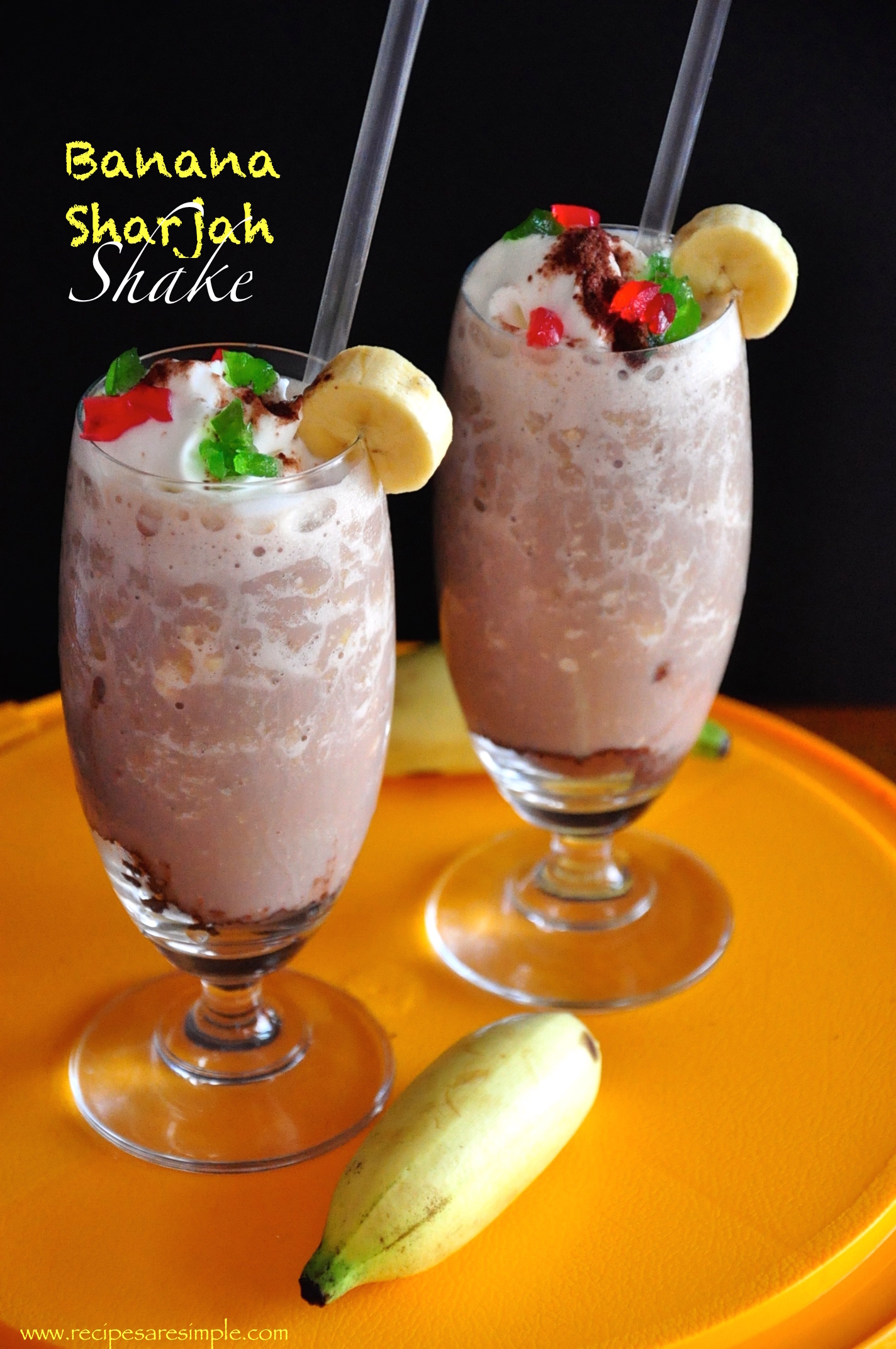 This is an extremely popular Milk Shake that was developed by Keralites in the Gulf Region. Perfect for Hot weather. The combination of nuts and malted chocolate milk powder is fantastic. The tiny specks of milk ice  really speak to you and help recharge you! Very Yummy too!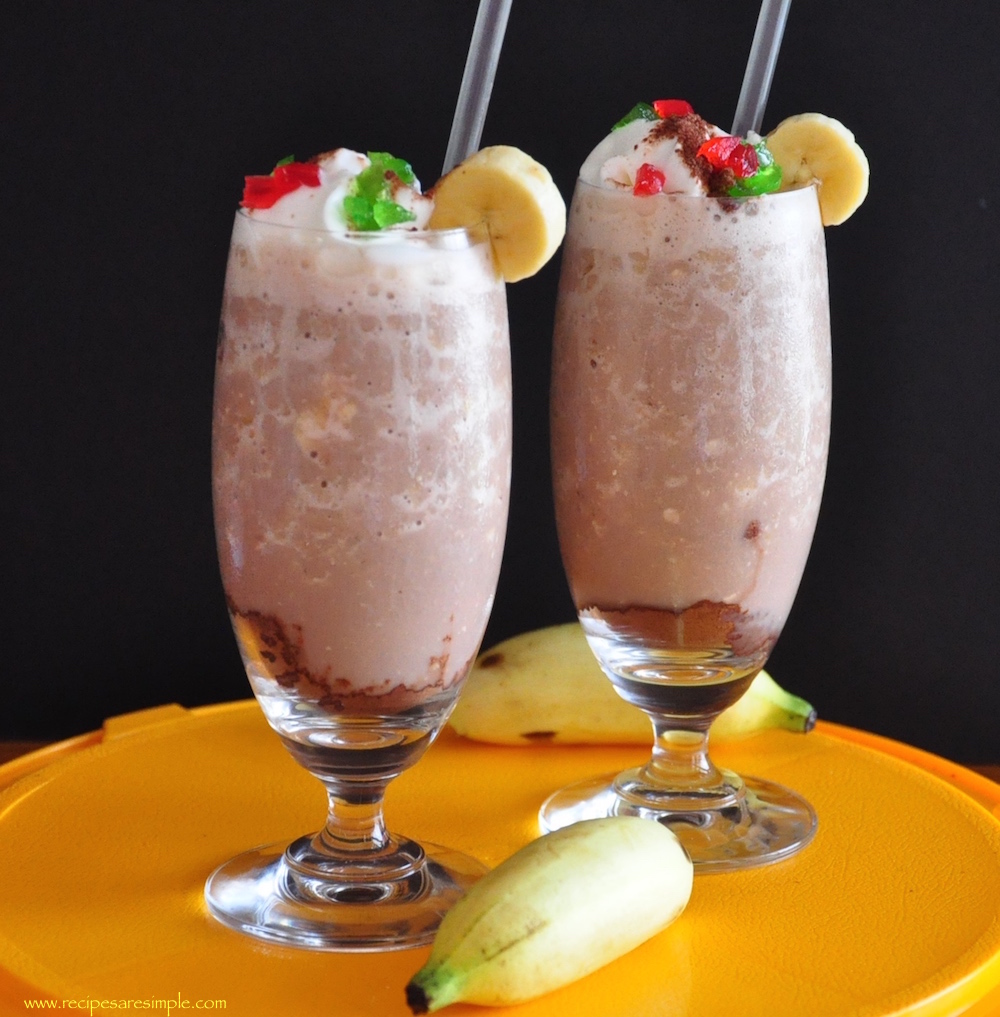 Sharjah Shake Special – Banana Shake
You are here: Home > Drinks  > Sharjah Shake
 

Recipe Type: Drinks  / Beverages

Author: Shana c/o Recipes 'R' Simple
Sharjah Shake Special – Banana Shake
Ingredients:
2 cups milk
4  small bananas (njalipoovan)
2 Tbsp Boost or any other Malted Chocolate Milk Powder – I like Ovaltine
2 Tbsp plain Cashew nuts
½ cup water
4 – 6 tsp sugar

or to taste

Optional garnish: slices of banana, whipped cream, sprinkling of boost, chopped place cherries or tutti frutti.
Method:
The night before or several hours before, you need to prepare the milk ice cubes.
Pour the milk into ice cube tray and place in freezer to set completely. I do this the night before.
 When time to serve – add  the ice cubes, banana, boost, cashew nuts and sugar along with half cup of water to a blender.
Blend for just 5 – 10 seconds till the ingredients have blended together.
You want tiny crystals of milk ice and cashew in there so don't blend too long.
I added a little boost to the bottom of the serving glass. Poured in the Banana Shake, topped with some whipped cream and chopped glace cherries. I also added a sliced banana as garnish.
Serve with a straw because you want to go at the little bits and treasures in there with it! 🙂
Sharjah Shake Special – Banana Shake
This shake should be served immediately to retain the crystals of ice.
You can use any firm ripe bananas – 3/4 th cup slices bananas will do.
Key Ingredients: 
Let us know if you tried it – Sharjah Shake Special – Banana Shake . Comments from you provide motivation to keep up the driving force behind this blog, bringing you more delicious and perfected recipes regularly. Please do leave a comment. We love to hear from you.