17 October, 2013
Shamandar Bi Tahini – Middle Eastern Beetroot Dip with Sesame Sauce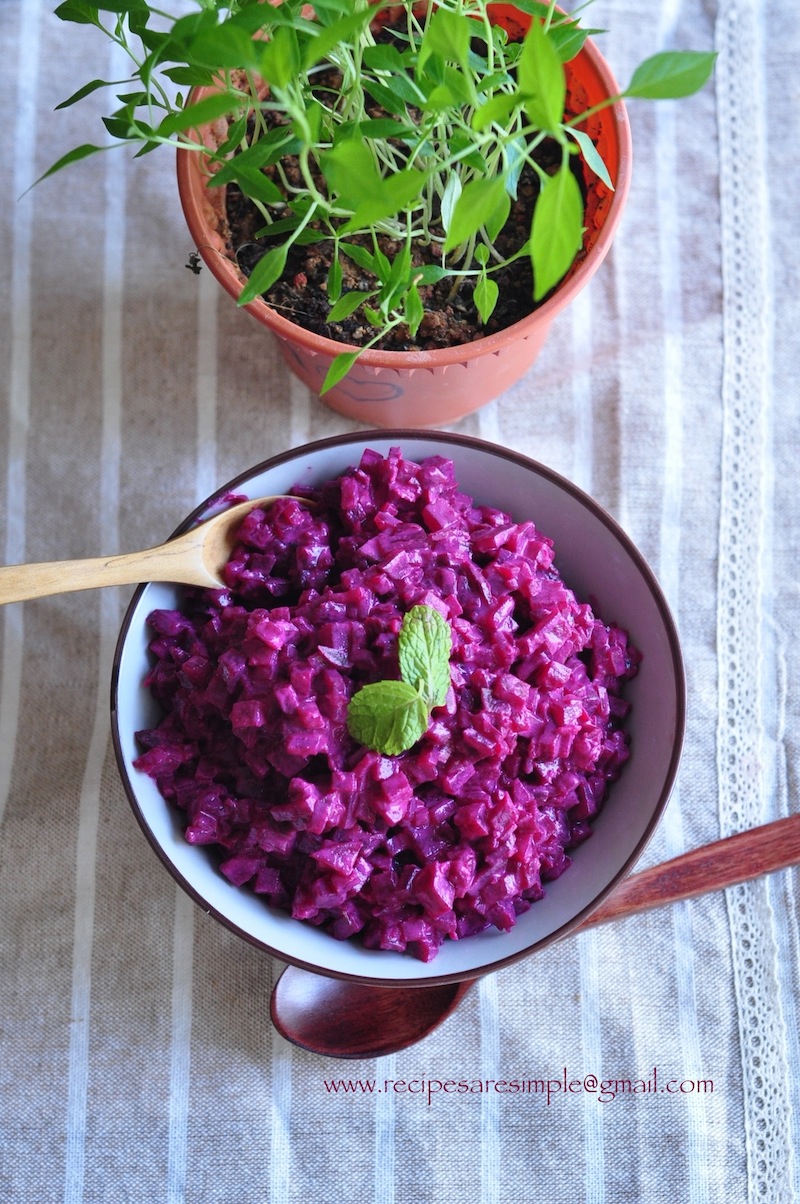 Shamandar Bi Tahini
An easy to prepare dip with the enhanced creaminess of yoghurt and silky sesame sauce for a Middle Eastern Fair. Similar to Beetroot pachadi.

Shamandar Bi Tahini
Author:
Prep time:
Cook time:
Total time:
Ingredients:
3 medium beetroot
¼-½ cups greek style yoghurt
3 Tbsp Tahini Sauce
2 Tbsp lemon juice
¼ tsp cumin seeds
3 cloves garlic
1-2 Tbsp olive oil
salt
Mint leaves or parsley leaves for garnish
Method:
Preheat the oven to about 205ºc/400ºf
Wash the un peeled beets well. Pat dry with towel.
( 1) Rub in olive oil. (2) Wrap each beet in foil paper. place on baking tray and bake for 1½ hours.
(I like to do this the day before) You can also dice and then boil the beets but I prefer this method.
(3)When the Beets have cooled, (4) peel them and (5) slice into rounds.
(6,7)Then proceed to dice the slices. (8)Place the diced beetroot in a bowl.
Crush the garlic using a mortar and pestle, add the cumin.
Mix in the tahini sauce, lemon juice, oil and yoghurt and whisk well.
Add salt and then pour over the diced beets
Garnish. Serve as a dip with Pit bread or as a side with steaks.

Shamandar Bi Tahini
 Did you enjoy our Shamandar Bi Tahini ? Please rate below: 
Notes: 
You can add finely chopped mint, chives, scallion  or parsley.
Serve cold or at room temperature.