5 December, 2013
Shahi Tukda – Mughal Bread Pudding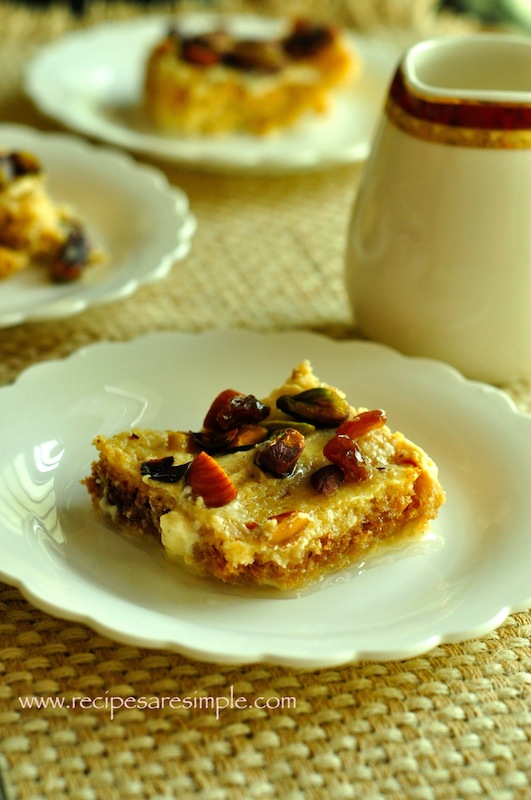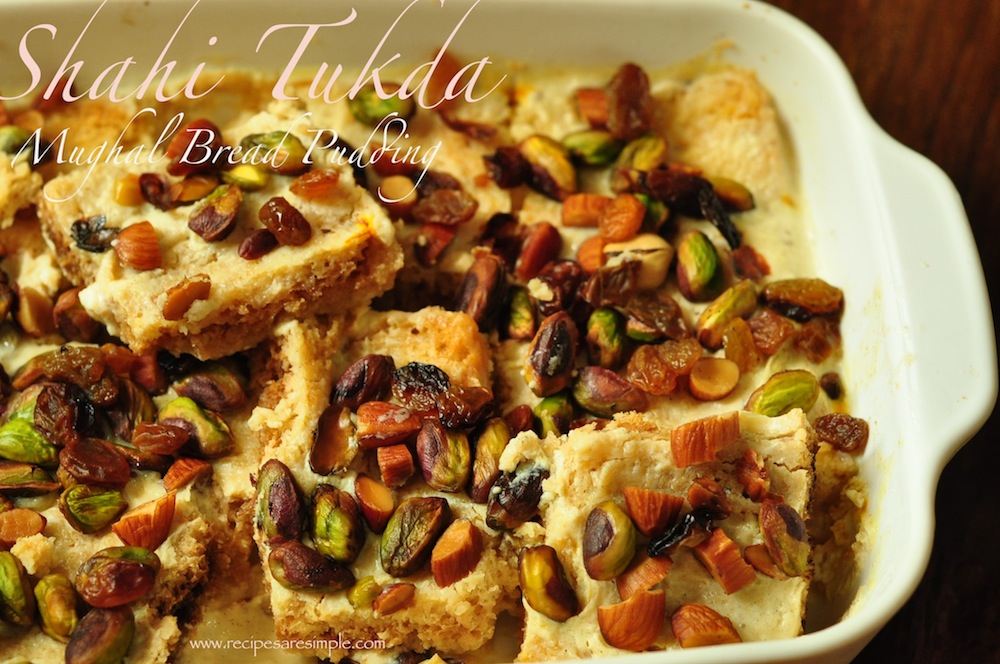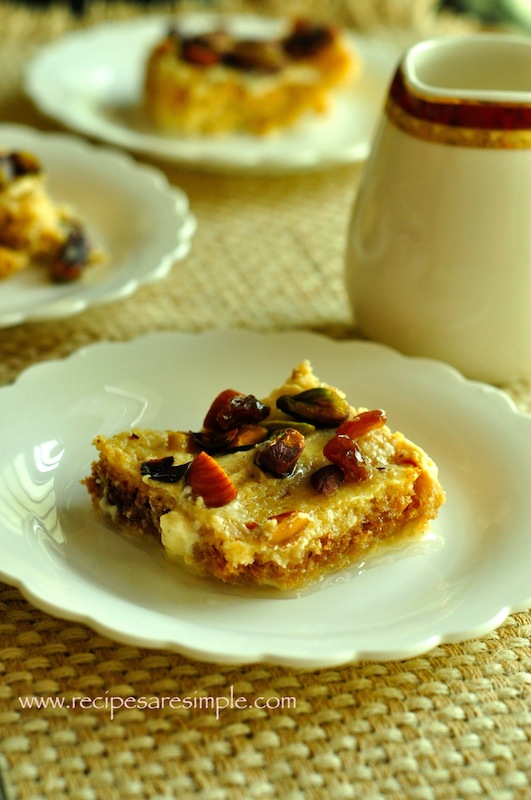 Shahi Tukda – Mughal Bread Pudding
If you like North Indian / Mughal Sweet dishes this one is as simple as it gets.   Soak your toasted bread or Rusk Slices in Reduced sweetened milk and top as desired. That Simple.  The addition of the Saffron, Pistachio and Almonds is what gives this dish its Regal Name.  Some recipes call for condensed milk but I don't like the flavor it imparts.   I would recomend using a little heavy cream as desired and sweetening with sugar to taste.  Here's how I made this Super Quick and elegant Shahi Tukda.
Shahi Tukda – Mughal Bread Pudding
Author:
Prep time:
Cook time:
Total time:
Ingredients: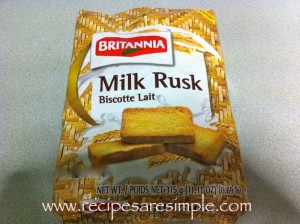 Milk Rusk 10-12 slices or six slices of bread
4 cups milk
2 Tbsp Heavy Cream
4 Tbsp Sugar – or to taste
1/4 tsp saffron strands
1 tsp cardamom powder
5 Bruised cardamom pods
Ghee (Clarified Butter) or Melted butter for brushing and frying the nuts
½ cup pistachio
¼ cup of almonds sliced
¹⁄8 cup golden raisins/sultanas – optional
For the Rose Syrup:
 A tsp less than ¼ cup sugar
¼ cup water
¼ tsp rose essence
1 single drop of almond essence

 
Method:
Pour the milk into a large sauce pan.
Bring to a boil. Careful not to boil over.
Simmer on low for 10-12 minutes, keeping watch till the milk reduces to a little over ¼ its original volume.
Keep removing the creamy film that develops over the simmering milk. We will not use this.
Add the cardamom pods, powder and sugar as well as saffron. (Don't add too much sugar, remember the Shahi Tukda will be served with the rose syrup)
Also stir in the cream to incorporate. Simmer  briefly.
While the milk reduces, prepare the rusk.
 

You will need a microwave safe casserole dish.

Brush the slices of rusk on both sides evenly with the ghee.
Place in a single layer on the bottom of your casserole dish.
Microwave for 40 seconds. Turn the slices over and microwave for another 30 seconds.

(Please keep watching as Microwaves may differ in standard temperature)

The rusk should attain a golden hue and be tender.
Pour the reduced milk over the golden rusks.
Heat some ghee in a small pan and toast the almonds and pistachios, seperately till golden.
Also fry the Golden raisins if using.
Add these toasted nuts/fruits over the pudding.
Allow to chill in the fridge till served. 1 hour +.
Cut into small square slices per person.
While serving drizzle a small amount of the rose syrup over each cut out slice. Enjoy this milky sweet treat.
For the Rose Syrup:
 Add the sugar and water to a small sauce pan and heat.
Boil till the sugar dissolves and simmer till it becomes slightly syrupy.
Remove from heat and add essence.
Drizzle a tiny amount over each square of Shahi Tukda.
Shahi Tukda – Mughal Bread Pudding
Try and let us know Shahi Tukda – Mughal Bread Pudding
You can also use bread slices instead of rusk, but theres a little more effort involved.
Toast the bread slices in minimal ghee on both sides. Keep adding ghee after each batch to the pan as it will get soaked up by the bread. Cut off the crusts of the bread slices with sharp scissors.
Now slice each bread into equal rectangle or triangular shapes and place in the casserole dish to be topped by the milk and nuts.