21 October, 2014
Seekh Kabab – Afghan Chicken Kebabs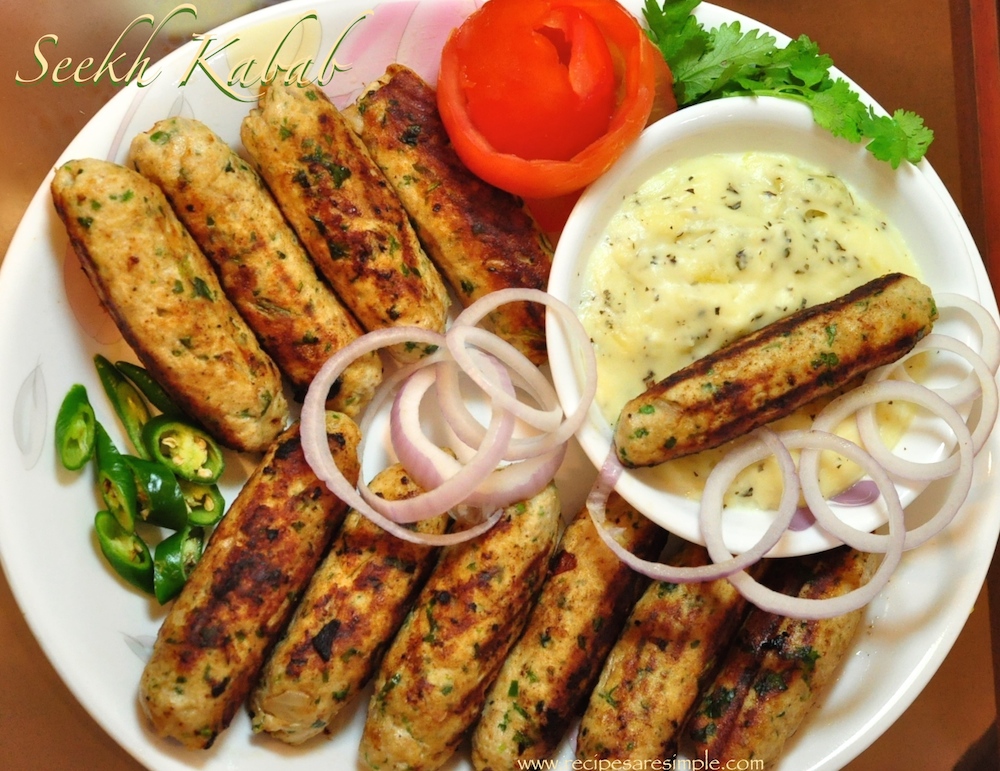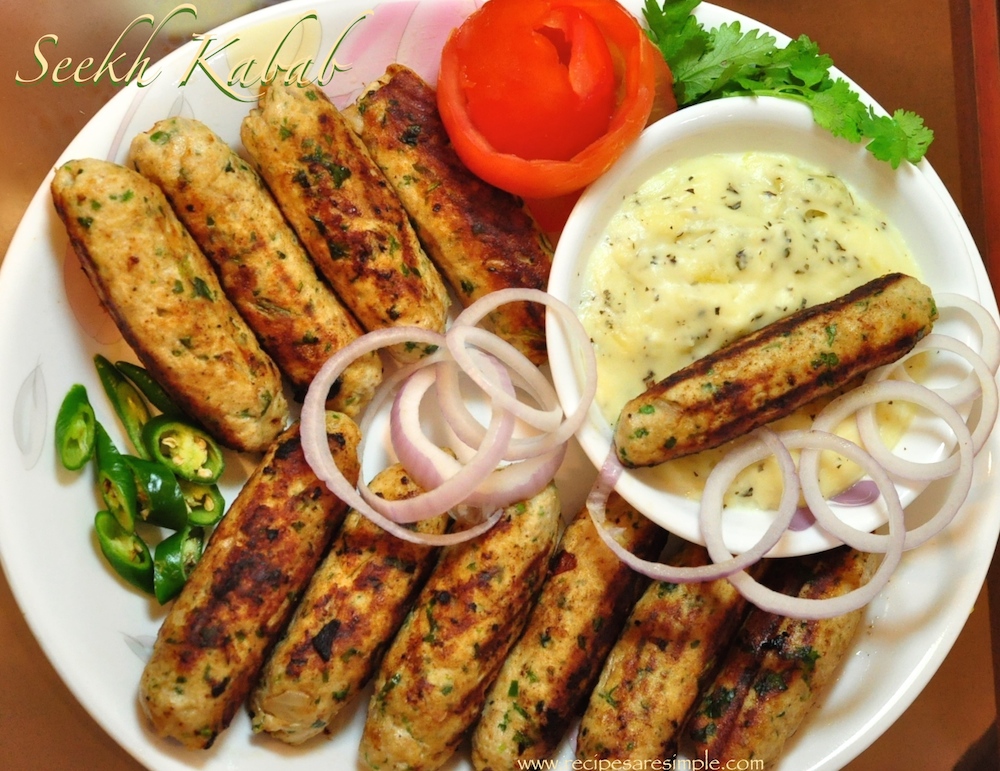 Seekh Kabab – Afghan Chicken Kebabs
These deliciously simple Seekh Kababs are perfect for dinner  or tea parties. I like to pack them the next day for Kids Lunch Boxes as well. These Seekh Kababs contain no chili powder, pepper or coriander powder. Mildly spiced and very moist and flavorful! We love them!
Seekh is the Turkish word for the Thick Metal Skewers which are used to shape these kababs. They are fun to make and even more fun to eat! Served with a simple white sauce.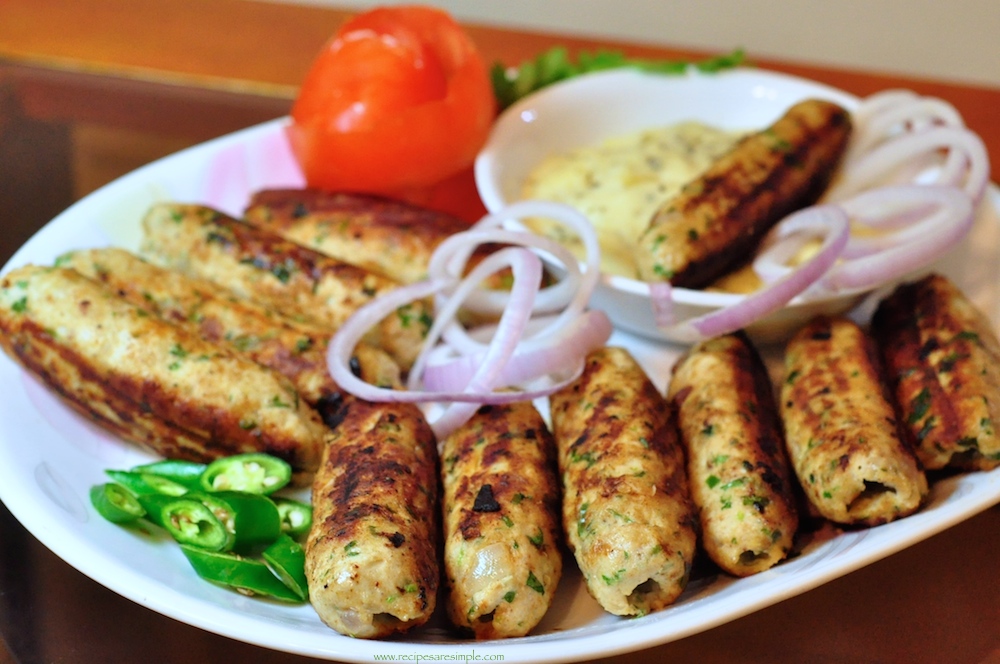 Seekh Kabab – Afghan Chicken Kebabs
Recipe Type: Chicken / Grill – BBQ

Author: Recipes 'R' Simple

Prep time:15

Cook time: 10

Total time: 25

Serves: 3-4 ( makes 11 kababs)
Ingredients:
470 gms minced chicken
1 medium onion, whole
1 Tbsp ginger
1 Tbsp garlic
1 long green chili, deseeded and chopped finely ( ½ Tbsp)
½ cup toasted bread crumbs (I used Panko)
2 rounded Tbsp finely sliced shallots, fried till crisp
a bunch of fresh coriander leaves (about ½ cup loosely packed)
1 rounded Tbsp grated fresh coconut
½ – 1 Tbsp melted butter – melted till soft but not an oil
½ tsp cumin seeds
½ Tbsp poppy seeds ( kasa kasa )
½ Tbsp  fine green cardamom powder
½ tsp garam masala powder
1 egg
optional – small piece of charcoal (for smoking)
salt to taste  (about ½ tsp)
4 Tbsp oil

 
Method:
Rinse the minced chicken and leave to drain completely. All water should be gone.
Peel the onion and boil till soft. Drain.
Chop the boiled onion coarsley.
 Rinse the poppy seeds (kasa kasa) and leave to dry.
Heat the poppy seeds in a dry pan till toasted. The seeds will start to pop in the pan.
Add the toasted poppy seeds and cumin to a  small grinder and process to a powder.
In the same grinder, add the ginger and garlic and grind to a paste.
Add the drained mince to a food processor and process further till smoother in texture.
Add the fresh coriander, chopped cooked onion, ground powder,  and ginger garlic paste to the processor and process, just till the coriander is minced and incorporated (note that the chopped onion should still retain some texture)

Use a spatula to scrape all the contents of the processor into a bowl.
Add the bread crumbs.

Add the melted butter and minced green chillies.
Add the crisp shallots

to the same grinder used to powder the spices and grind the ginger garlic paste.

Grind to a course powder.
Add to the bowl ingredients along with the egg, fine cardamom powder and garam masala powder.
Add salt to taste. Mix with hands thoroughly till the egg, butter and all other ingredients are smoothly incorporated throughout the mixture.
Use your metal skewer (seekh) now. Wet you plans in a small bowl of water lightly.
Mould medium lime sized balls and press on to the skewers from on side.
Press with moist fingers to create a smooth kabab along the skewer.
Gently and smoothly slide off the kabob from the skewers. Do not press to close the openings on either side. Leave them as they are.
Place a small piece of charcoal on the burner flame till piping hot and red.
Place a small dish with some butter on the same tray as the moulded kabobs.
When the charcoal is 'glowing' , place it in the buttered dish.
Quickly cover the tray with a bowl or domed lid. Allow to smoke for 10 minutes. Do not allow any smoke to escape. Use a weight if needed.
Heat a grill pan. Pour a thin layer of oil over the surface.
Place the kabobs, slightly spaced and leave undisturbed till the bottom is golden. Then roll and grill all sides evenly. Grill on a medium heat to maintain a sizzle but not overly hot.
Chicken mince cooks quickly. Do not over fry. You can check doneness by peeking into the  opening created by the skewer. Check if the inside is cooked. (2 minutes per side should do)
Use wooden spatula to lift the kabobs to serving plate ( avoid tongs).
While the kababs are being grilled, prepare a simple white sauce.
Simple White Sauce: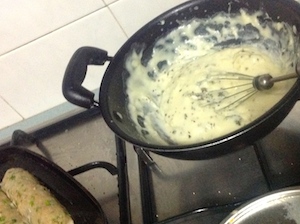 Heat 1 Tbsp butter till just melted in a small pan.
Add 1 Tbsp plain flour and mix to heat through.
Add 1 cup  milk, a little at a time while using a whisk to smoothen the sauce.
When bubbling add 1 Tbsp grated cheese and allow to melt through.
Add salt to taste and remove from heat.
Add 1 tsp dried mint flakes for minty white sauce (optional).
Seekh Kabab – Afghan Chicken Kebabs
Try it and let us know – Seekh Kabab – Afghan Chicken Kebabs .
 If you have store brought crisp shallots, use them  OR slice shallots finely and deep fry in a small pan till golden and crisp. Leave on paper to drain.
If you do not have metal seekh (skewers) you can use chopsticks. Bamboo skewers are too thin and are not reccomended.
Note that the 'smoking' procedure can also be done after the kabobs have been grilled, instead of while they are still raw.
Instead of white sauce you could also make a green chutney if desired.
Do not use more flour in the sauce or a dry film will develop over the sauce. If this has occurred add more milk and heat in the microwave.
Do not use more butter than suggested or the kebabs will be harder to mould.