29 July, 2013
Sambal Goreng- Tahu Tempe (Stir fried Bean Curd, Tempe and Long Beans)Dish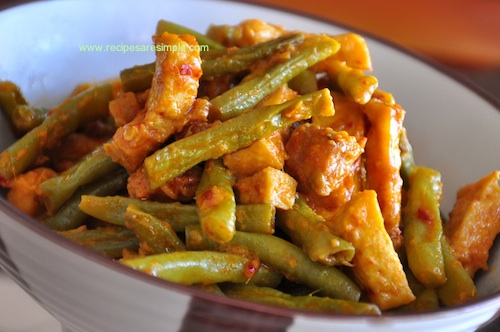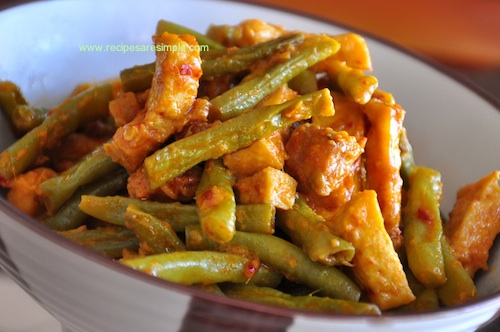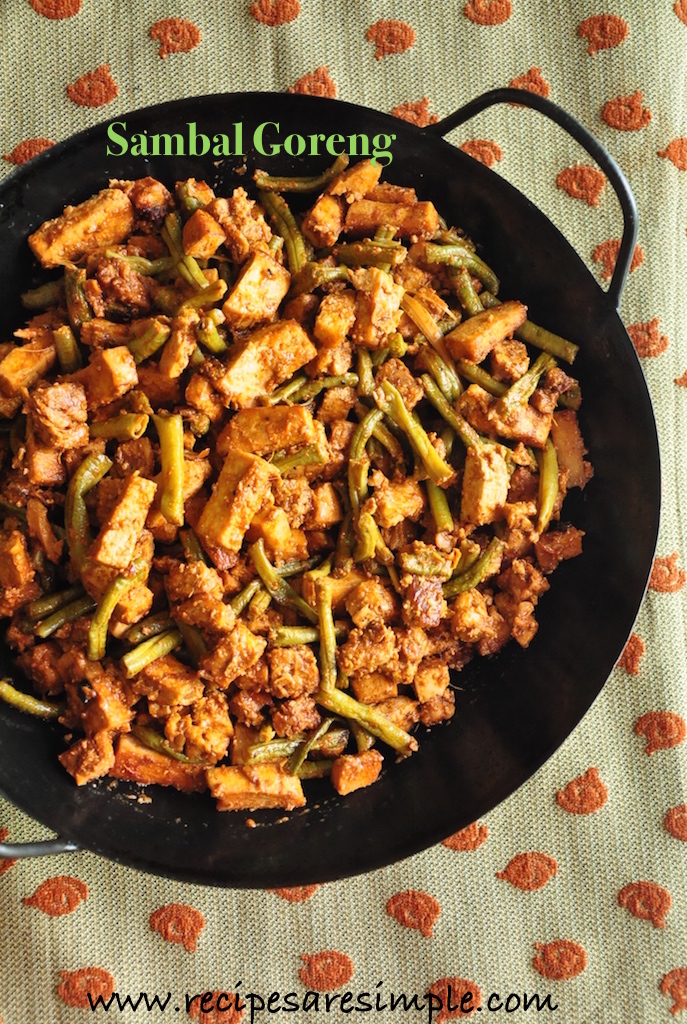 Sambal Goreng- Tahu Tempe
This is a Malaysian/Singapore vegetarian dish. 'Sambal Goreng' is made of Soya Bean Cake (Tahu or Tau Kwa), Fermented Soya Bean cake (Tempe), Long beans and spices. Simmered in an aromatic coconut based gravy to perfection, this dish is so delicious served with steamed white rice.
Protein Rich Vegetarian dish that can served with white rice. It can be a mean in itself! Here is our delicious version.
Sambal Goreng- Tahu Tempe
Ingredients:
1 Pack(400 gms), Tau Kwa (Beancurd) cubed and fried
1 Pack Tempe (200 gms) cubed and fried
1 tsp tamarind pulp (Asam jawa), add more if needed
 1-2 Tbsp Ketchup
1-2 tsp kecap manis (pronounced ketchup mah-nis), which is a sweet soy sauce of Indonesian origin.
 green or red chilies  sliced – optional
1 stalk lemon grass, bruised
1 " piece of galangal (lengkuas) bruised
8-10 long beans (string beans) sliced diagonally-1 ½ " long pieces (washed and patted dry)
1 cup coconut milk
salt and pinch sugar to taste
cooking oil
For the Spice paste
10 dry chili soaked in hot water to soften
8 shallots
3 cloves garlic
½ in ginger
Method:
Pound all the ingredients for the Spice Paste on a stone  for best results or use a blender/ mixer. Make a smooth paste, with little flakes of chilly. Do not add water.
Heat oil to deep fry the beancurd and tempe. Fry in batches, the bean curd & tempe separately. Drain on paper towels. If you are cautious about deep frying, you can also pan fry these ingredients.
Transfer 1 Tbsp of the oil to a non stick pan or wok and heat well. Add the cleaned string beans and stir-fry on high quickly till they obtain a nice deep green color and just start to brown on edges. Also sprinkle some salt to season the beans. Set aside along with the fried beancurd and tempe.
Transfer 2 more Tbsp oil to the non-stick wok/pan.
Fry the ground paste in this oil along with the bruised lemon grass and galangal, add salt and sugar, fry until fragrant. Sprinkle some water.
Stir till oil separates.
 Add fried beancurd and tempeh, stir and mix well. Sprinkle a little water if needed to prevent paste from being scorched.
Pour in coconut milk, tamarind juice, ketchup and kecap manis and simmer till gravy is fairly thick.
Do a taste test and season as needed. Add salt or flavor enhancers (see notes). Stir thoroughly.
Add sliced chili (OPTIONAL) and fried long beans. Toss well and cook till gravy is almost dry.
Cook till the beans are tender.
Remove the bruised lemon grass and galangal. Serve Hot!
The flavors get better as this dish rests.
Sambal Goreng- Tahu Tempe
Did you enjoy our Sambal Goreng- Tahu Tempe ?
 Notes:
If you can not find tempe  it can be omitted from the recipe. If you do find it make sure it is fresh.Check the date.Old Packs of Tempe  will have a  sour after taste. Otherwise its very yummy.
To the spice paste, you may also add some toasted belacan – dried shrimp paste (just a tiny bit), if you like the flavor.
Other salting and flavoring agents used in sambal goring are :light soy sauce and or fish sauce: to be added along with kecap manis, to flavor as desired. Add 1 Tbsp at a time till desired flavor is achieved.