12 October, 2014
Samba Wheat Rava Upma – Dalia / Broken Wheat Healthy Breakfast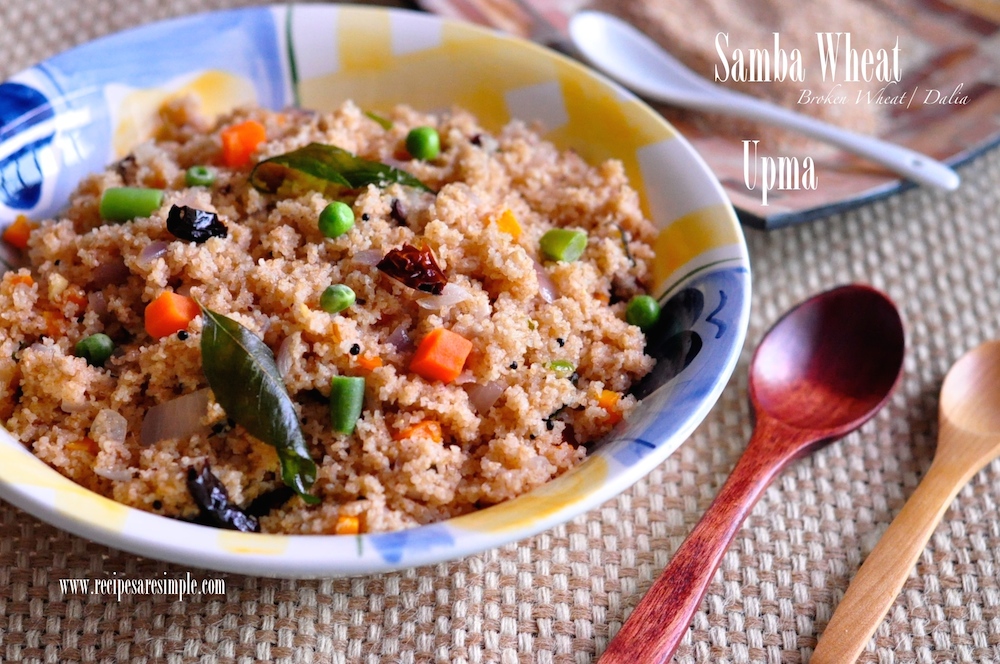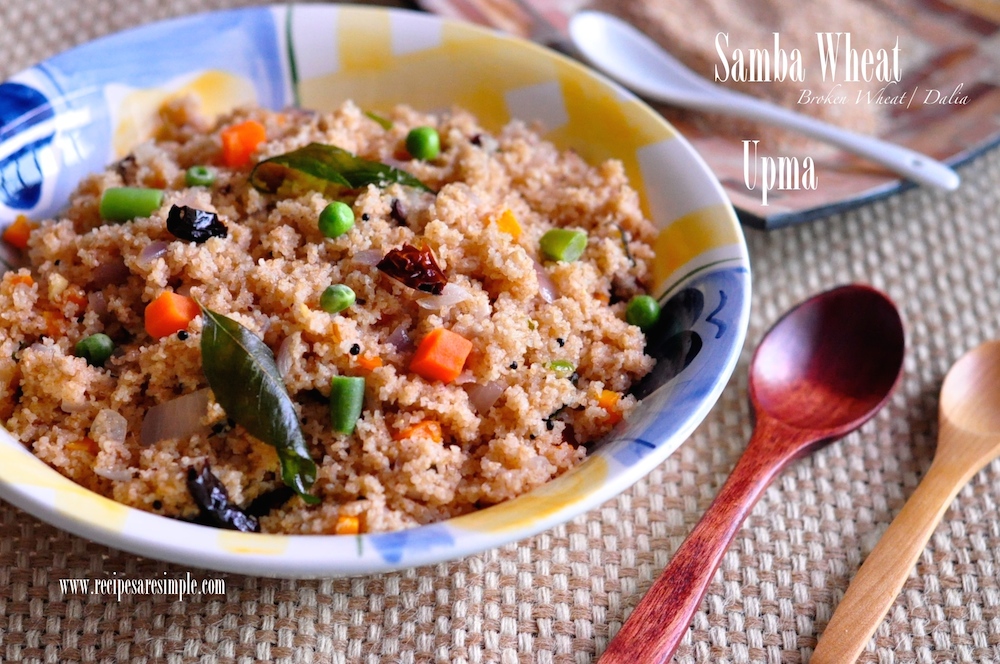 Samba Wheat Rava Upma – Dalia / Broken Wheat Healthy Breakfast
  We are all on the look out for Healthy Breakfast recipes that are quick and easy to prepare. Samba Wheat Rava Upma is an ideal healthy breakfast.  Combined with some vegetables and served with salad or curried side dish – this dish takes only 15 minutes to prepare.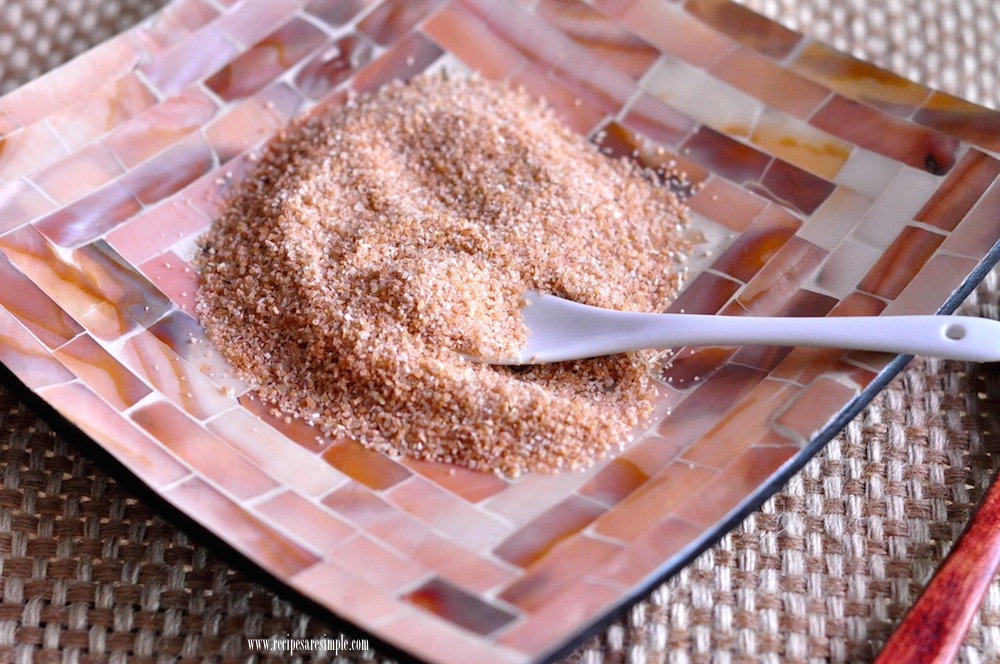 Samba Wheat is richer in fibre than ordinary wheat. The glycaemic index is also lower compared to other wheats. Great option when you are on a strict dietary regimen.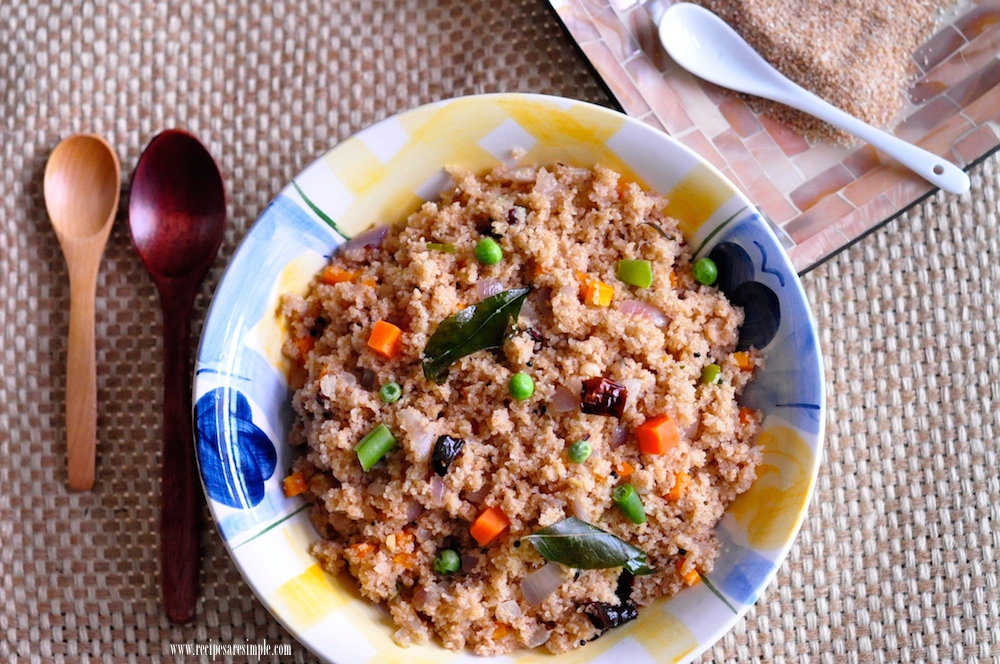 Samba Wheat Rava Upma – Dalia / Broken Wheat Healthy Breakfast
Recipe Type: Bread and Breakfast / Healthy

Author: Recipes 'R' Simple

Prep time 5

Cook time: 10

Total time: 15

Serves: 3 -4
Ingredients:
1½ cups Samba Wheat Rava (Broken Wheat / Dalia)
¼ tsp mustard seeds
1 tsp chana dal (optional)
1 Tbsp curry leaves
2 mild dry chillies, cut up
1 large onion, chopped
1 long green chilli, deseeded and chopped finely
1 tsp ginger, minced
1 tsp garlic, minced 
1 small carrot diced
optional – ¼ cup of cooked green peas AND / OR chopped green beans
3 cups water (boiled)
3 Tbsp vegetable or coconut oil
¾ tsp salt or to taste
Method:
Chop up all your ingredients, while you put a kettle on to boil some water.
Heat a non stick pan with a lid. Add oil.
When the oil is hot, add the mustard seeds and allow to splutter.
Add the dal, curry leaves and dried chili pieces.
Now add the ginger and garlic first, cook briefly till aromatic.
Add the onions, green chili and vegetables.
Saute on high heat, stirring continuously just till the onions are changing color.
Add the boiled water and salt. Reduce the heat now.
Pour the samba wheat rava in a slow steady stream over the simmering water while stirring with the other hand.
As soon as all the rava is added, cover and allow to cook about 5 minutes or just till all water has been absorbed.
Uncover and fluff up the Samba Wheat Rava Upma
Optional – you can add in the finely chopped coriander leaves / cilantro and toss for a fresh herby taste.
Serve with salad or curry. My kids like it with a spoon of Mayonnaise on the side.
Samba Wheat Rava Upma – Dalia / Broken Wheat Healthy Breakfast
Try it and let us know – Samba Wheat Rava Upma – Dalia / Broken Wheat Healthy Breakfast .
I added the cooked peas and beans last, because I was using frozen.