11 May, 2017
Salmon Curry with Thai Flavors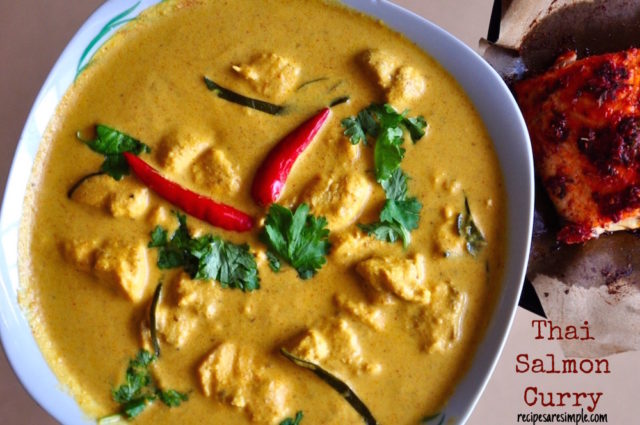 Try my Salmon Curry!
What is it that makes Salmon, the fish of choice for so many! Apart from the obvious healthy oils and all, it's truly hard to resist the moist, tender and flaky fish. Are there 'still' those out there who are hesitant to even try salmon?? I can't for the life of me,  understand why! Although long ago, even I was reluctant to eat Salmon, reason being; I tried it for the first time in a simple curry, and I must not have done a good job because I decided not to buy salmon again..
Then after some time, I ended up buying it again to try once again, and this time I baked it. It – was – just – amazing! I absolutely love the fact that you can make it into a complete meal over a salad too. Perfect for my low-carb days!
And yes, I finally made a curry that we all loved as well.  It is a Salmon Curry with the exotic flavors of Thai ingredients. It comes together simply and tastily!
Salmon Curry with Thai Flavors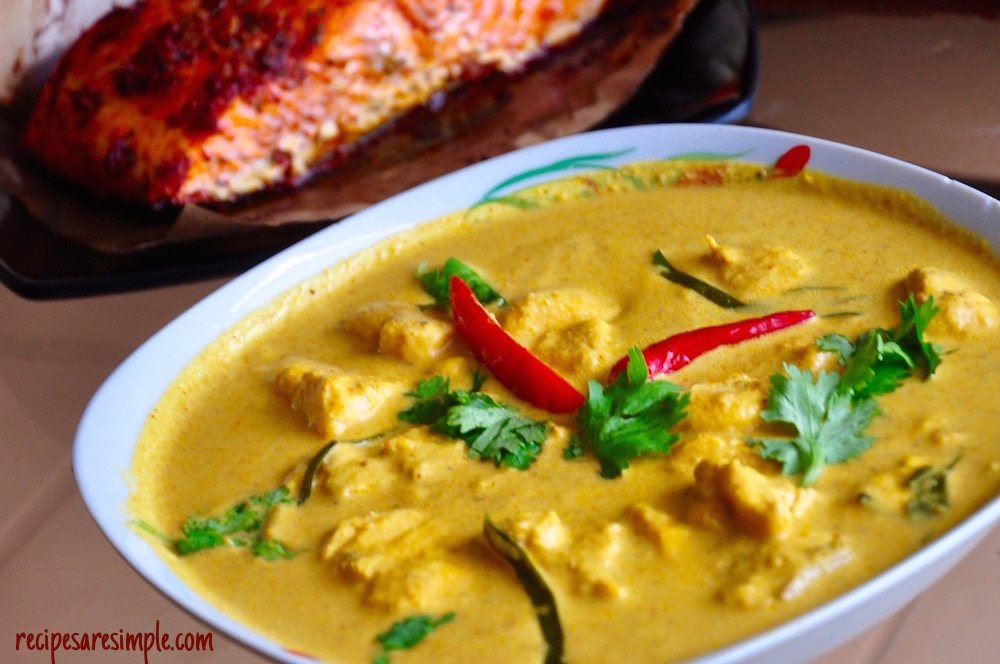 You are here: Quick Browse > Fish & Seafood > Salmon Curry with Thai Flavors
 

Recipe Name: Salmon Curry with Thai Flavors

Recipe Type: Fish / Curry

Author: Shana c/o Recipes 'R' Simple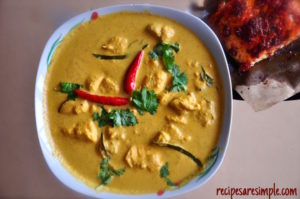 Method in Brief:
A paste is made from the delicious fresh ingredients and this is cooked with coconut cream. No oil is used in this curry.
Salmon that is skinned and cubed, is then cooked in the sauce after which seasonings are added and the curry is finished of with a little more coconut milk and garnished.
 Key Ingredients: Salmon, Coconut Milk, Shallots, Garlic, Green Chilli, Galangal, Lemon Grass, Kaffir Lime Leaf, Coriander Root, Salt, Tamarind, Fish Sauce, Spices.
Let me know if you tried –  Salmon Curry with Thai Flavors

Back to Quick Browse. Thanks for visiting www.recipesaresimple.com