1 May, 2016
Ruz Bukhari | Middle Eastern Bukhari Rice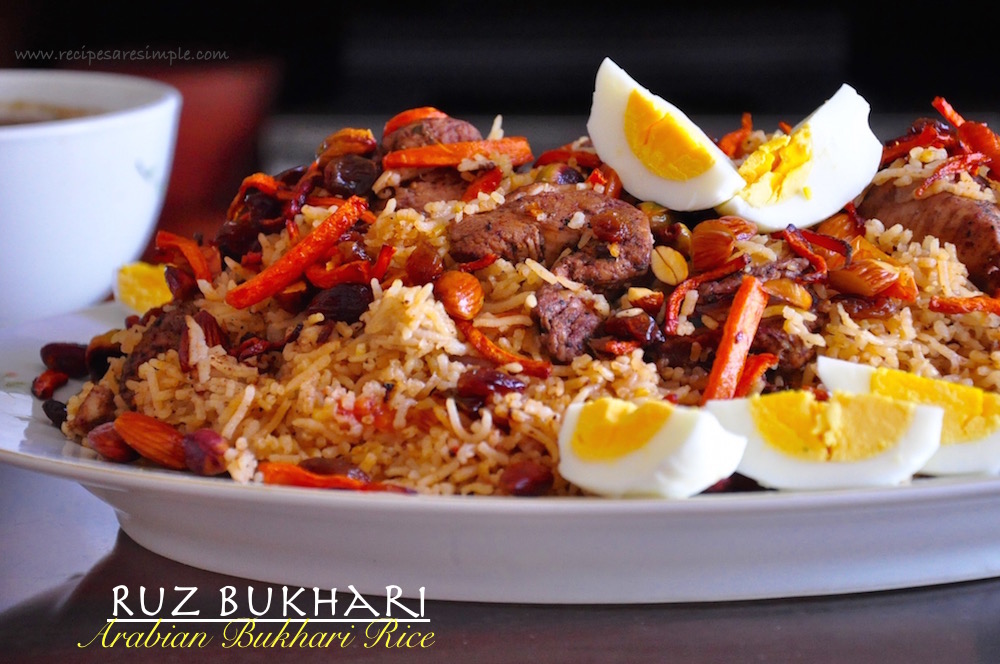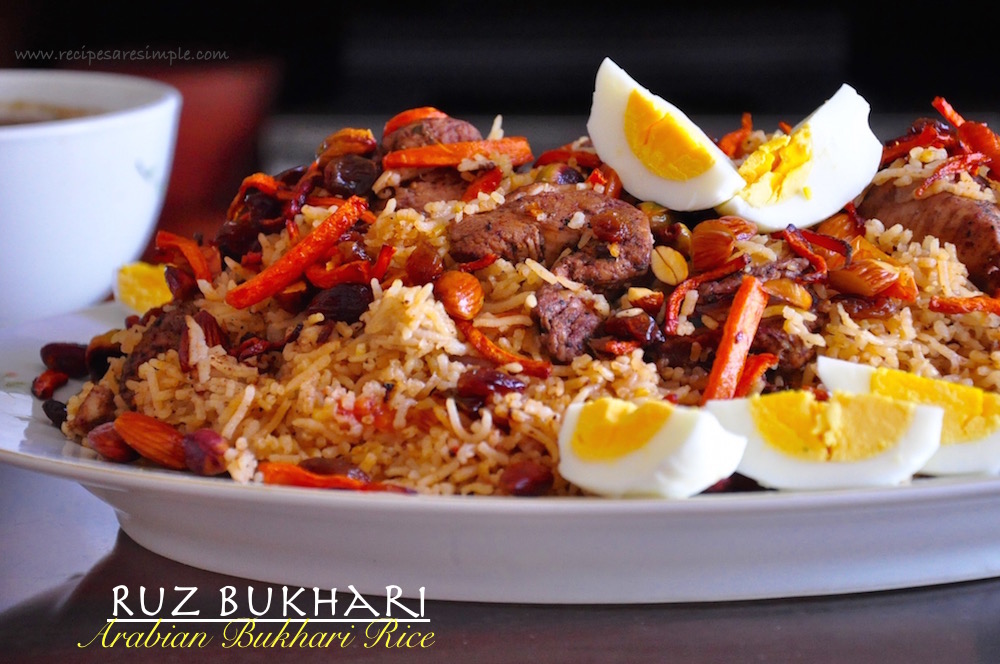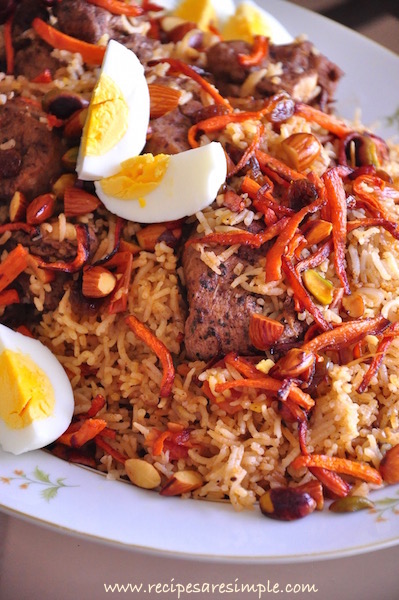 Ruz Bukhari | Middle Eastern Bukhari Rice
Bukhari Rice is a very simple but delicious rice which is popular in the Middle East. Especially the Gulf Countries. The name 'Bukhari' denotes that it comes from 'Bukhara' , a formerly prominent point on the fabled Silk Road, and has long been the centre of much trade, culture, scholarship and religion. The The region of Bukhara long formed part of the Persian Empire too. The Ruz Bukhara, in my opinion is one of the easiest rice dishes from the Region, which includes, Mandi, Kabsa, Mambos etc.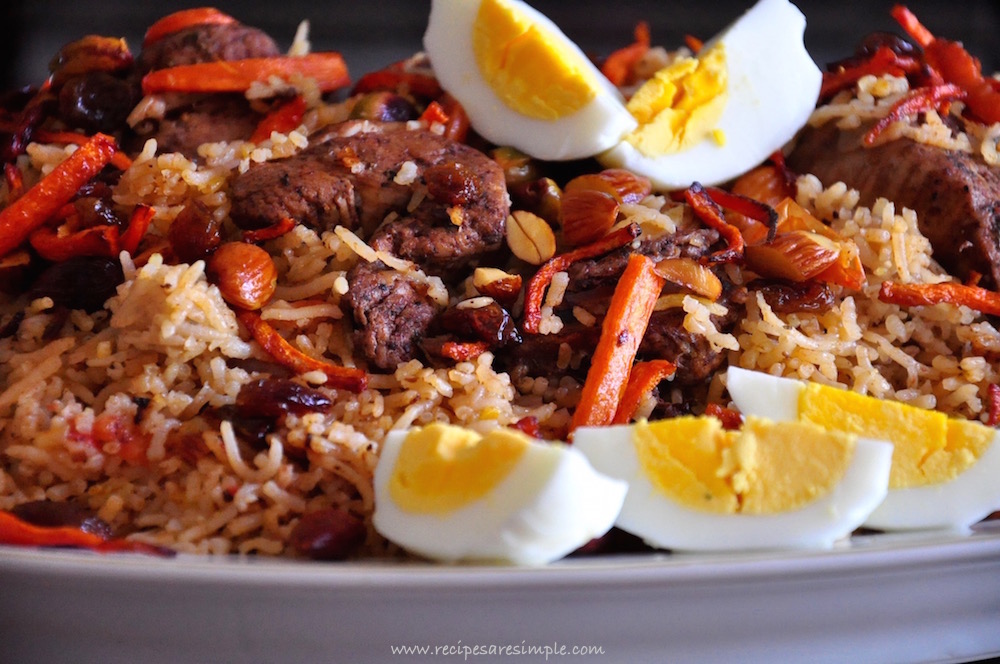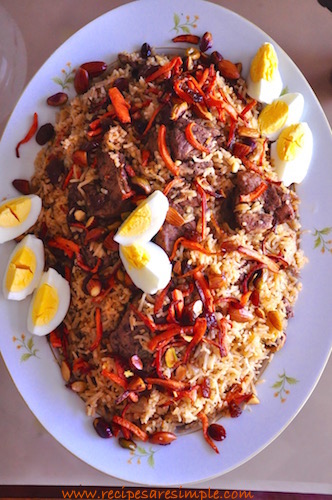 Ruz Bukhari | Middle Eastern Bukhari Rice
You are here: Home > Rice Dishes  > Ruz Bukhari | Middle Eastern Bukhari Rice
 

Recipe Name: Ruz Bukhari | Middle Eastern Bukhari Rice

Recipe Type:  Rice / Main

Author: Shana c/o Recipes 'R' Simple
Ingredients:
1 kg chicken (large pieces of skinless, bone-in chicken)
4 cups basmati, longest grain rice
4 onions, chopped
5 cloves garlic, chopped
5 Tbsp olive oil
4 Tbsp tomato paste (from a tube / tin – not to be confused with tomato puree)
2 tsp saffron crushed lightly
4 medium sized tomatoes, chopped
1 dried lime (black or yellow) slightly bruised
5 Tbsp ghee
To marinate the chicken: (If using whole spices, grind altogether to make a spice mix)
2 ¼  tsp Baharat Spice Mix
1 tsp cardamom powder
1 tsp coriander powder
¹/3 tsp black pepper powder
½ tsp cinnamon powder
1 tsp cloves(spice) powder
5 shaiba leaves – heated in a pan and powdered
1 tsp salt
Fried Garnish:
3 large carrots, cut into sticks (julienne)  – not to be grated
5 Tbsp chopped almonds
5 Tbsp chopped pistachio
5 Tbsp golden raisins
4 boiled eggs, sliced into wedges
Method:
Skin, cut and rinse the chicken pieces. Leave to drain.

Chicken Stock:

Reserve some skin, neck bones and odd ends while cutting the chicken. Add  to a pot with 6 ½ cups water, 4 tsp salt and 1 bay leaf. Bring to rolling boil and then lower the heat and simmer for 10 minutes. Strain the stock and set aside.

(Add a little garlic salt for nice flavor).

Marinate chicken:

 with all ingredients for the marinade. Set aside while you chop up your onion, garlic and tomatoes.
Rinse the rice thoroughly till water runs clear. Strain using a colander and set aside.

Precook Chicken with Onion:

Heat the olive oil in a non stick frying pan and add the chopped onions. Fry till just soft and changing color. Add the garlic now and fry till the garlic loses the raw smell.
Now add the marinated chicken and fry on medium heat for a couple of minutes on all sides till the chicken is no longer pink. Continue till chicken turns crisp along the edges.
Add the tomato paste  as well as the saffron strands and toss well till nicely coated.
Once the chicken is coated well, add the chopped tomato. Cook till tomato is softened.

Cook the Rice:

In another  [pot with lid/ rice cooker pot], add the ghee.
When the ghee is hot, add the drained rice and fry well for 2 minutes. (You can start the rice along with cooking the chicken).
To this add the chicken stock (measure exactly 6 cups of stock)  as well as the dried lime. Bring to boil.
Mix together the chicken mixture and rice and water mixture now.
Cook covered on low heat till  all liquid is absorbed OR transfer to rice cooker an cook till the light switches to 'warm'.
Immediately remove from heat and fluff up the rice with a fork. Leave to rest for a while before serving. Discard the dried lime.

Fried Garnish:

Heat 2 Tbsp ghee  and fry the carrot jolliness till they change color. Add the chopped nuts and when crisp, add the raisins and fry till puffed up. The carrots should be nice and golden and caramelized.
Garnish with  the fried ingredients, lime or egg slices.
Serve with a green salad and yoghurt and onion raita.
Ruz Bukhari | Middle Eastern Bukhari Rice
Shaiba Leaves are also known as Black Stone Flower.
Same method can be used for Mutton, just cook the mutton adding enough water till tender before adding to rice mixture.
Key Ingredients: Chicken, Rice, Spices, Tomato, Ghee, Oil
Leave a comment if you tried – Ruz Bukhari | Middle Eastern Bukhari Rice.