9 October, 2015
Russian Salad – Olivier Salad with Macaroni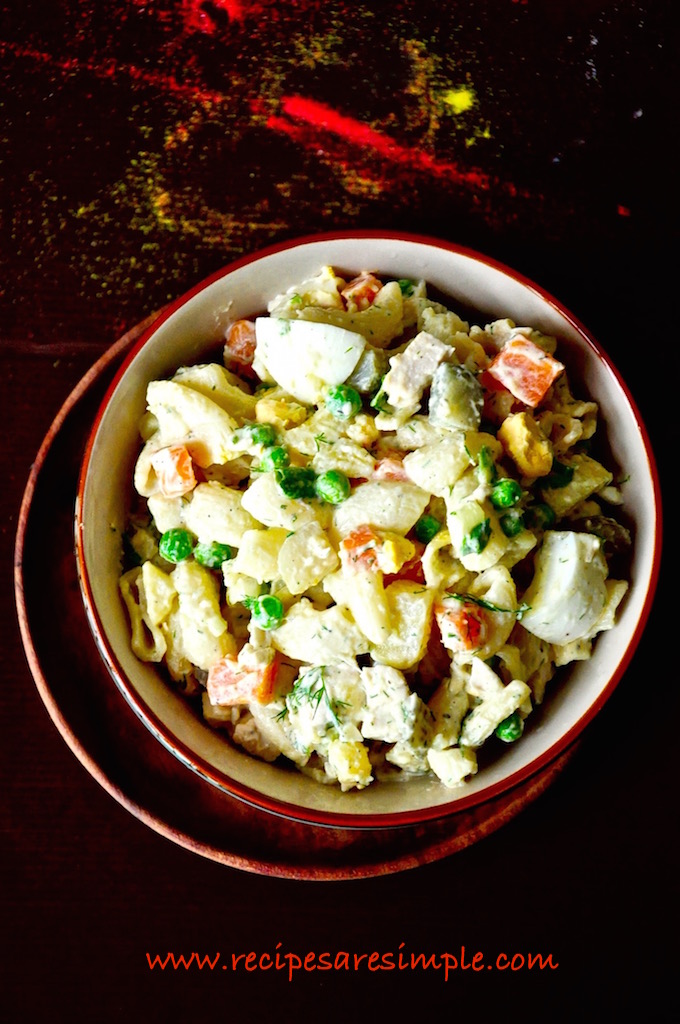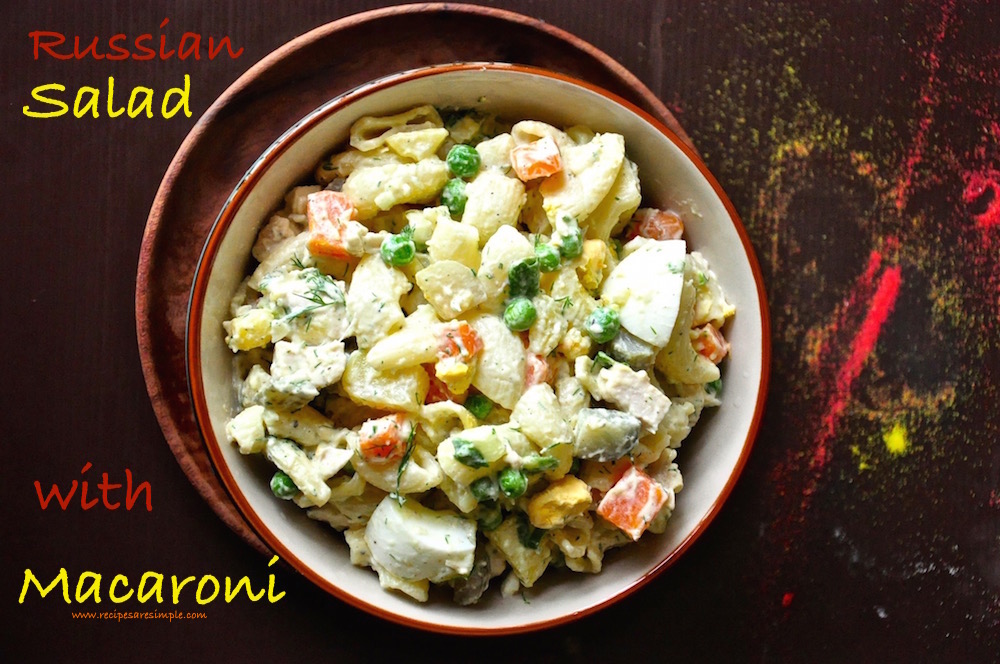 Russian Salad – Olivier Salad with Macaroni
The 'Olivier Salad' is a popular Salad that  originated in Russia and is known around the world as the 'Russian Salad'. The usual ingredients are potato, carrot, green peas, egg,  pickles and chicken or bologna sausage. The sauce is  a mayonnaise based one and can incorporate yoghurt or sour cream  as well. This recipe uses regular elbow pasta to make it a light meal in itself. To make the Classic Russian Salad, simply omit the pasta.

Russian Salad – Olivier Salad with Macaroni
You are here: Home > Pasta  > Russian Salad with Macaroni
 

Recipe Name: Russian Salad with Macaroni

Recipe Type:  Salads / Pasta

Cuisine: Russian

Author: Shana c/o Recipes 'R' Simple
Ingredients:
2 cups elbow pasta or pasta of choice
2 chicken breasts

(thats the breast of one chicken)

3- 4 eggs

 2 potatoes

1 large carrot
½ cup cooked green peas or use frozen thawed
3 medium sized pickled cucumber Or 5 pickled gherkins, chopped
4 Tbsp fresh dill, finely chopped
3 Tbsp scallion / spring onion, finely chopped
5 generous Tbsp Mayonnaise (Hellmans)

– use more if needed

4 Tbsp thick yoghurt or sour cream
For the chicken:
½ tsp salt
½ tsp pepper
½ tsp  garlic powder
2 large fresh sprigs of dill weed (dill)  left whole. OR use 1 ½ tsp  dried dill
juice of half a lemon
2 Tbsp olive oil
Method:
Preheat oven to 165 ºc / 330 ºF.
Rinse and pat dry the chicken breast.
Place in oven proof casserole dish and add all the ingredients for the chicken.
Rub well into the chicken.
Cover tightly with foil and bake in the preheated oven on the lower rack for 40 minutes.
Now uncover, place the dish in the upper rack and continue to broil for 20 minutes more.
Allow to cool.
While the chicken is being roasted: cook the macaroni, vegetables and egg.
Cook the pasta in boiling salted water,  according to package instructions till al dente.
Add eggs to a saucepan of cool water and bring to a strong boil.  As soon as the water reaches boiling, cover and turn off heat.  Allow to sit for 10 minutes.
Add to cool water for another ten minutes.  Peel and chop into big pieces.
Add the whole, unpeeled potato to boiling water along with the peeled whole carrot.  Cook till fork tender.
Allow to cool.  Peel and dice the potato as well as the carrot.
Cook the green peas.  If using frozen peas, thaw them in the microwave till tender.
Chop the scallion / spring onion and the dill finely.
Allow all components to cool to room temperature.
Dice the roasted chicken.
Add the mayonnaise and yoghurt or sour cream to a large bowl and whisk well.
Add the peas, potato, carrot, pickle and chicken.  Toss well.
Stir in the chopped dill and scallion/spring onion.
Add a dash of salt and pepper.  Add the eggs last and give it a final toss.
Russian Salad – Olivier Salad with Macaroni
Key Ingredients: Pasta, Chicken, Potato, Carrots, Green Peas, Egg, Mayyonaise, Dill, Scallion, Salt, Pepper.
Leave a comment if you tried – Russian Salad – Olivier Salad with Macaronii. Comments from you provide motivation to keep up the driving force behind this blog, bringing you more delicious and perfected recipes regularly. Love to hear from you.