18 September, 2014
Roti John – Malaysian Breakfast Sandwich with Meat and Egg Filling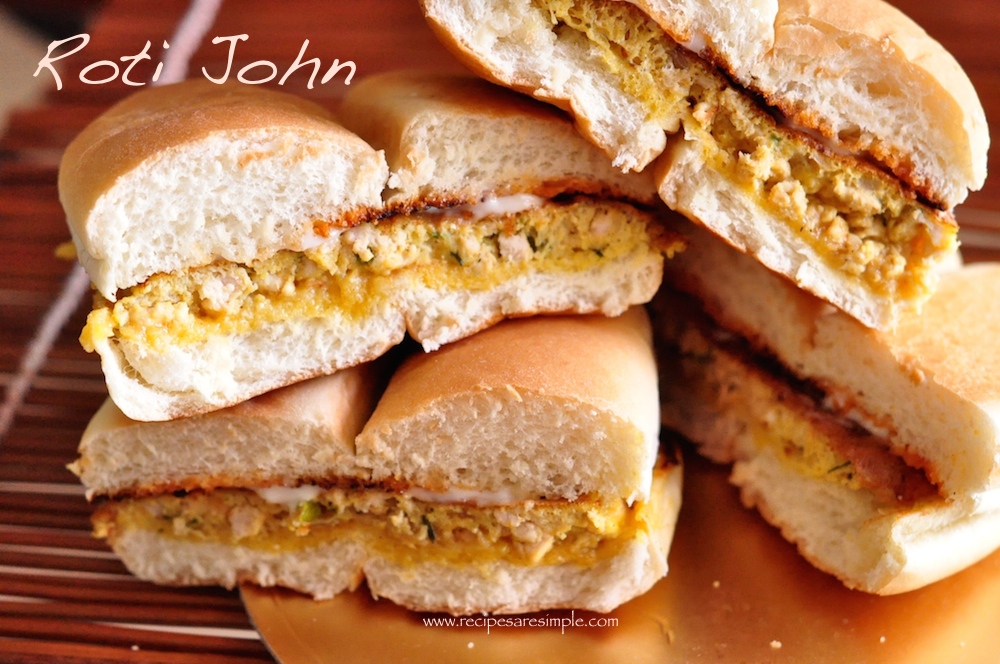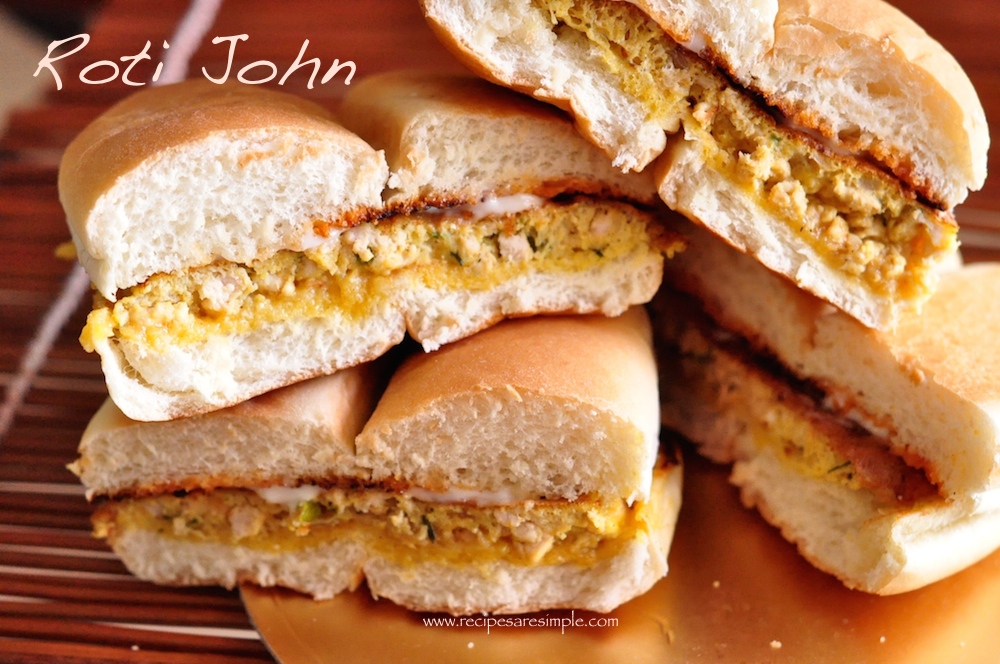 Roti John – Malaysian Breakfast Sandwich
Essentially, Roti John is a Malaysian quick breakfast or snack sandwich with an omelette filling. The omelette can incorporate minced chicken, mutton, sardines or even a vegetarian substitute. It is quick to make and always a crowd puller at the Pasar Malam (Night Market). Originally, Roti John was made with the western influence of a Baguette style loaf and tomato ketchup, hence is the name – 'Rot'i – implying to any bread like foods and 'John' referencing the 'Foreign' element.
My Roti John uses minced chicken or mutton along with egg and fresh cilantro ( coriander) for a superbly yummy snack. Kids love it! I use hot dog buns when I do not have fresh Baguettes on hand. Remember stale baguettes can be very hard so if you are using a baguette use them fresh!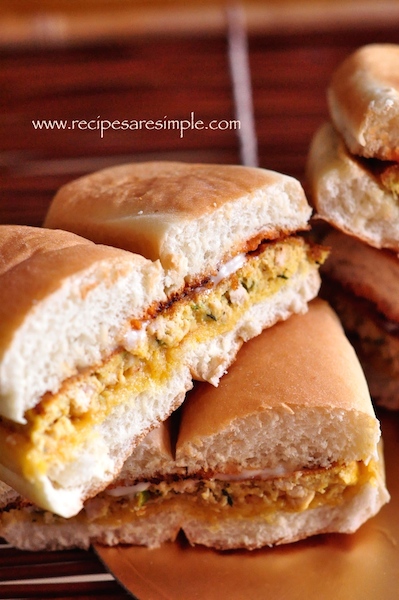 Roti John – Malaysian Breakfast Sandwich
Recipe Type: Snacks / Sandwiches

Author: Recipes 'R' Simple

Prep time: 10 

Cook time: 15

Total time: 25 

Serves: 3
Ingredients:
250 gms minced chicken or mutton, rinsed and drained well
1 large onion, diced
3 tsp garlic, finely minced
2 tsp ginger, finely minced
2 tsp mild green chilli, finely minced
2 – 4 Tbsp finely chopped fresh coriander ( cilantro)
¹⁄3 tsp salt or to taste
2 tsp meat curry powder – use your favorite brand

( I use a combination of 2 different types of curry powder)

¼ tsp black pepper powder
1 tsp  light soy sauce or worcestershire sauce
3 large eggs, beaten well with a little salt and pepper
4- 6 hot dog buns OR 1 French style fresh baguette – divided into 4- 6
mayonnaise and sweet chilly sauce or tomato ketchup for serving
vegetable oil as needed for toasting  and grilling (2-4 Tbsp)
Method:
Butterfly the buns/ baguette slices. ( i.e.. do not cut through but slit so that the bread remains attached.
Lightly grease  a non stick frying pan and toast the inner side of the buns lightly. Set aside.
Add some more oil to the pan for sautéing the chicken filling.
Add the ginger, garlic and green chillies. When softened and just changing color, add the diced onion and sauté. Allow to sweat a little.
Add the minced and drained chicken and stir into the sautéed ingredients, breaking down any clumps that form along the way.
Keep cooking till the chicken is free of clumps, and the moisture begins to seep out.
Add salt and the curry powder. Cook for  around 5 minutes, till the water evaporates and the chicken is cooked tender, without becoming overly dry

( do not over fry it). Also ad the soy or worcestershire sauce.

Add pepper and the finely chopped coriander last. Remove from the pan and set aside.
Beat  the eggs well till foamy.
Add  to the meat mixture and set aside.
Wipe out the frying pan and add a light coating of oil again. Bring to a medium heat.
Pour in the egg and meat mixture. Place half the butterflied buns over the egg mixture and allow to cook till the sides of the eggs look cooked. Tuck in the omelette from the sides ( before completely set) so that it is all pushed under the buns.

( You may want to do this in batches)

Flip over and heat the outside of the bun briefly. Set aside.
Toast the remaining half of the buns lightly. Smother with mayonnaise and chili sauce or ketchup. Press together with the buns with the filling.
Cut horizontally in an unconventional method.  This gives you a burger like size and reveals the yummy filling and is more appealing than just separating the hot dog buns. It also allows the person the tear apart the loaf themselves.
Sometimes mayo and ketchup from squirt bottles is decoratively squeezed all over the top of the sandwiches. I prefer to omit this.
Roti John – Malaysian Breakfast Sandwich
Try it and let us know – Roti John – Malaysian Breakfast Sandwich .
Stale Baguettes can be softened by wrapping a a damp (not wet) towel and microwaving for just 15 seconds or so. Use immediately, as they will harden up again. 

If you want to make half the quantity first, simply don't add all the meat mixture to all the egg mixture at once, Like if you only want to make 2 buns, use less beaten egg and add only adequate portion of the cooked chicken filling to the egg as required. Store the remaining chicken filling inside a tight container in the fridge if using later.
If you like a raw onion bite in the sandwich, feel free to use sliced or diced onion as a topping. Sliced tomatoes can be used as well.