13 September, 2016
Rogan Josh | Kashmiri Mutton Curry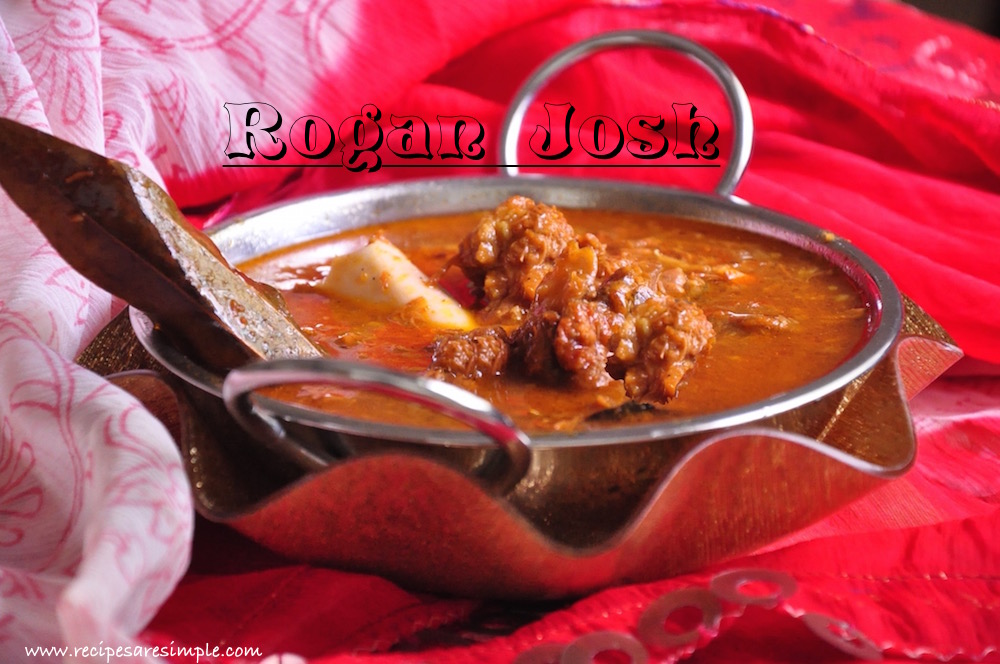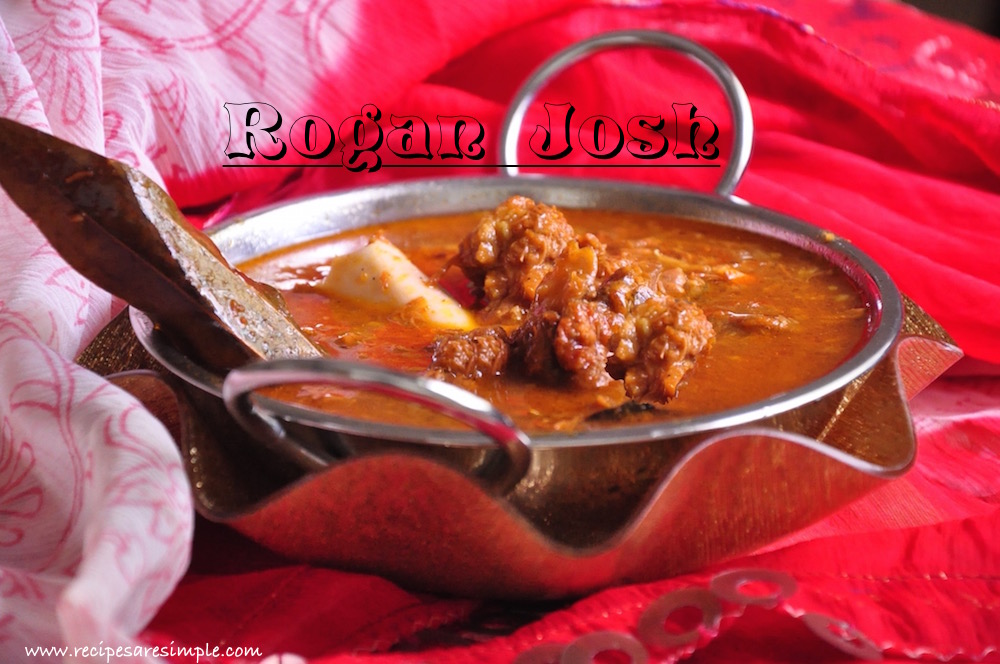 Rogan Josh | Kashmiri Mutton Curry
This is the hugely popular Mutton Curry from the beautiful Kashmir Valley.  One of the menu items  of the 'Kashmiri Wazwaan', the traditional Kashmiri banquet. Rogan Josh was bought to Kashmir by the Mughals. The dish is of Persian origin and is rich and deeply aromatic. Rogan / Roghan is derived from the Persian word 'روغن' which actually means, 'ghee'. Josh, 'جوش;  means boil, and is also used as an expression of intensity. So essentially Rogan Josh, means 'boiled in ghee with intensity or at high heat'. A perfect dish for the cooler climates.
Mutton is used (Goat Meat) here, and the meat is cooked so tender in the ghee. So delicious that it just has to be experienced to know the deliciousness! This  is how the Pandit style Rogan Josh is made. No onions or garlic in the preparation.
Some versions of the curry use yoghurt to add a sour note. I mush prefer the one without yoghurt as I have made here. The trademark color of the Rogan Josh is also very appealing. A fiery red color, that originally comes from the 'Mawal ke phool' or Dried Cockscomb flower , a red flower, indigenous to the Valley. Since it is not easy to find, deep red kashmiri chilli powder combined with kashmiri saffron is used to get the natural red color. Alternatively, these days Ratanjot or its powder is used, however these days it is often mixed with synthetic coloring. If you have neither, simply use a good bright red kashmiri chilli powder.
I served this for this Eid ul Adha along with Shirazi Rice and it was quite a hit.
Rogan Josh | Kashmiri Mutton Curry
You are here: Home > Mutton > Rogan Josh | Kashmiri Mutton Curry
 

Recipe Name: Rogan Josh | Kashmiri Mutton Curry

Author: Shana c/o Recipes 'R' Simple
Ingredients:
400 gms Mutton with bone
¼ tsp turmeric powder
3 Tbsp ghee / clarified butter

(you may substitute oil, but ghee gives the more authentic taste- do not add too much ghee either.)

1 black cardamom (badi elaichi)
2 cloves
2 small sticks of cinnamon
2 Bay leaves
¼ tsp powdered asafoetida, mixed with 1 tsp of water
1 rounded tsp kashmiri chilli powder
¾ tsp fennel powder (saunf)
¼ tsp dry ginger powder (saunth)
¼ tsp black pepper powder
¼ tsp green cardamom (choti elaichi) , powdered / pounded
1 tsp fresh ginger paste
¼ tsp crushed saffron dissolved in a little warm water
¼ cup dried cocksomb flower boiled in½ cup water- optional
salt to taste (¾ tsp- 1 tsp)
1 cup water
Method:
Rinse the mutton well and keep drained or pat dry with kitchen towel.
Add turmeric into the meat and mix till evenly colored.
Heat the ghee in a pressure cooker.
Add black cardamom, cloves, cinnamon and bay leaves. Fry till aromatic.
Add the mutton as well as the asafetida water.
Fry well for 5 minutes or so till the mutton becomes a nice brown color on all sides. Toss occasionally.
Now add the powdered spices ( chilli powder, fennel,ginger,pepper ) as well as the ginger paste and

salt

. Stir for a few minutes till oil separates.
Add the green cardamom powder and 1 cup water. Stir well and bring to a boil.
Close the cooker, reduce heat and cook for 4-5 steam whistles. Meat should be tender. Allow the cooker to cool on its own before opening.
Add the saffron water and simmer 1-2 minutes before serving.
(If using the dried cocksomb, strain the deep red water after boiling the flowers for 1-2 minutes and use to color the curry – Add along with saffron. Mix and bring the curry to a rapid boil).
Rogan Josh | Kashmiri Mutton Curry
If you like to use yoghurt, use 8 Tbsp of whipped yoghurt and add before adding water. Add a Tbsp at a time stirring briskly in between. Then add the water (Reduce the water by half). Continue with remaining steps.
Key Ingredients: Mutton, Ghee, Spices (Green and Black Cardamom, Cinnamon,, Bay leaves, Fennel, Ginger, Chilli powder, Pepper, Saffron, Salt, Dried Cockscomb (optional).
Leave a comment if you tried – Rogan Josh | Kashmiri Mutton Curry .