10 November, 2013
Roasted Eggplant and Red Pepper Dip / Spread
Roasted Eggplant and Red Pepper Dip / Spread
This Roasted Eggplant and Red Pepper Dip takes very little effort although peeling the roasted eggplant can be messy. A smoky, earthy spread that goes great with chips or Pita Crisps. Nice with wholemeal bread too. This  red bell pepper (capsicum) adds a twist to the regular Baba Ganoush recipe.

Roasted Eggplant and Red Pepper Dip / Spread
 

Recipe Name: Roasted Eggplant and Red Pepper Dip / Spread

Recipe Type: Dips & Spreads

Author: Shana c/o Recipes 'R' Simple

Yield: 1 bowl (4 servings)
You are here: Home > Vegetarian  > Eggplant,Red Pepper Dip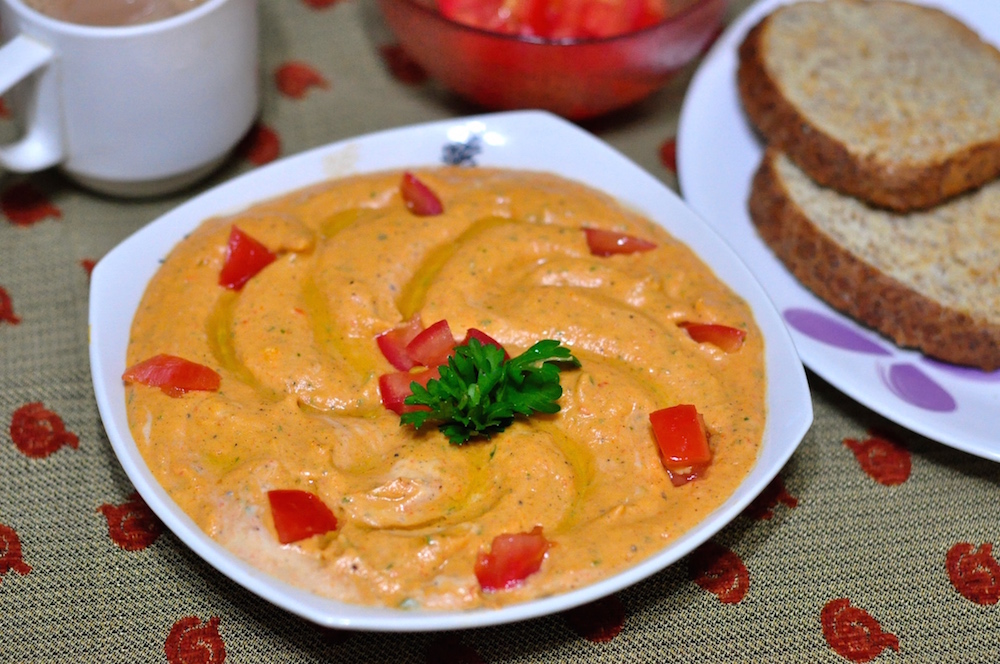 Ingredients:
1 large or 2 medium eggplants, left whole
1 large red bell pepper. left whole
2 cloves garlic
2 Tbsp Sesame Paste (TAHINI)  –  Get Tahini Recipe
2 tsp lime juice (freshly squeezed)
½ tsp smoked paprika powder
3 Tbsp finely chopped fresh parsley
salt to taste
2 Tbsp Olive oil ( extra virgin)
1 tomato, diced – for garnish
Method:
Preheat the Oven to HIGH (200ºc)
Take ½ cup of yoghurt and place in a muslin cloth bundle over a sift and allow the whey to drip through. (This is to get a thickened yoghurt or  'hung yoghurt')
Rub some Olive oil over the whole red pepper. Wrap in foil.
Place in lowest rack of oven and allow to roast for 30 minutes.
Meanwhile, place the whole eggplant over direct gas stove flame.
Allow the skin to get charred and the pulp to soften. Turn the eggplant gently to allow even charring.
Once the skin is charred, the pulp is extremely soft to the touch place the eggplant in a colander.
Under running water gently peel off the blackened skin of eggplant.
Leave the eggplant in the colander for 20 minutes to drain off any liquid.
Remove the bell pepper from the oven. Gently open up the foil and discard any liquids that have accumulated. Place the bell pepper on the foil and place directly on the gas burner.  (This is to soften the bell pepper further). Occasionally turn up the heat to flare up the foil, so that you get a flame grilled taste.
Once the  Bell Pepper is very tender, place in the colander with the eggplant.
To a blender, add 2 cloves of minced garlic, the parsley, tahini paste and add the hung yogurt, drained eggplant and red pepper. Pulse till mixed.
Add salt and blend till as smooth as you like.
Scrape the dip into a bowl using a spatula. Stir in lime juice. Drizzle some olive oil all over. Sprnkle the smoked paprika on top. Garnish with some more chopped parsley and diced tomato.
Roasted Eggplant and Red Pepper Dip / Spread
Key Ingredients: Eggplant, Red pepper (Capsicum), Yoghurt, Lime juice, Parsley, Sesame, Salt, Tomato
Let us know if you tried it – Roasted Eggplant and Red Pepper Dip / Spread . Comments from you provide motivation to keep up the driving force behind this blog, bringing you more delicious and perfected recipes regularly. Please do leave a comment. We love to hear from you.