26 February, 2014
Restaurant Style Paneer Butter Masala – Paneer Makhani – Easy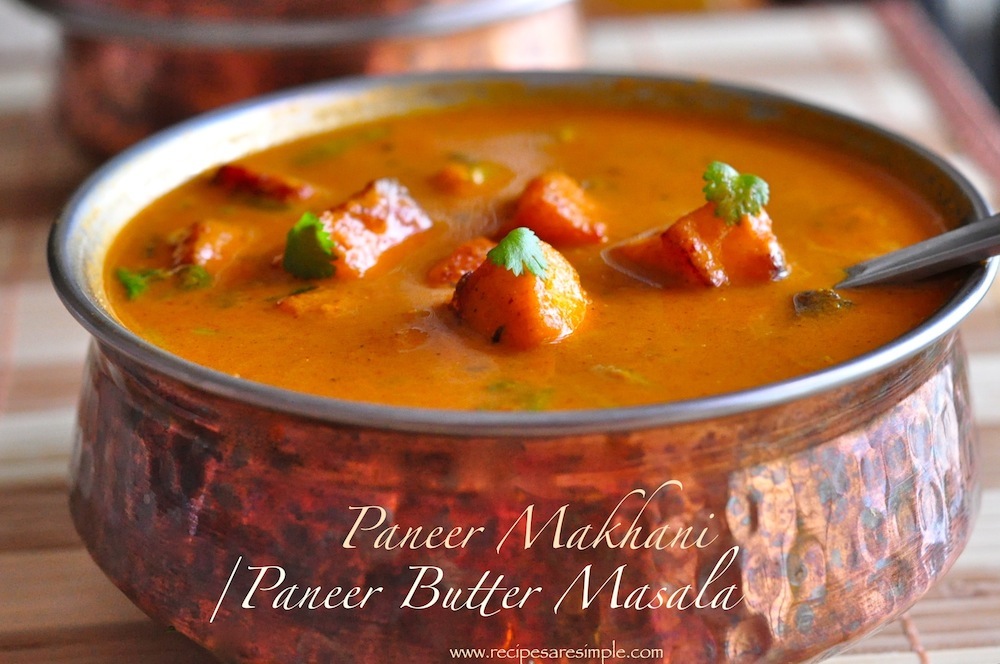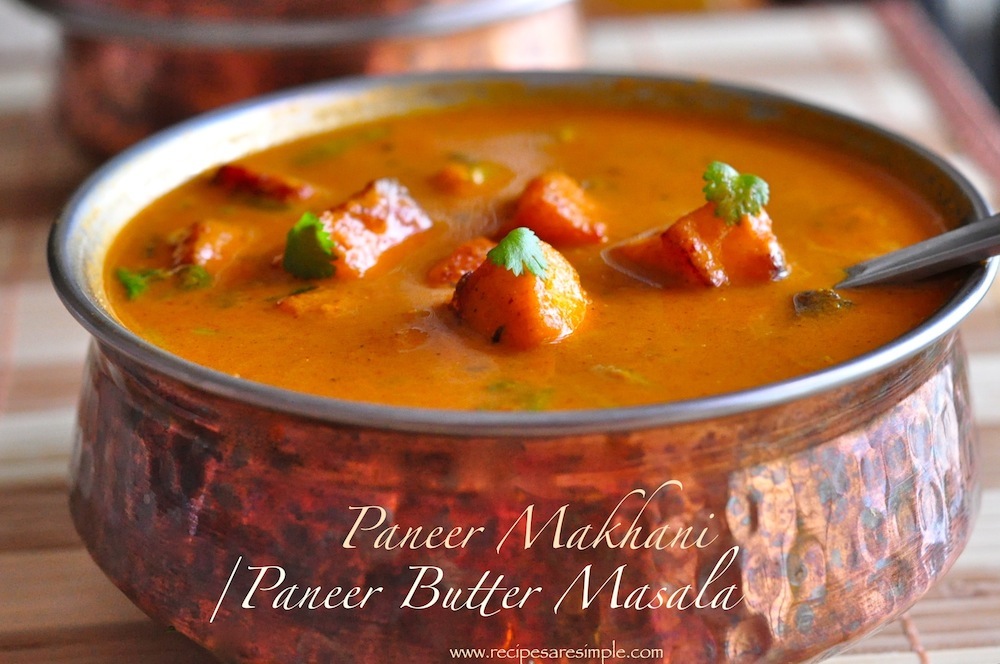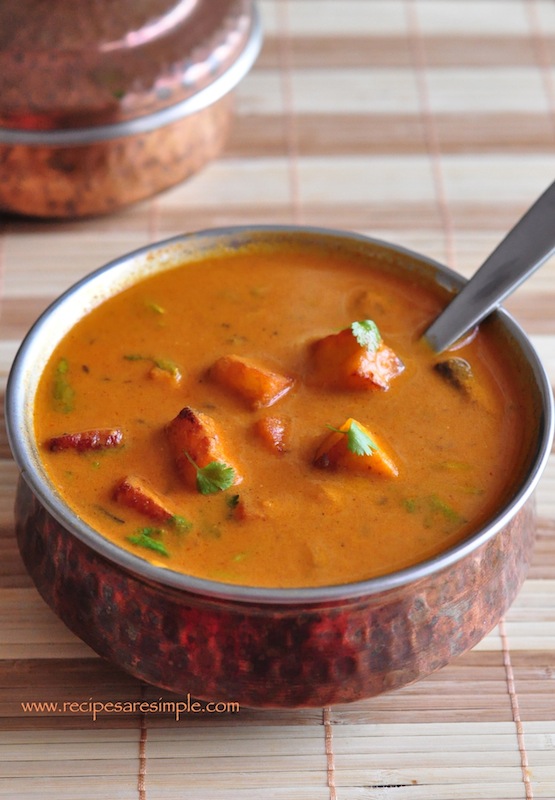 Paneer Butter Masala / Paneer Makhani
Paneer Butter Masala and Paneer Makhani are often seen on the A la Carte Menus at Indian Restaurants. Although every dish may vary, these two are basically the same. Paneer Butter Masala, as the name implies is Cottage Cheese Cubes (Paneer), cooked in a spiced (Masala) Tomato based curry that begins with melting butter. It may also contain cream. Paneer Makhani  translates to being Butter Paneer also.
There is another even richer dish, Shahi Paneer, which incorporates cashewnut paste, thus making it more regal for the kings (Shah's) and hence the name. I will post that recipe later.
For now this is my EASY Paneer Butter Masala, the type they serve at a buffet, more gravy, no chunky vegetables. And often the paneer is lightly fried before adding to the gravy. You can also add chopped  onion and capsicum to this dish to give it a change. However this is pretty good plain. We love it with Naan or Paratha.

Paneer Butter Masala / Paneer Makhani
Recipe Type: Vegetarian Side Dish

Author: Recipes 'R' Simple

Prep time: 

Cook time: 

Total time: 

Serves: 4-6

Ingredients:
1 Tbsp Oil

(Sunflower/Vegetable etc)

+ 1 Tbsp Butter
2 cups of paneer cubes
2″ cinnamon sticks
2 bay leaves
1 tsp or more cumin seeds
2 generous Tbsp ginger
 2 generous Tbsp garlic
2 red, plump, ripe tomatoes
¾ cups canned tomato puree

(note it's puree not paste- I like Hunt's Brand)
2 tsp coriander powder
2 tsp bright red Kashmir chilli powder
1 – 1 ½ tsp Garam Masala powder (

Get my Garam Masala recipe

)
2  ¾ cups water
1 tsp salt – may need more
1 tsp sugar  – may need more
¾ cup cream – fresh thick, pouring cream
Extra Oil for Shallow frying paneer
Fresh Coriander leaves/ Cilantro.
Method:
 Grind the ginger and garlic in the small jar of your mixer/grinder with a little bit of water to get a smooth, slightly runny paste. Set Aside.
Blanch the Tomatoes in boiling water for 2-3 minutes till the skin is coming off and the tomato is easily punctured with a fork. Drain and grind in the same jar used to grind the ginger and garlic. (No water added this time).

 Set aside.

Place the frozen paneer in hot water for 1 minute and drain on paper thoroughly.

(This helps to soften as well as remove impurities if any. Alternatively, microwave  for 1 – 2 minutes till softened and pour out any liquid that develops.)

Shallow fry the paneer cubes in a non stick pan, till uniformly golden. Drain and set aside.(This process is optional,  and provides a more crisp bite to the paneer. If you like it softer, while reducing oil at the same time, omit)
Heat 1 Tbsp Oil. Add the butter.
When melted add the whole spices ( Cumin, Bay Leaves and Cinnamon).
When the cumin has crackled and the spices are aromatic, add the ginger garlic paste.
Stir continuously till the raw smell of the ginger and garlic dissipates.
When the oil separates, add the spice powders (Coriander, Chili and ¾ the amount of Garam Masala)
Stir till the spices are cooked without burning.
 Now add the fresh tomato puree as well as  the canned puree, bring to a simmer and add water.
Bring to a boil and  allow to cook down till slightly thickened.
Add salt and sugar and do a taste test. Add enough sugar or salt to balance the flavors to liking.
(A slight bitter taste may be present at this point. Add just enough sugar to mask this – The bitter taste will be gone once the dish has rested)
Once the curry is thickened and nice deep red in color, add the cream. stir well till incorporated and then remove from heat. Sprinkle the remaining Garam Masala.
Add the fried or plain paneer to the curry. Allow to rest at least 20 minutes.
Lastly drizzle a little cream and add chopped coriander leaves as garnish.
Serve with Naan or Paratha.
Paneer Butter Masala / Paneer Makhani
Try it and let us know – Paneer Butter Masala / Paneer Makhani.
You can also add capsicum, cut into squares to this dish if you like. Onions are also optional. Try it plain first. If adding capsicum and /or onions, add after the ginger and garlic paste. And you can immediately continue with the remaining steps without browning the onion and/or capsicum.