26 March, 2014
Restaurant Style Green Masala Chicken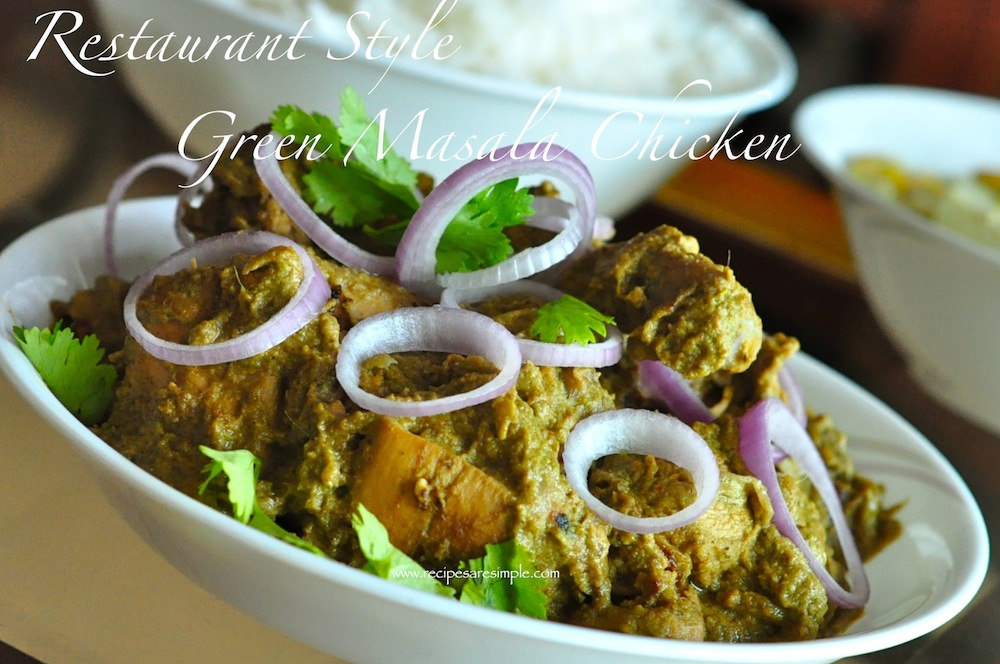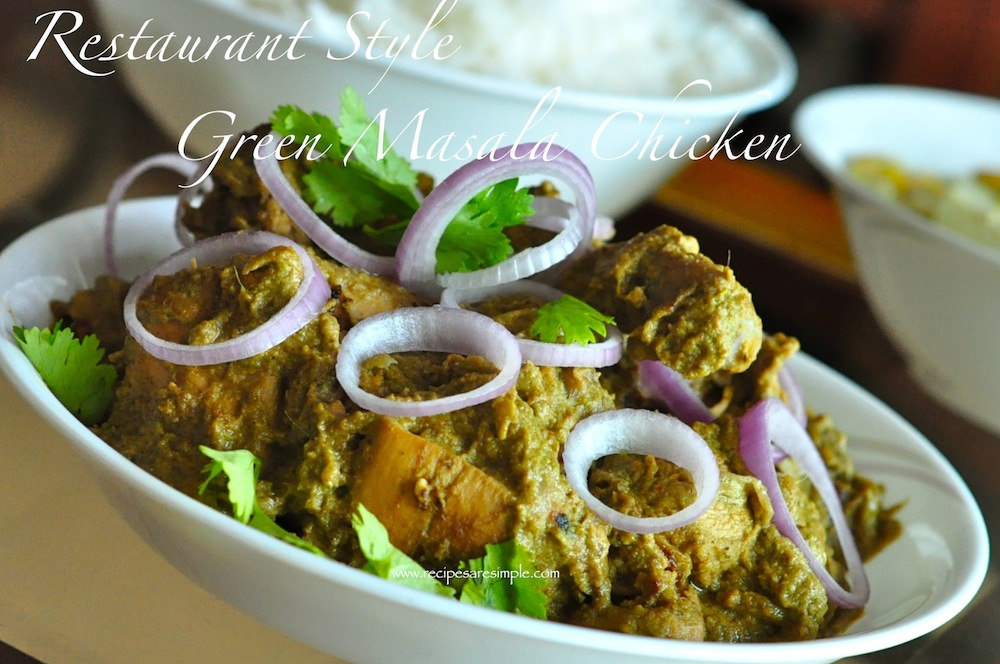 Restaurant Style Green Masala Chicken 
A lusciously rich coriander based, succulent chicken gravy. Perfect to mop up with some hot and fluffy naan or rotis. This Green Masala Chicken is a delicious North Indian preparation often found at high end restaurants.

Restaurant Style Green Masala Chicken 
Recipe Type: Chicken Main

Author: Recipes 'R' Simple

Prep time: 

Cook time: 16 

Total time: 

Serves: 4-6

Ingredients:
1 kg chicken, cut into medium sized pieces
½ cup fresh coriander leaves (loosely packed)
¼ cup fresh mint leaves ( tightly packed)
½ cup fresh grated coconut
3-6 green chillies, chopped
3 onions, chopped
a handful of curry leaves
2 Tbsp garlic paste
2 Tbsp ginger paste
1 Tbsp coriander powder
1 tsp roasted cumin powder
½ tsp white pepper powder
3 Tbsp almonds
¾ cup yoghurt
salt to taste
½ cup Fresh  cream.
1 tsp garam masala powder
3 Tbsp oil
Method:
 Clean, rinse and drain the  chicken pieces.
Place the almonds in boiled (hot) water for 10 minutes.
Peel off the skin under running water. Grind to a smooth paste. Set aside.
Grind the  fresh coriander, mint, green chilli and coconut to a smooth chutney. Set aside.
Whip the yoghurt well and set aside.
Also whip the cream if it is thick.
Heat oil in a deep pan or wok.
Add and saute the onions and curry leaves till softened.
Add the ginger and garlic pastes and saute well till the ginger and garlic no longer smells raw.
Add the coriander powder, white pepper powder and cumin powder.
Stir continuously till the spices are aromatic, being careful not to burn the spices. (medium heat).
Toss in the drained chicken pieces and coat well with the masala.
Add the smooth almond paste and stir well to coat the chicken. Cook for 2-3 minutes till the oil separates.
Add yoghurt and salt and cook, stirring continuously for 1-2 minutes.
Add green chutney, toss well to coat the chicken evenly. Then cook covered for 1-2 minutes.
Add the cream and continue to cook till the chicken is tender.
Lastly add the garam masala powder and stir well. Remove from heat.
Garnish with sliced onion rings and fresh coriander.
Restaurant Style Green Masala Chicken 
Try it and let us know – Restaurant Style Green Masala Chicken.
You want to cover the pan/wok with a lid on and off during the cooking process, but make sure to check regularly and sprinkle water if needed so that the ingredients do not stick and burn to the bottom of your pan.