11 July, 2013
Removing rust stains :Cast Iron and Carbon Steel Skillets/Woks: Facts & Seasoning tips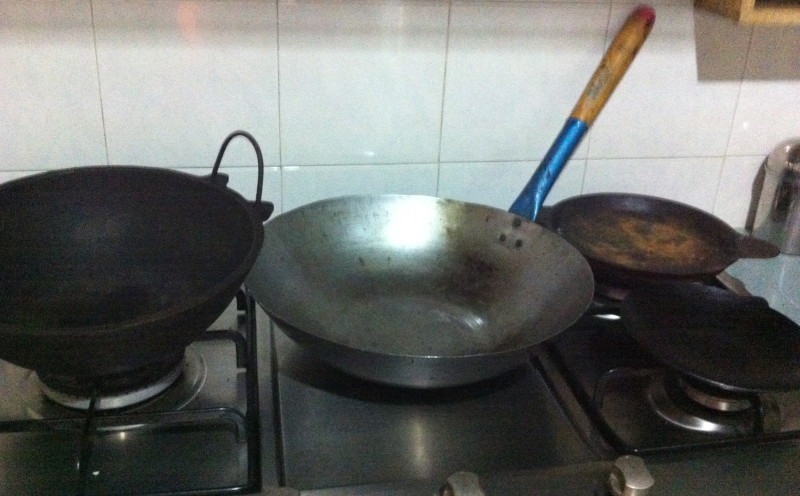 Removing rust stains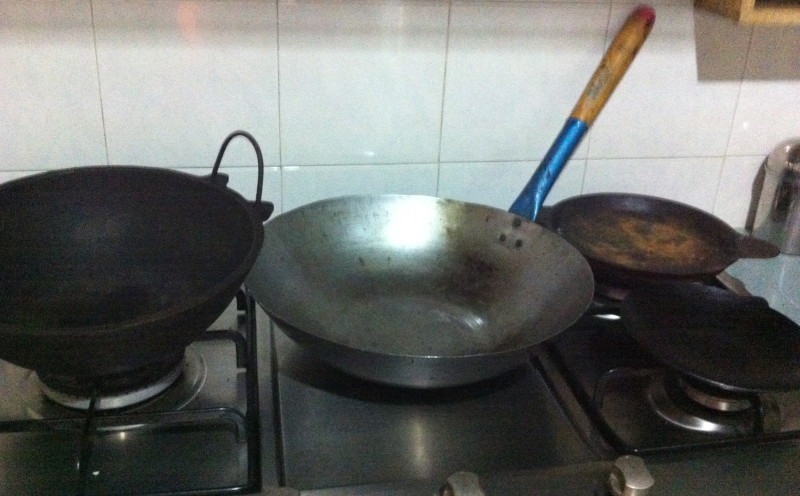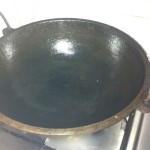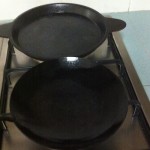 Cast Iron  Skillets:

Why they are preferred for certain dishes:

Studies have shown that  cooking in iron pots can help reduce the risk of anaemia. When you cook food in iron skillets, it reacts with the metal surface. As a result, iron gets released in the food. This is why green vegetables cooked in an iron wok become darker in colour!

Iron pots and pans heat up evenly and keep food warm for a longer time. They are also ideal for slow cooking.

However the following notes to be taken into consideration
It is best not to cook in Iron pans every day. Using it only two to three times a week can help to prevent an overload of iron in your body.

Sour or acidic foods may react with the iron to create an unpleasant metallic taste. Lemon, Vinegar or Tomato based dishes etc are best cooked in other cookware.

It is best not to use dish soap at all but if you need to : Wash iron pans with a mild detergent and dry immediately with a kitchen towel. Wipe with a thin coat of vegetable oil all over to protect it from rust.

Water and other fluids should not be stored in iron cookware. Iron reacts with moisture and forms rust. Drinking water will be contaminated. For the same reason, any food cooked in iron cookware should be transferred immediately to a glass or enamel dish.

Transferring food to other cookware will keep the food from going dark, and changing in taste as well.

Difference between Cast Iron and Carbon Steel woks or skillets.

Carbon Steel is lighter, tougher and arguably more responsive to heating/cooling (traditional woks are carbon steel).

Widely, Cast Iron  is preferred over carbon steel for everything except the Wok.

If seasoned and maintained correctly, both have the same non-stick properties as teflon without the leaching chemicals or flake factor.  

Carbon steel is preferred for its ability to heat up rapidly to the correct high temperatures and once well seasoned will have a natural non stick patina surface that lasts.

Some Carbon Steel woks come from the store with an anti-rust oil applied to it.Rinse and dry thoroughly over your stove burner.
Seasoning,Cleaning and Preventing Rust on  Carbon Steel:




After initial cleaning and wiping dry, Put in two tablespoons of cooking oil [any will do except olive oil, groundnut is preferred]. When the oil is warm rub the interior with a paper towel until the whole surface is lightly coated with oil. Heat the wok on very low burner for about 15 mins wiping occasionally with more oil. You will see it start to darken in colour. This means your wok is becoming seasoned and with use it will get darker and even black.

Never scrub your wok after it has become seasoned especially with any harsh cleaners or metal scouring pads. Just wash it gently under the tap with plain hot water and gently wipe off food debris with a sponge or traditionally with a Bamboo brush cleaner.

If food has burned on or you think it has to be washed more thouroughly, try to remove food debris as carefully as possible without harsh detergents or scouring pads.  Rinse and dry the inside and outside with paper towels. Then to finish drying, place the wok over a medium heat and 'burn' to sterilise it ready for your next cooking session. Wipe the inside of the wok with a small amount of oil and season as before.

Always remember to season before storing for any lengthy period of time to avoid rusting. If rust does occur gently remove this by using a little cream cleanser on the spot and then re-season. 

Do not put the wok in the dishwasher. If rust appears or it is accidentally cleaned in the dishwasher, simply re-season it, being careful to remove all the rust. The wok will build up a black layer, but don't worry this will prevent it going rusty and helps the non stick process.
Removing Rust Methods for Cast Iron and Carbon Steel

Wash with water and gentle detergent  once. Scrub if needed. Dry completely outside and inside with towel.

Add lemon juice or vinegar and a good spoonof salt.

Scrub gently for 10 minutes.You will see the liquid turning dark.

Rinse out. Scrub well with steel scrubber(Important:You will never use steelscrubber on the pans once seasoned)

Dry well with paper towel. Add lemon juice/vinegar again and Sprinkle Baking Soda all over surface. Allow to sit for a few minutes. Scrub again.

Rinse. Dry Immediately with kitchen towel.

Continue to Season: Place cookware on stove on gentle

heat and apply a thin coating of oil all over the surface. Allow to warm up.Wipe with kitchen paper towel till it no longer returns color.

Allow to cool. Also apply a thin layer of oil on outsides and store till next use.

After Cooking: Once a wok/skillet is 'seasoned' it should never be scrubbed with steel scrubber or You will have to 're – season' from scratch.

If food has stuck to bottom Pour water and bring to boil. Add mild detergent and allow to sit, overnight if needed.

In the morning, scrub gently with a plastic brush or scrubber. Rinse. Dry. Apply a thin coat of oil each time before setting away  for best results.

Over time, with well seasoning your cast iron and carbon steel will give the best non- stick effectiveness and you wont be able to do without them. They last a lifetime.

If at any point you want to scrub your woks clean. Do so and repeat the entire process.