21 August, 2015
Red Gobi Manchurian with Gravy – Cauliflower Manchurian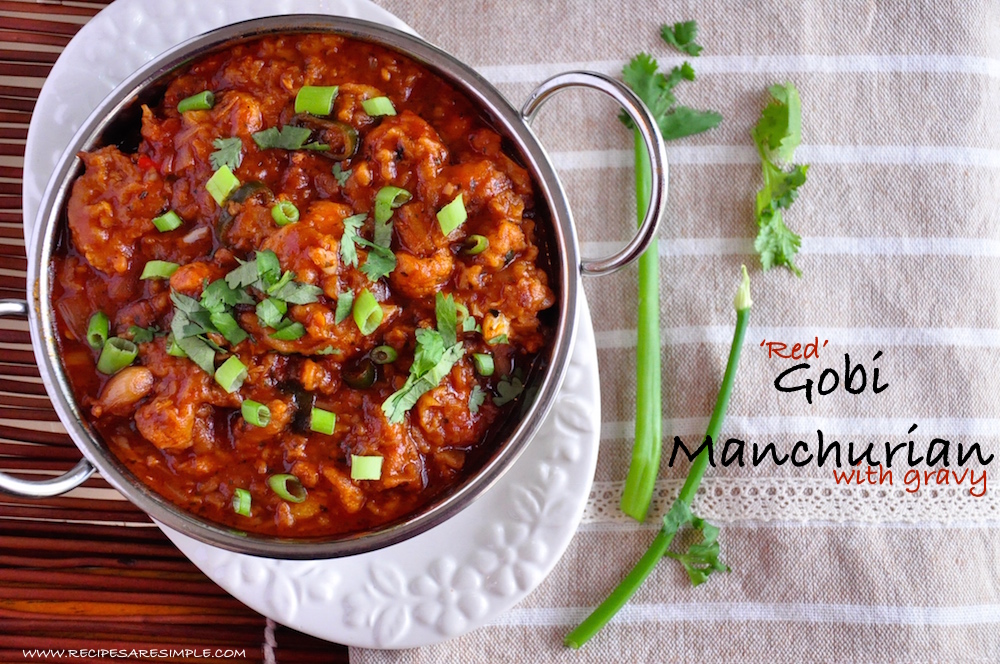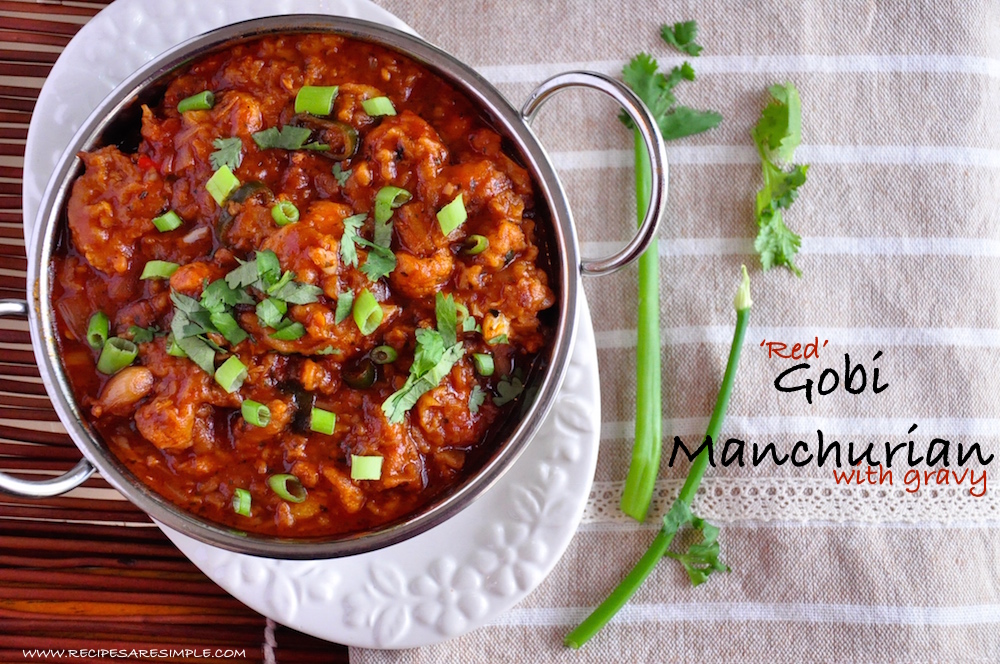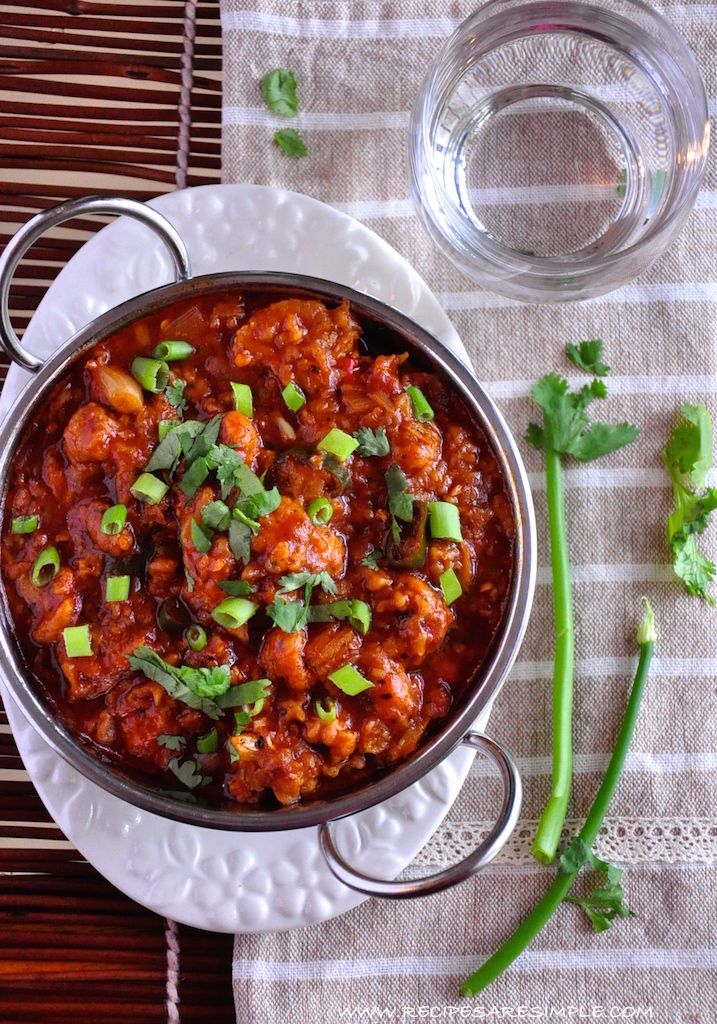 Red Gobi Manchurian with Gravy
Gobi Manchurian or Cauliflower Manchurian is one the the popular items on the Indian Chinese Menu. 'Manchurian' refers to the north eastern part of china. Many dishes came form this region to India and were altered to suit the Indian palette. Gobi Manchurian comes in a few different varieties. When you order at Indian restaurants, you need to specify weather or not you'd like 'Gobi Manchurian – Dry' or 'Gobi Manchurian – with Gravy'. Gravy, being the sauce that coats the cauliflower. This is better with fried rice or a variety of flatbreads. If however, you would just like a starter, 'Gobi Manchurian – Dry' would be the preferred choice.  When it comes to those with gravy, there are dark brown versions and then there is this Red Gobi Manchurian with Gravy that I am sharing today. I will be posting other versions soon.



For healthier versions, you can pan fry your cauliflower. This does not offer the restaurant quality crispness.  However, if you make this regularly ( and I hope you will love it enough to do so ): pan frying might be wise. Restaurant versions are also really spicy. Small hot green chillies are used. I prefer using the larger milder chillies. You can adjust this to suit your needs.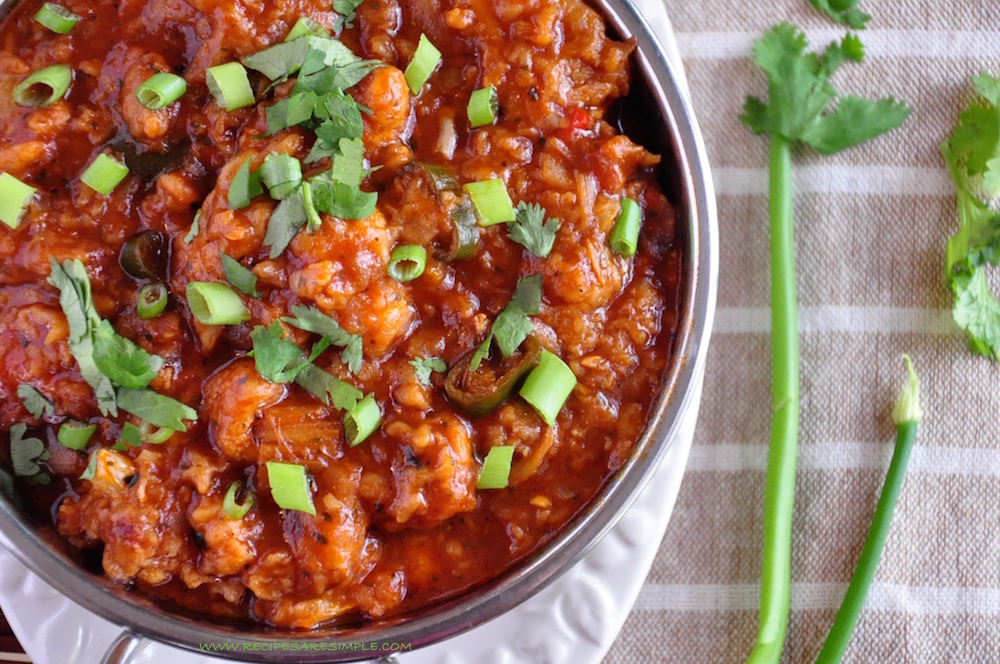 Red Gobi Manchurian with Gravy
You are here: Home > Vegetarian  > Red Gobi Manchurian with Gravy
 

Recipe Name: Red Gobi Manchurian with Gravy

Author: Shana c/o Recipes 'R' Simple
Ingredients:
1 head of cauliflower

(about 500 gms /1lb)

3 Tbsp white bulb portion of spring onion (reserve greens for garnish)
2 Tbsp garlic,

crushed / pounded

1 Tbsp ginger,

crushed /pounded

1 long red chili

(mild)

1 long green chili

(mild)

1/4 cup tomato puree or passata
½ tsp tomato paste
2  Tbsp tomato kethcup
2 Tbsp light soy sauce

( to taste)

1 ½ tsp vinegar
¼ tsp white pepper powder
½ tsp dried coriander

(use 1 Tbsp very finely chopped fresh coriander if you don't have the dried herb)

2 cups water
½ tsp cornflour mixed in 1 Tbsp water
pinch or two of sugar
Freshly chopped spring onion greens and cilantro / coriander for garnish
Oil as required
To marinate the cauliflower:
2 tsp garlic, crushed to a paste
1 tsp ginger, crushed to a paste
4 Tbsp light soy sauce.
½ tsp black pepper powder
For the batter:
 1 bombay onion, diced finely

¾ cup plain flour
¹/3 cup cornflour/ cornstarch
½ – 1 tsp red chilli powder ( kashmir chilli powder)
¼ tsp salt
¹/8 tsp baking powder
Method:
Cut off the base stem of the head of cauliflower.
Break off the florets one by one, with your hands and the help of a small knife.
I like to break them into small to medium sized florets.
Rinse well and drain on absorbent paper.
Mix together the ingredients

to marinate the cauliflower,

in a bowl.
Add the florets and toss well. Leave for10 -15 minutes, while you prepare all the other ingredients.
Prepare the batter: Add very little oil to a pan or wok to fry the diced onion.
Strain from the oil when golden brown.
Add the dry ingredients for the batter into another bowl.
To the, add the fried onion as well.
Add ¾ cup water (a little bit at a time) till you get a batter that is not too thick but not too watery. It should coat the back a spoon well without falling off or creating lumps.
Remove the marinated florets from the marinade. (Discard the soy sauce marinade).
Add the florets to the bowl of batter, a batch at a time.
Heat oil either for pan frying or deep frying. Today I am deep frying.
Remove each floret from the batter and gently drop into the hot oil.
Do not add florets together or in bunches. This causes them to jump together in one coated mess. 
Fry in relatively small batches. Avoid overcrowding.
Remove from oil with a strainer or  slotted spatula when golden brown and crisp.
Drain on kitchen paper towels. Try to keep in one layer to stay nice and crisp.
Now make the gravy: Heat 2 Tbsp oil in a nicely seasoned wok.
Add the spring onion whites, garlic, ginger and chillies.
Stir fry on high heat briefly. Don't allow to go brown.
Add the tomato puree and cook for 30 seconds.
Now add the tomato paste, tomato ketchup, soy sauce, vinegar, and white pepper powder.
Cook till oil separates and add the dried coriander.
Taste and adjust with either more soya sauce or more ketchup – if needed.
Add upto 2 cups water and bring to a rapid boil.
Add the cornflour solution to thicken the gravy. Stir.
When the gravy appears to have thickened, do a taste test again. Add a pinch of sugar to balance the flavors.
Add the fried florets now.
Coat gently in the gravy and allow to come to a rolling boil again.
Garnish with the cilantro and spring onion.
A lot of the gravy gets absorbed by the fritters the longer it sits. If you need a pourable gravy, it's best to leave the gravy preparation till

just prior

to serving.
The pictures show how much gravy is left after 1 hour from making. It can be reheated in the wok with a sprinkling of some water. Best served hot!
Delicious! I love it with roti. Try and let me know, okay:) ?
Red Gobi Manchurian with Gravy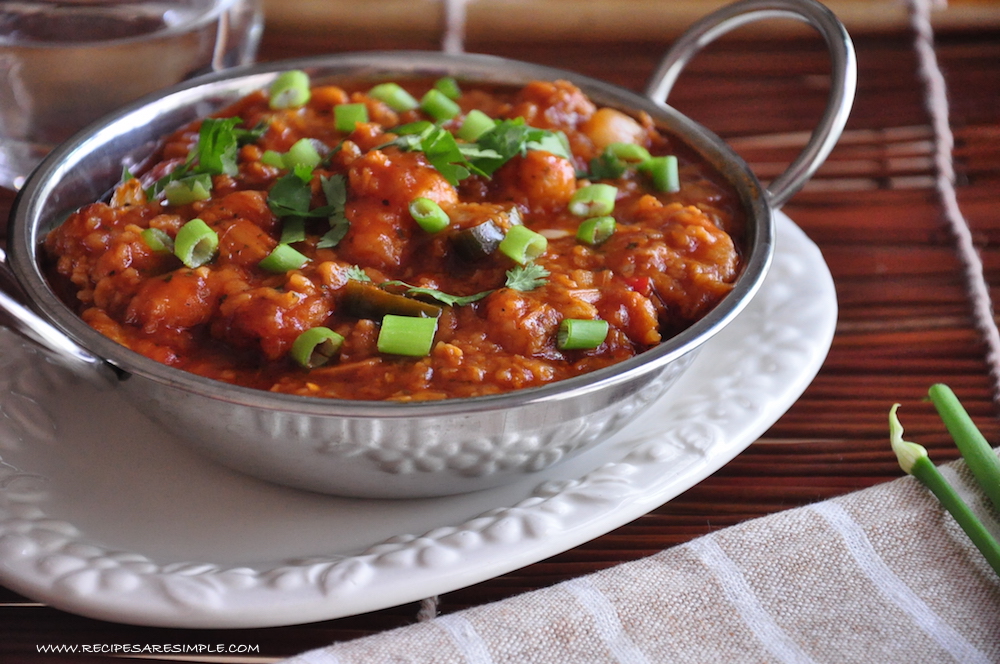 Instead of water, you could also add vegetable stock.
Read more about Indian Chinese Cuisine.
Tomato Puree can be made by boiling 2 tomatoes in rapidly boiling water. When the skin starts to peel off, dip in cool water and peel the skin. Grind to a puree without adding any water. Store bought Tomato Puree tends to be more tart/sour fro the addition of citric acid.
Key Ingredients: Cauliflower, Flour, Cornflour, Onion, Ginger, Garlic, Green Chilli, Red Chilli, Pepper, Red Chilli Powder, Salt, Tomato puree, Tomato paste, Tomato ketchup, Soya sauce, Vinegar, Spring Onion, Cilantro.
Do let me know if you tried  – Red Gobi Manchurian with Gravy . Comments from you provide motivation to keep up the driving force behind this blog, bringing you more delicious and perfected recipes regularly. Please do leave a comment. Love to hear from you.