3 May, 2015
Raw Cashew Nut Curry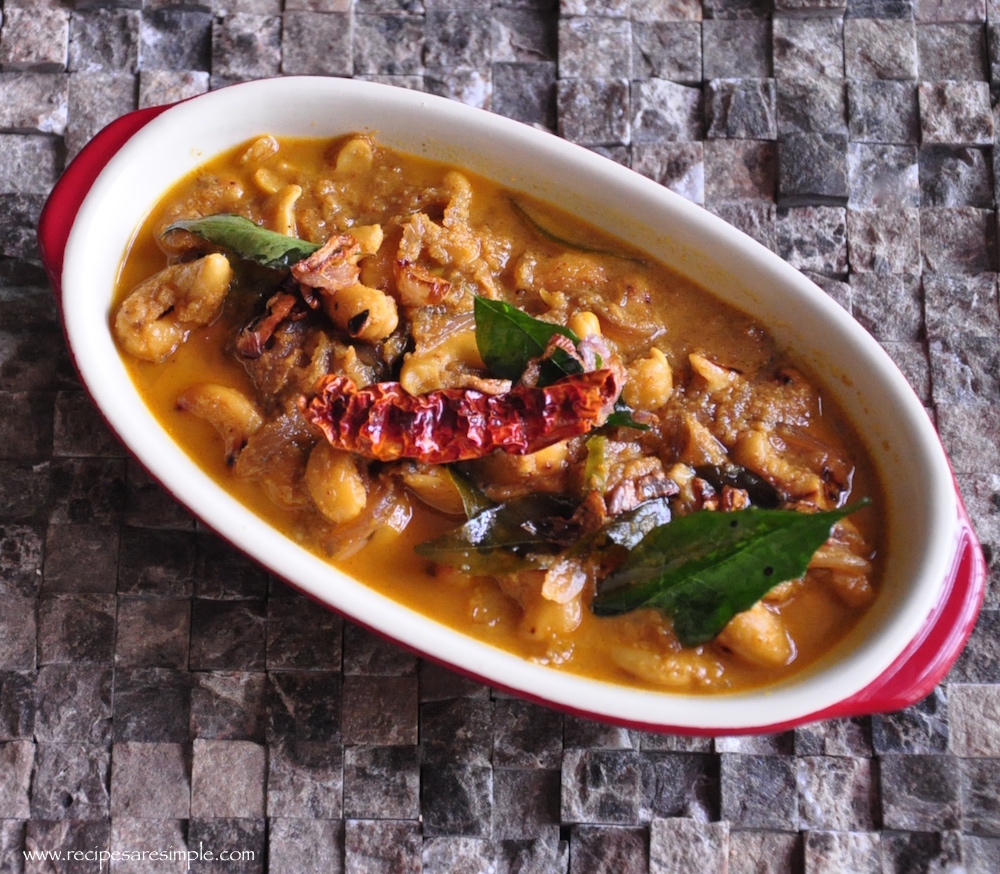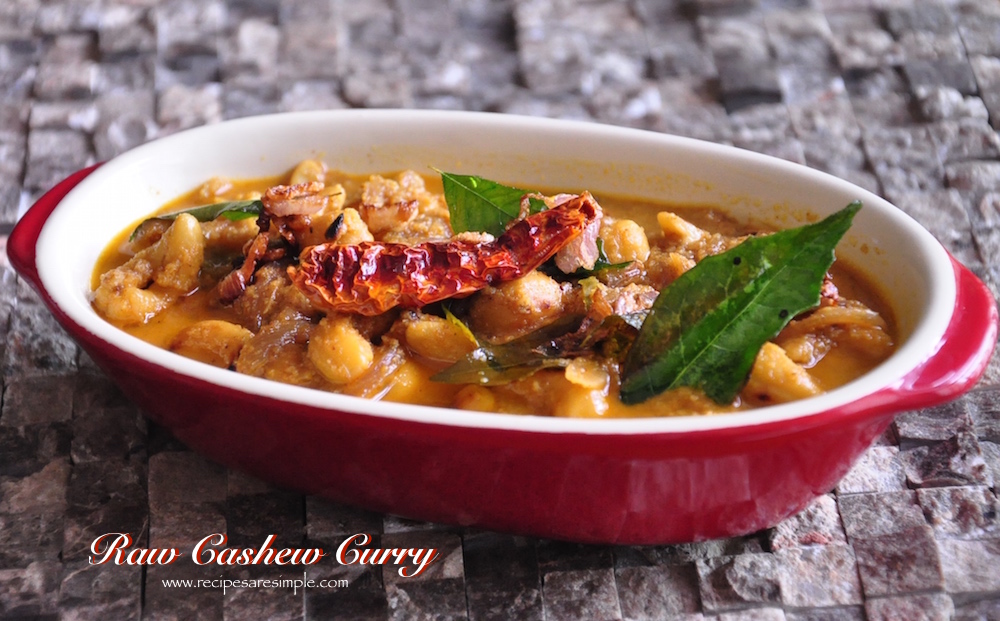 Raw Cashew Nut Curry
An easy to prepare vegetarian curried dish made of raw tender cashew nuts.  Lovely tender cashews in a tasty thick gravy. Raw Cashews are wonderful in curries but if you can not get your hands on them, use dried cashew nuts instead.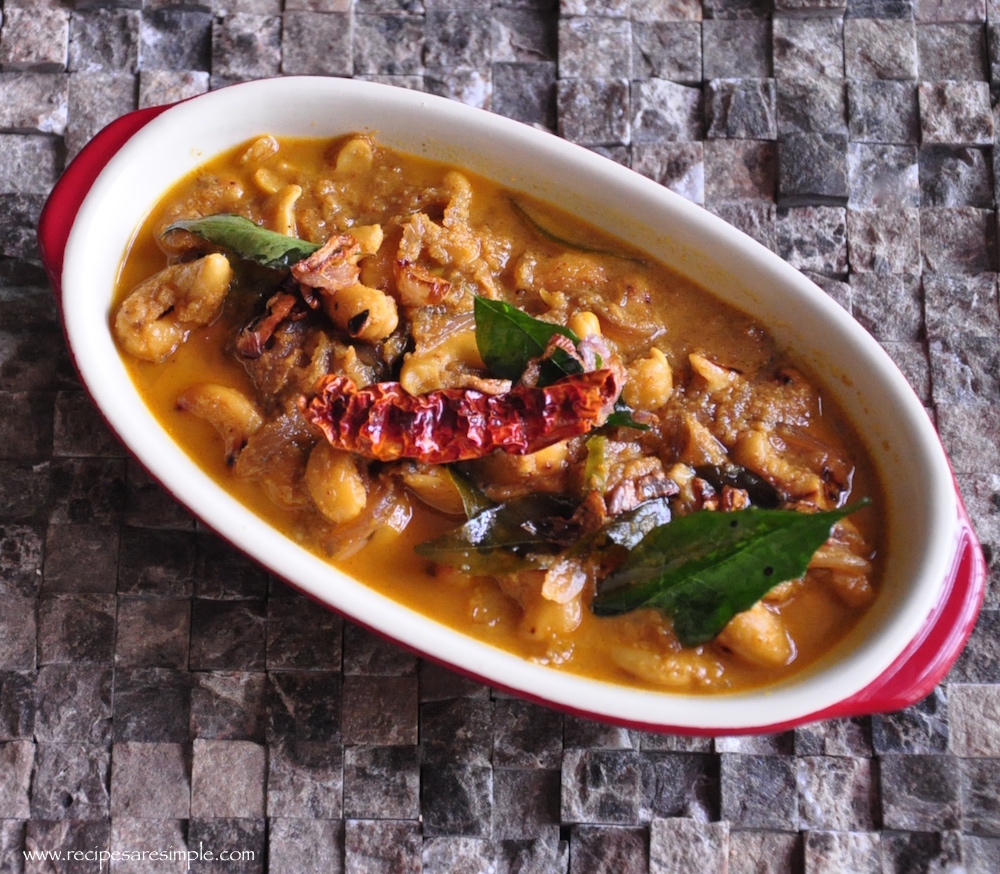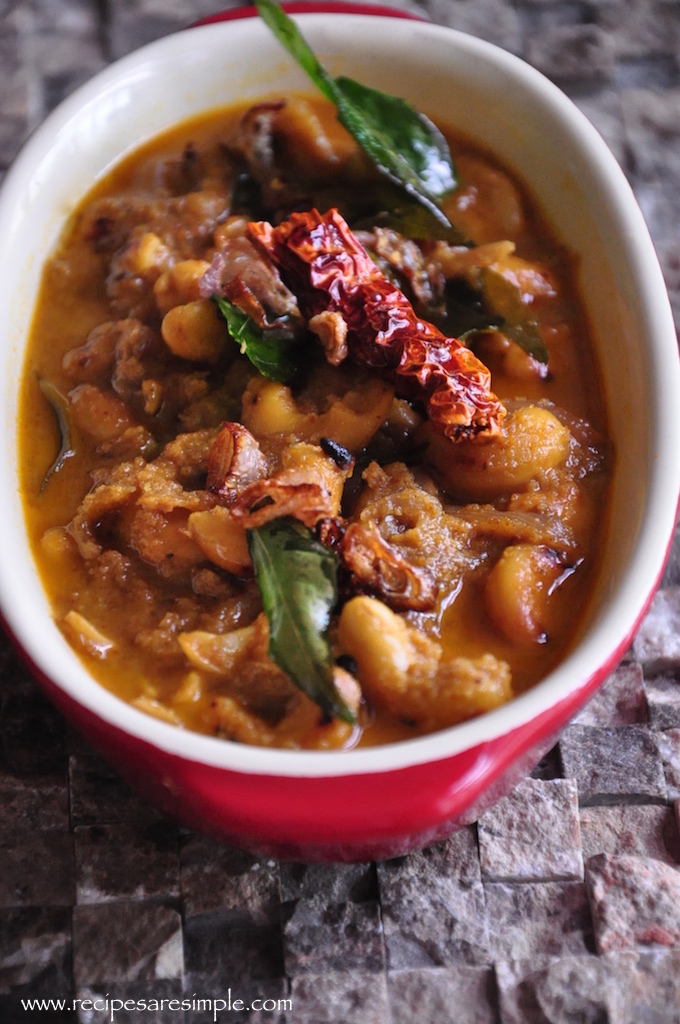 You are here: Home > Vegetarian  > Raw Cashew Nut Curry
 

Recipe Name: Raw Cashew Nut Curry

Recipe Type: Curry / Vegetarian

Author: Shana c/o Recipes 'R' Simple
Raw Cashew Nut Curry
Ingredients:
200 gms raw cashewnuts
2 onions, finely sliced
3 small green chillies, left whole or 1 long green chili chopped
1 handful of curry leaves
½ cup fresh grated coconut
1 tsp garam masala –see my garam masala recipe
Marinade Ingredients:
3 tsp coriander powder
1 ½ tsp red chili powder
1 tsp turmeric powder
1 tsp or more salt (to taste)
1 knob of ginger
5 shallots
 ½ tsp oil
1 cup water
 For tempering:
2 shallots sliced
1 dry chill cut into two
¼ tsp mustard seeds
2 Tbsp oil
Method:
Add the raw cashew nuts into a bowl of hot water. Allow to soak briefly. Then peel, rinse  and drain.
Pat dry the cashew nuts and dry roast them till they are just slightly golden.
Crush the ginger and shallots for the marinade to a paste.
Add this and the cashews to a bowl along with the remaining 'Marinade Ingredients'.
Rub well and allow to sit for 10 minutes.
Add the grated coconut to a pan and 'dry roast' till the coconut is just turning light gold in color.
Grind to a paste, as smooth as possible with a few spoons of water.
Heat oil in a pan and saute the sliced onion till just turning golden.
Add the marinated cashews, curry leaves and green chili.
Cook, stirring briefly till aromatic.
Add water. Taste and add salt if needed.
Bring to boil. Cover and reduce the heat. Simmer till the cashews are cooked tender.
Add the coconut paste and garam masala now. Bring back to a simmer and turn off the heat. Keep covered.
Heat oil for tempering. Crack mustard seeds. Add dried chili and curry leaves. Pour over the curry.
Keep covered for 10 minutes before serving.
Raw Cashew Nut Curry
Do not add more water. This curry should  have a thick gravy.
Key Ingredients: Raw Cashews, Spices, Coconut, Onion Ginger, Shallots, Green Chili, Curry Leaves, Oil, Mustard seeds, Dried Chili
Let us know if you tried it – Raw Cashew Nut Curry . Comments from you provide motivation to keep up the driving force behind this blog, bringing you more delicious and perfected recipes regularly. Please do leave a comment. We love to hear from you.