19 June, 2017
Ramadan Porridge | Ramadan Kanji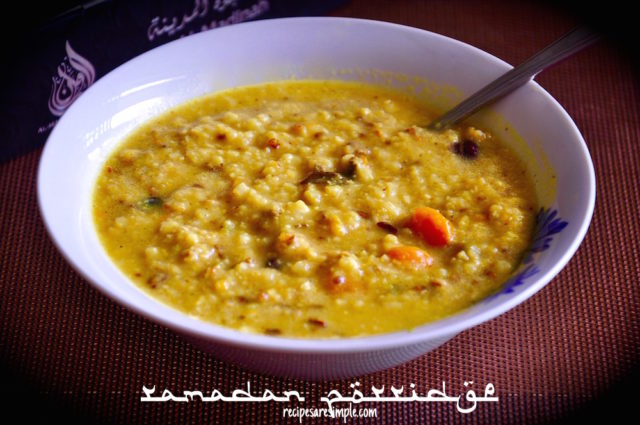 Ramadan Porridge | Ramadan Kanji
Ramadan is almost over this year, but I thought it would be good to add a recipe, since so many have mailed/ messaged me requisitioning it. Ramadan Porridge is made so often during the month of Ramadan. It is a warm and comforting porridge that you can enjoy some time after breaking your fast. It is also a good item for the suhr meals.  I have a recipe for the basic Cumin Rice Porridge here :     (Jeeraka Kanji). This recipe adds to that some vegetables, a little meat and stock. This Ramadan Porridge,  makes it more savory and more filling, perfect for when you want to store that energy for the rest of the fasting period.
Here, I have added a little mutton that was removed from the precooked mutton for a Korma that I made. You need very little meat, so it's a good idea to remove some when you are preparing for another dish, if you plan to make this. Chicken may be used as well.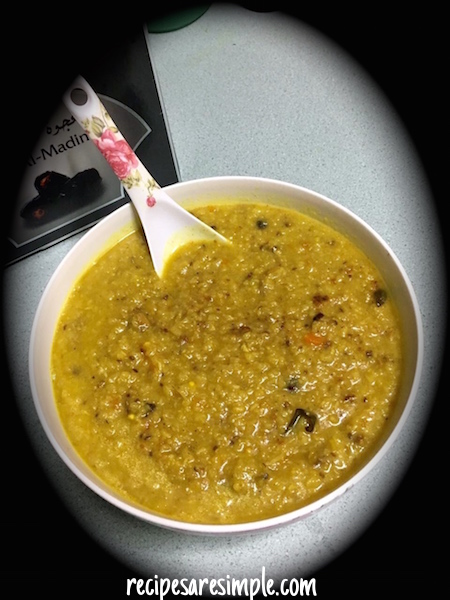 Ramadan Porridge | Ramadan Kanji

You are here: Quick Browse > Rice Recipes > Ramadan Porridge | Ramadan Kanji
 

Recipe Name: Ramadan Porridge | Ramadan Kanji

Recipe Type: Rice / Ramadan

Author: Shana c/o Recipes 'R' Simple
Key Ingredients: Rice, Cumin, Mutton, Spices, Coconut, Curry Leaf, Salt, Oil, Carrot, Black Chick Peas, Dried Green Peas.
EAT AND TELL!!!
Let us know if you tried –  Ramadan Porridge | Ramadan Kanji



Back to Quick Browse. Thanks for visiting www.recipesaresimple.com