10 February, 2017
Quick Sambar | Speedy Breakfast Recipe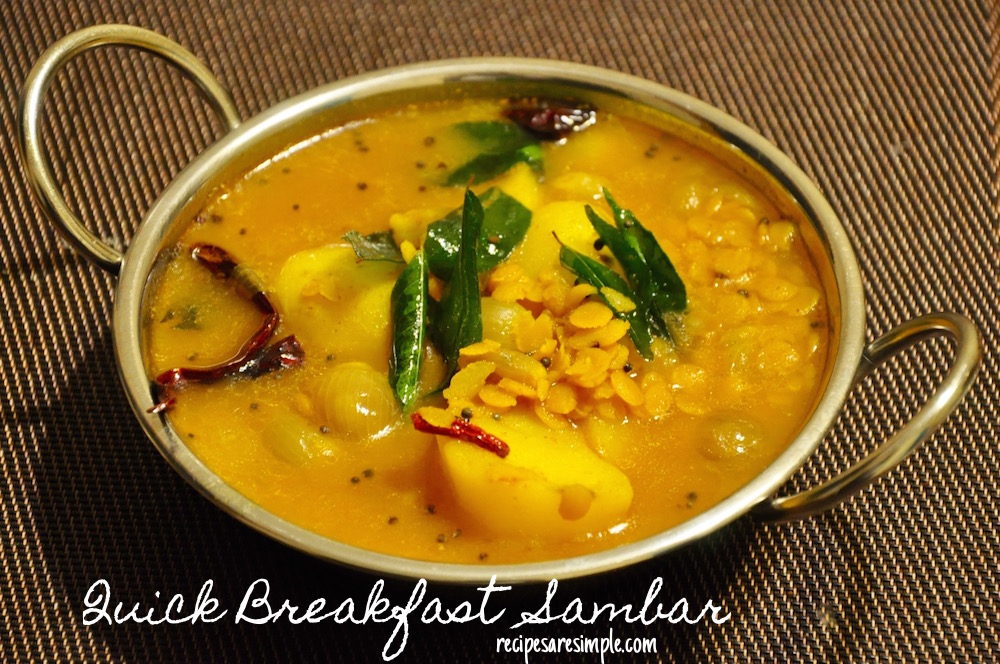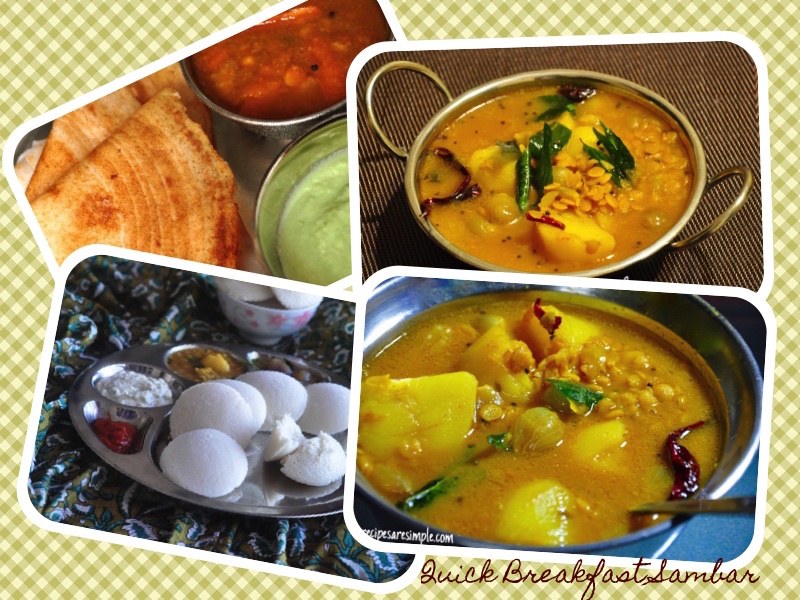 Quick Sambar | Speedy Breakfast Recipe
For those of you who love to have idli or dosa for breakfast, here is a Quick Sambar recipe. Made with just whole, peeled shallots and potato, it is very easy to make. God knows we all need easier dishes for breakfast time, being so hectic – especially if you pack lunches and need it all to be done before 9 am. Use your favorite sambar powder or use the recipe for homemade sambar powder
given below. A quick and tasty recipe that will come in handy, I am sure. Check out my Video as well.
Quick Sambar | Speedy Breakfast Recipe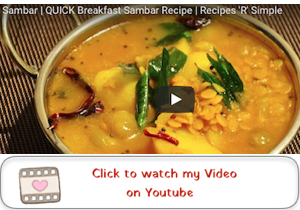 You are here: Home > Breakfast > Quick Sambar | Speedy Breakfast Recipe
 

Recipe Name:  Quick Sambar | Speedy Breakfast Recipe

Recipe Type: Breakfast / Vegetarian

Author: Shana c/o Recipes 'R' Simple
Ingredients:
¼ cup tur dal (split pigeon peas)
8- 10 shallots
2 large potatoes
2- 2 ¼ cups water
1 tsp tamarind pulp, soaked in 2-3 Tbsp hot (boiled) water
1 – 1 ¼ tsp sambar powder
2 tsp coriander powder
3 Tbsp coriander leaves
1 tsp salt, divided
For tempering:
½ tsp mustard seeds
10 curry leaves
2 dried chillies, broken
½ tsp fresh asafetida powder
Method:
Place the tamarind pulp in 3 Tbsp of hot water and leave to soak. When it is soften, Squeeze and strain to extract the solution. Discard the residual pulp.
Peel the shallots. Leave whole. Also peel the potatoes and cut into large pieces.
Add the dal to a small pressure cooker. Rinse well and strain.
Add 2 cups fresh water, half the salt and  the turmeric powder.
Close the  cooker. Apply the pressure regulator when a steady flow of steam is seen. Wait for a single steam whistle.
Place the pressure cooker under running water, so that it may cool down quickly.
Open the pressure cooker and remove most of the dal ( about 70 %) from the cooker. I do this by pouring out the entire contents of the pressure cooker into a heat resistant bowl and then pouring back the stock and just a few ladles of the dal into the pressure cooker again. Set aside this dal.
To the pressure cooker, add the whole, peeled shallots and potato pieces.
Add just a dash more water to cover the potato and add remaining salt now.
Close the cooker again, apply the pressure regulator and wait for another single steam whistle.
Cool the cooker under running water, just as before and open.
Now return the reserved dal and add1 – 2 Tbsp of the tamarind solution. Bring to a boil.
Add sambar powder and coriander powder.
Simmer for 8-10 minutes, till the sambar has thickened. Turn off the heat.
Tempering:
 Heat the oil in a small pan. Add the mustard seeds and allow to splutter.
Add curry leaves and dried chilli and fry briefly, retaining the bright color.
Also, add the asafetida powder. Allow to sizzle and release its aroma.
Quickly pour the tempered ingredients over the sambar now.
Lastly, add the chopped coriander leaves. cover the sambar without stirring till ready to serve.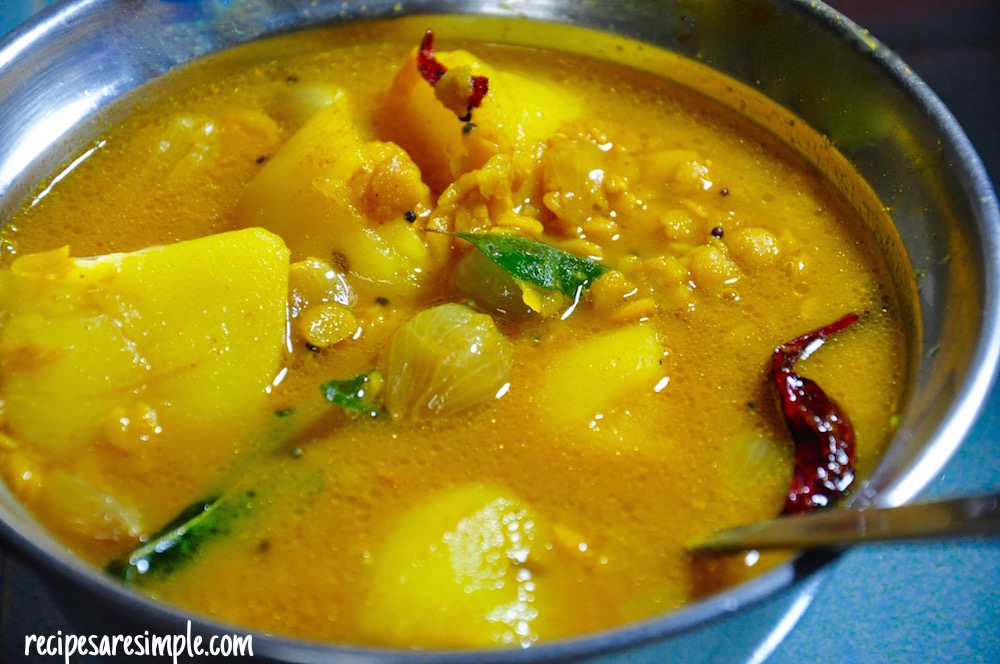 Quick Sambar | Speedy Breakfast Recipe
For home made Sambar Powder:
1 Tbsp gingelly oil
2 Tbsp curry leaves
½ cup bengal gram dhal
¼ cup toor dal
2 tsp urudh dhal
1 cup coriander seeds
9-15 dried chillies according to preference
2 tsp fenugreek seeds
1 tsp asafoetida
Method: 
Smear a pan with the oil. Add the ingredients, one by one and roast with content stirring for 5 minutes on low – medium heat.
Grind to a powder. Cool and store in an airtight jar. Refrigerated, this powder will last over a month.
Key Ingredients: Toor Dhal, Shallots, Potato, Tamarind, Spice, Coriander Powder, Asafoetida, Curry Leaves, Coriander Leaves, Dried Chilly, Salt.
Leave a comment if you tried – Quick Sambar | Speedy Breakfast Recipe .
SaveSave
SaveSave
SaveSave