1 July, 2015
Quick Chicken Tikka Fried Rice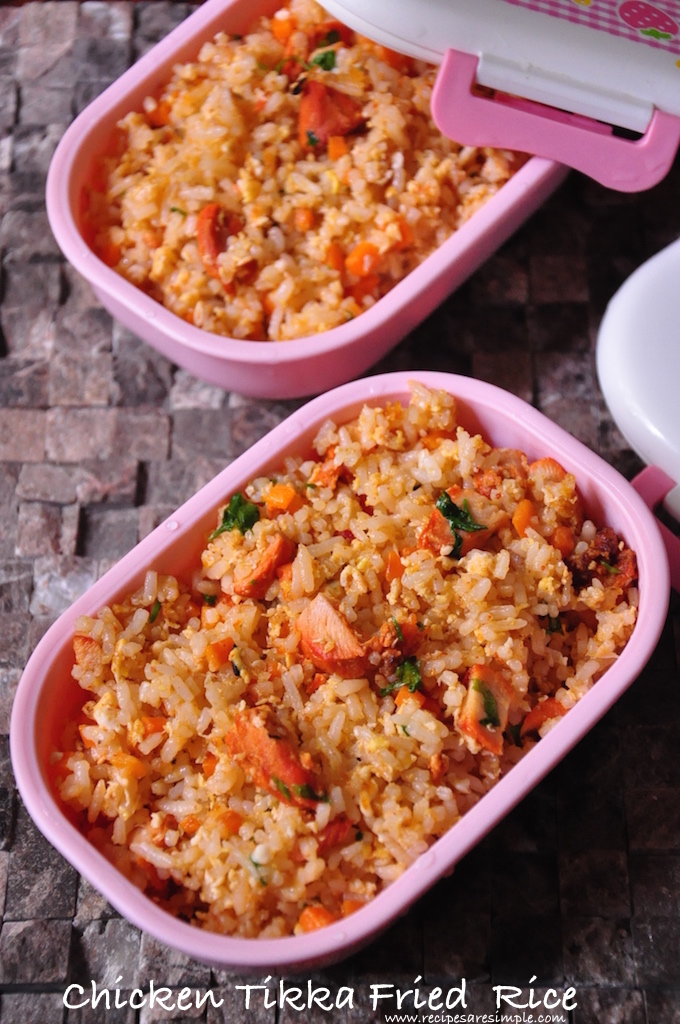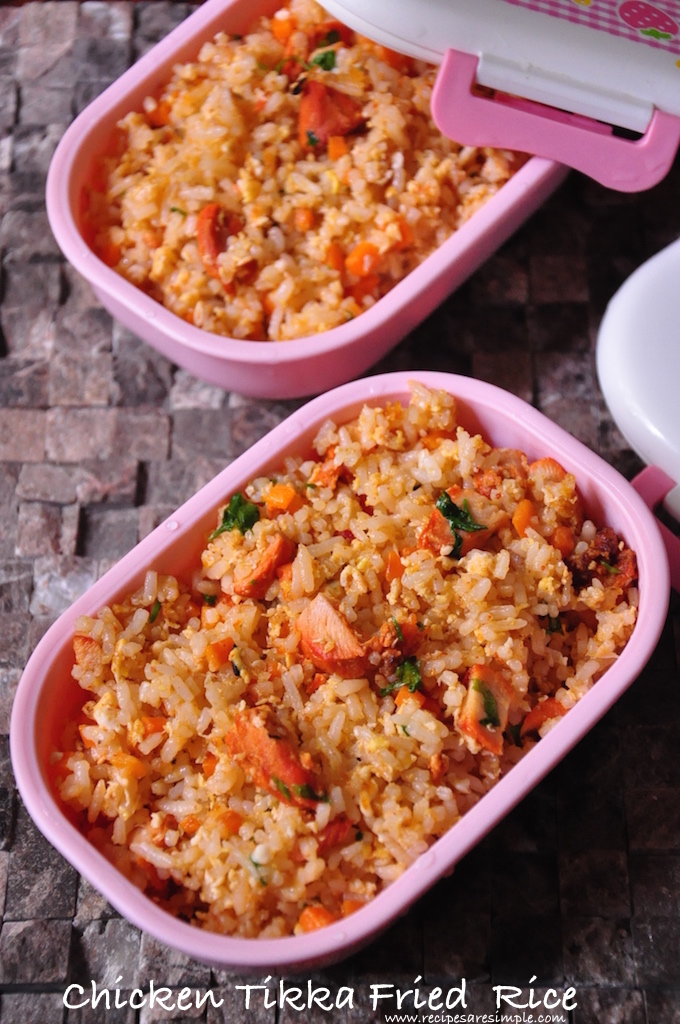 Quick Chicken Tikka Fried Rice
This is a very quick Fried Rice, incorporating the yumminess of Chicken Tikka, which most kids are crazy for! The most important thing in preparing your kids lunch boxes, is planning! Make a plan for what you are going to make the next morning. This goes a long way in helping, no matter how sleep deprived or hazy you may be feeling.
For dishes like Fried Rice, always have some cold cooked rice in the fridge. I have a small baby sized pot with a lid that I use to cook rice in. When it cools down, I just stick it in the fridge. This way I can always make fried rice for my kids any time. Day-old cold rice is always best for fried rice anyway!
And when ever you are making a chicken dish for lunch or dinner, I recommend removing and setting aside a very small amount (like a quarter cup) of boneless meat. Marinate and chill this portion overnight, like I have done.
This way the next day I can send the kids off with this Chicken Tikka Fried Rice, which they always love!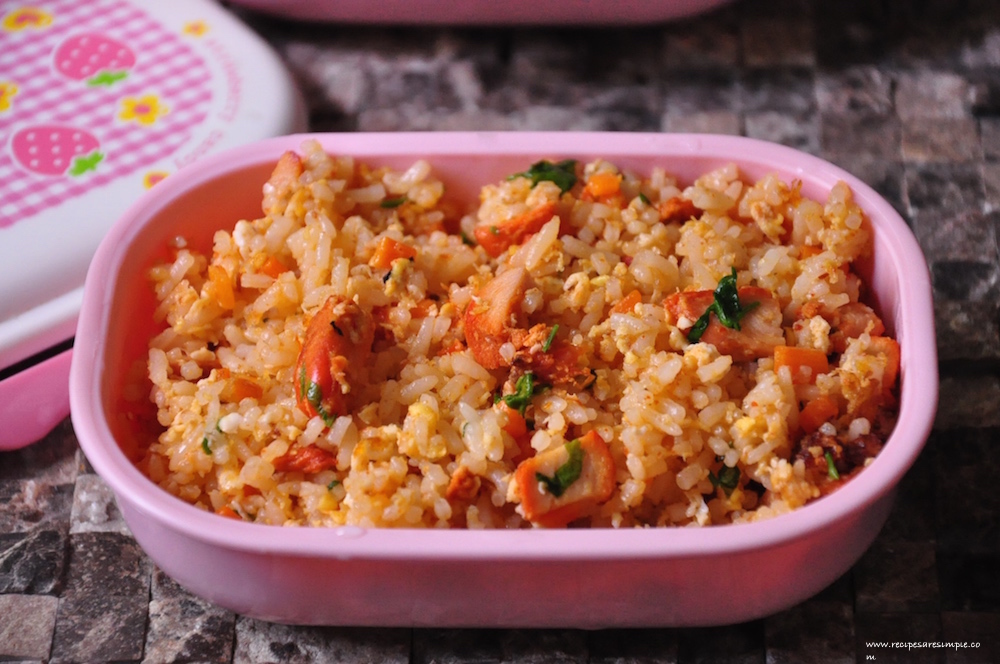 You are here: Home > Kids Lunch Box  > Quick Chicken Tikka Fried Rice
 

Recipe Name: Quick Chicken Tikka Fried Rice

Recipe Type: Kids Lunch Box Recipes

Author: Shana c/o Recipes 'R' Simple

Night before: Cook Rice, Marinate Chicken (10 minutes)
Quick Chicken Tikka Fried Rice
Ingredients:
To marinate the chicken the night before:
¼ cup, boneless chicken (can be removed from whole chicken prepared on the day before)
1 clove garlic
½ tsp ginger
3 tsp thick yoghurt
¹/8 tsp or a small pinch of the full
¹/8 tsp turmeric
¹/8 tsp garam masala
¼ tsp lime juice
¼ tsp chili powder
¼ tsp cumin powder
¹/8 tsp salt
——————————————————————
1 cup cooked rice (basmati rice) – Use rice cooked the previous night and kept in the fridge.
1 small carrot, cut into small dice
2 eggs
4-5 Tbsp oil
salt to taste
2 Tbsp finely chopped cilantro / coriander
Thick yoghurt or Labneh Dip as accompaniment
Method:
Night before prep:

 Cook rice double the amount of water till boiled, Reuce heat and cover. Cook till water is absorbed and rice is cooked.
Cut the chicken into large chunks – 2 or 3 pieces. Rinse and drain.
Marinate in all the ingredients listed.

Day of cooking:

Fluff up the cold rice with a fork.
Heat oil in a large wok till smoking.
Add the marinated chicken and toss continuously on high heat for 1 minute till the chicken changes color and looks cooked.
If using carrot, add now.
Take food scissors and cut the chicken up now into small bite size shreds.
Continue tossing the chicken with the carrot till the carrot is tender about another minute, *Still on high heat.
Move the chicken and carrot to one side of the wok.
Break the eggs on the other side of the wok and allow to set for 5 seconds.
Add the rice and, on steady high heat, toss and stir the rice. Toss till all the rice is separated and coated in the oil and eggs.
Break up any lumps by pressing with the back of your ladle. Add salt to taste and toss again. The rice should be completely heated through.
The rice will take on the color of the chicken marinade.
Stir in the chopped cilantro.
This rice is delicious with hung yogurt or labneh dip.
Quick Chicken Tikka Fried Rice
You can serve with a few chicken nuggets if you like.
Key Ingredients: Rice, Chicken, Spices, Yoghurt, Carrot, Eggs, , Salt, Oil, Cilantro/Coriander.
Let us know if you tried it – Quick Chicken Tikka Fried Rice. Comments from you provide motivation to keep up the driving force behind this blog, bringing you more delicious and perfected recipes regularly. Please do leave a comment. We love to hear from you.