8 November, 2014
Quick Banana Boat Recipe – Express Dessert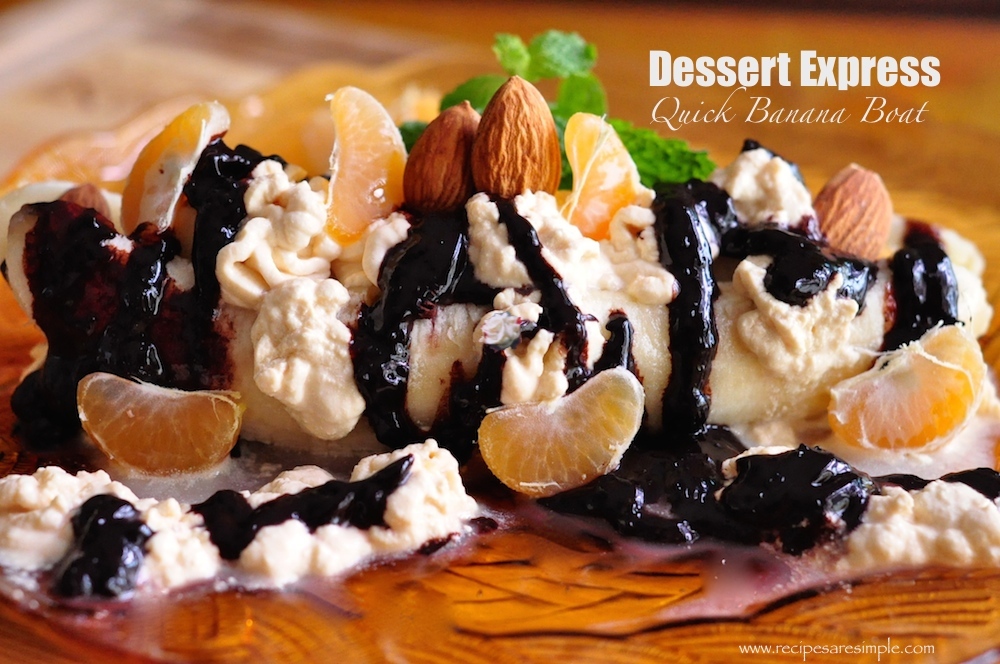 Quick Banana Boat Recipe – Express Dessert
  This Quick Banana Boat Recipe is perfect for whipping up some dessert on the whim. Bananas, Home made Instant Chocolate Sauce and a tin of Nestle Cream. Add your choice of toppings and you've got a special treat for that special someone – with minimal effort! The instant chocolate sauce is great for many other desserts as well!
Quick Banana Boat Recipe – Express Dessert
Recipe Type: Dessert

Author: Recipes 'R' Simple

Prep time: 4

Cook time: 1

Total time: 5

Serves: 1- 2
Ingredients:
2 firm, ripe medium sized bananas
1 tin nestle cream (170 gms) : Must be refrigerated overnight to chill
5 Tbsp Cocoa powder
2 Tbsp sweetened Condensed Milk
1½ Tbsp water
Nuts, dried fruit, glace cherries, sprinkles, fresh fruit  etc  of choice – as toppings
Method:
Add the cocoa powder, sweetened condensed milk and water to a small saucepan. Mix till smooth on low heat. Set aside to cool down.
Slice the first banana into two, lengthwise. Chop off the ends of the second banana.
Place the second, shortened banana in the centre of the serving plate.
Sandwich between the two slices of banana to make a boat shape.
Dump the chocolate sauce into one ziploc bag and the chilled nestle cream into another.
Cut small openings on the corner of the ziploc bags.
Pipe the cream over the boat and then pipe chocolate sauce all over.

It does not have to be perfect. That's the best part.

Decorate with choice of toppings.
Serve immediately.  🙂 Everyone loves dessert!
Quick Banana Boat Recipe – Express Dessert
Try it and let us know – Quick Banana Boat Recipe – Express Dessert .
 The nestle cream MUST be chilled overnight, for better texture and flavor.
The bananas must not be overly ripe.
To make the piping more pretty, use nozzle attachment piping bags, however we love the rustic look of this no fuss dessert much more.