25 March, 2013
Prawns Curry with Green Mango – Konju Mango Curry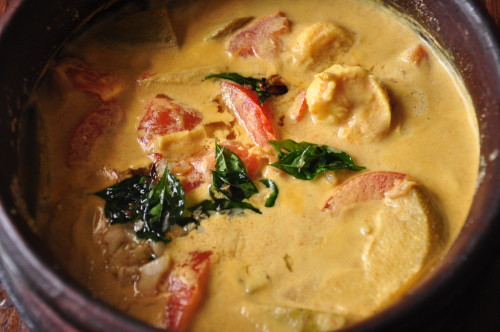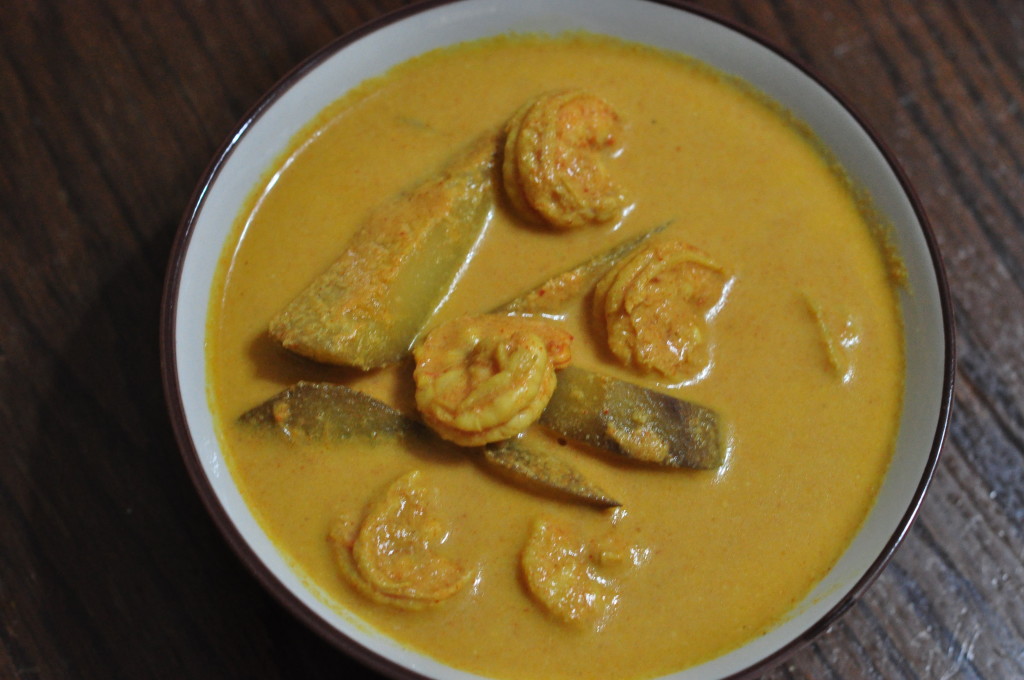 Prawns Curry with Green Mango – Konju Mango Curry
This Prawns Curry with Green Mango – Konju Mango Curry   is very simple and quick to make and reminds me of my delicious warm lunch waiting for me when I got home from school.
Served with hot  Kerala Rice 'Kothari Choru' ,vegetables and papad. Great served with plain white steamed rice!
Prawns Curry Konju Manga
Ingredients for Prawns Curry Konju Manga:
5OO gms cleaned prawns(

The pink tailed variety or the smaller variety is best for kerala curry and please only use fresh prawn as this is a mild spiced curry and using frozen prawn wont be forgiving!)

½ cup raw green mango 

(Should be nice and sour. Peel a little bit of skin and taste. If it isn't bitter you can slice along with the skin. Otherwise peel first, then slice as shown in curry)
½ cup grated coconut + 2 Shallots + 4 curry leaves
1 to 2 tsp chilly powder
½ tsp turmeric powder
¼ to ½ tsp coriander powder or upto 2 tsp depending on taste
salt to taste
¼ to ½ cup coconut milk to adjust thickness




Method:
In an earthen pot, add  prawns, the mango slices, chilly powder & turmeric powder. Add enough water to submerge them,
Bring to boil.
Grind together the shallots, grated coconut and curry leaves to make a fine paste.
Add to curry and bring back to boil.
Add salt and coriander powder. (I add coriander powder a little at time till i get the right flavor). Cook uncovered on medium heat till the prawns are cooked.
Add coconut milk to adjust the thickness and flavor of the curry if needed.
Prawns Curry with Green Mango – Konju Mango Curry
Notes:
Did you enjoy our Prawns Curry with Green Mango – Konju Mango Curry ?
Since different varieties of mangoes come at different tartness levels, add accordingly: If they are not too sour, add more. If they are very sour, add less.
Another Variation: Add 1 tsp lemon juice(freshly squeezed) if mangos are not very sour. Add towards end of cooking and stir continuously for 1 minute on low heat. Also chopped tomatoes once the prawns are cooked and simmer for 1 minute. Season with curry leaves and shallots  fried in 1 tsp oil.
You May Also Like: Melt In Your Mouth Fried Prawns