7 January, 2015
Prawns Biryani – Shrimp Biriyani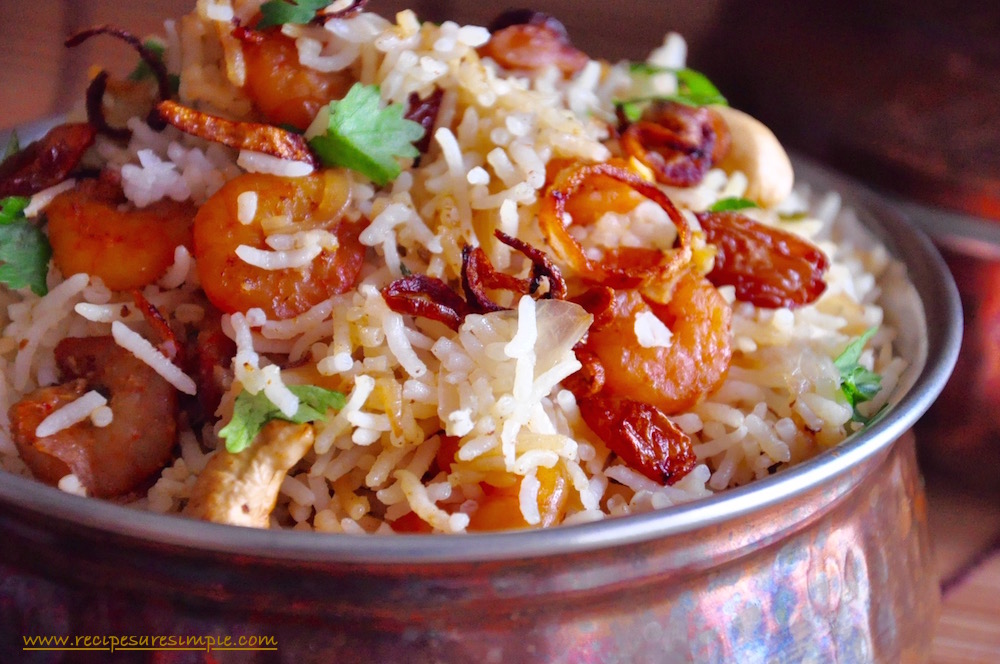 Prawns Biryani – Shrimp Biriyani
What's the only thing that is even better than home made? *?*?*?*?        GIVE UP?
MOM MADE!:) Don't you agree? Once you are married and living on your own, there's nothing better than coming home to have some of your moms cooking. I'm just back from a holiday at home and my mom made this Prawns Biryani . Saying it was good, would be an understatement. I loved it. And we made it again before I left, so that I could share the deliciousness with you. The masala is so light and flavorful and the perfectly scented rice with mind blowing prawns. Hmm, I think I will make it again soon. I recommend it with the smaller sized prawns. Watch the Video below.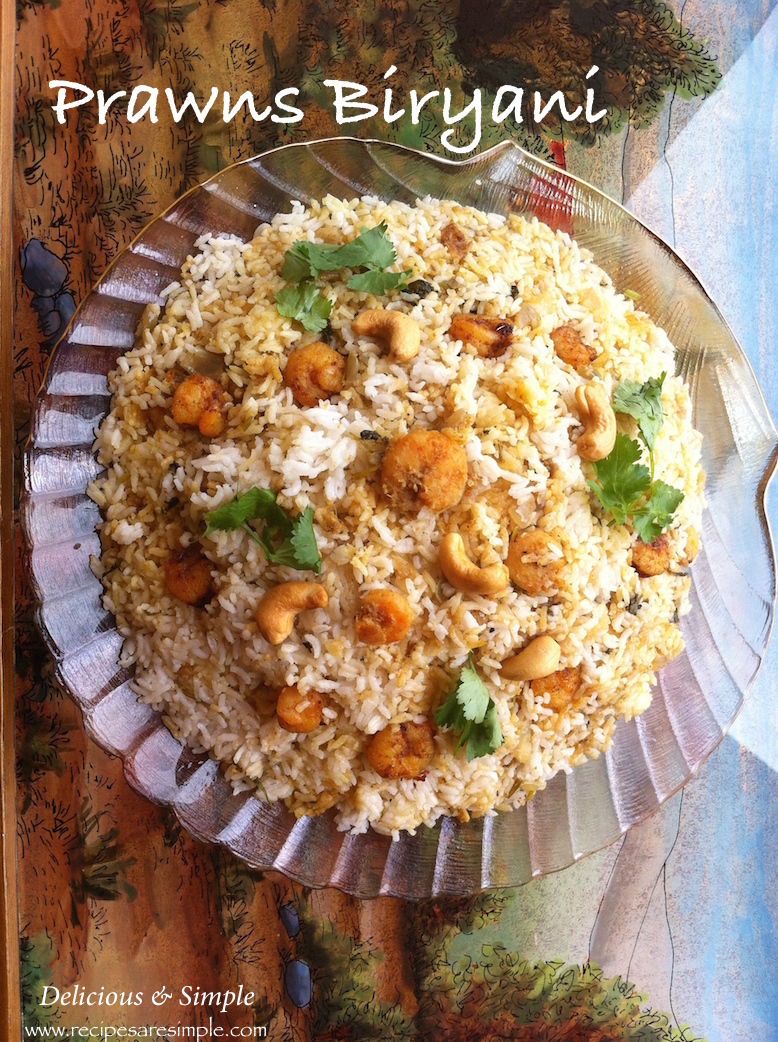 Prawns Biryani – Shrimp Biriyani
You are here: Home > Rice Dishes > Prawns Biryani
Prawns Biryani

Recipe Type: Rice / Seafood

Author: Recipes 'R' Simple

Prep time: 

Cook time: 40

Total time: 1 hour

Rating:

Serves: 6
Ingredients:
For the rice:
3 cups jeerakasala/ kaima rice or basmati
5 ¾ cups

boiled water

plus ½ cup coconut milk ( you can use only water, but the coconut milk adds wonderful depth of flavor).
1 onion sliced
1 tsp aniseed
4 cardamom pods, crushed
8 cloves
1 stick of cinnamon
2- 3 Tbsp ghee
salt to taste

2- 2½ tsp

1 tsp lime juice
For Prawn Masala:
1 kg, smaller sized shrimp / prawns: peeled, deveined and rinsed once

(About 600-700 gms once cleaned and heads removed)

1 tsp chilli powder
To Marinate:
½ cup yoghurt
3-4 green chillies,

crushed 

3 – 6 large cloves of garlic,

crushed 

1 knob of ginger,

crushed 

2 Tbsp sliced onion
1 tsp coriander powder
½ tsp turmeric powder
Masala:
½ tsp garam masala ( see garam masala recipe)
3-4 Tbsp oil
4 onions, sliced
2 Tbsp ginger, crushed
2 Tbsp garlic, crushed
½ cup fresh coriander leaves, chopped
3 Tbsp fresh mint leaves
Garnish: 
2 onions, very finely slices ( use a mandoline slicer)
½ cup cashew nuts
¼ cup golden raisins / sultanas
chopped coriander




Method:
Cook the Rice:
Wash the rice well, rinse. Soak 5 minutes and keep drained.

(Meanwhile marinate the prawns-see below)

Heat the ghee

(3 Tbsp)

, and add the whole spices.
When they crackle, add the sliced onion and sauté till light golden in color.
Add the drained rice and stir fry gently for a minute.
Add the water and coconut milk and bring to boil. Add salt and lime juice as well.
Cover and cook on low heat till all the water is absorbed, stirring once or twice from the bottom of the pot.
As soon as done, fluff up the rice with a fork and set aside covered.
The Prawns Masala:
Marinate the cleaned prawns  with all the ingredients under

'To Marinate

' for 30 minutes. Do not add salt to the marinade.
Add the prawns with the marinade to a pot or earthen pot. Also wash out the marinating bowl with 2 Tbsp of water and add to the pot.
Cook on medium heat till the prawns are ONLY half way cooked and there is gravy left. (Moisture will be released from the prawn marinade). Add salt only once the prawns have turned pink.
Drain the prawns from the gravy and set aside. Reserve the gravy separately.
Sprinkle the chili powder (1tsp) over the drained, semi cooked prawns and mix.
Heat some oil in a medium wok on HIGH . Add the prawns to this. Fry lightly, AND BRIEFLY just till a golden hue is reached and lightly crisped on the edges.
Now add some of the reserved gravy and cook down QUCKLY till a thin layer coats the prawns nicely. Make sue not to overcook the prawns.
Sprinkle the garam masala. Stir and remove the prawns from the wok. Set aside.
Add oil to the same wok if needed. Heat and add the garlic and ginger, followed by the onion. Sauté on mild heat.
When the color

just starts to change and the onions are softened

, add the remaining cooked gravy. Cook till thickened and reduced – on medium heat.
Add the mint and coriander. Sprinkle some more garam masala.
Add ¾ or more of the cooked prawns to the masala and stir through.

Reserve the rest for topping the rice – optional.

Place the masala on the bottom of a thick based pot.
Top with the fluffed up rice and pat down gently.
Layer the reserved prawns over the rice.
 Cover the rice with a banana leaf. Place tight lid on top. ( seal with dough if needed). Place a weight on top.
Place on an old tawa/ pan and  cook on low for 15 minutes on this indirect heat.
Turn off heat. Allow to rest for 20- 30 minutes before opening.
Meanwhile Fry the sliced onions, cashews and raisins separately in some oil and drain on paper towels.
Open the sealed pot and mix up the prawns masala  into the rice gently. Don't over mix.
Garnish with the fried ingredients and fresh coriander.
Serve Prawns Biryani with Raita (yoghurt, onion and tomato salad). Or Challaas, See recipe below.
Challaas : Pickled Onion Salad – from the post Malabar Mutton Biryani
3 medium- large red onions, FINELY sliced- use a slicer.
1 large green chili or 3 small hot ones, diagonally sliced.
6 Tbsp distiled white vinegar
10 Tbsp Water
about ½ tsp salt
a few curry leaves
Method:
Combine all together in a bowl. Get your Disposable gloves on.
Now mix the ingredients with your hands, crushing the onion , chillies and curry leaves thoroughly as you do so.
Cover and allow to sit for some time. The 'Challaas' will turn a deep rosy color . (It's so pretty)
Prawns Biryani – Shrimp Biriyani
Key Ingredients : Prawns (shrimp), Basmati, Onion, Garlic, Ginger, Mint, Coriander, Oil, Ghee, Fresh Lime Juice, Yoghurt, Cashew nut, Sultanas, Salt, Spices.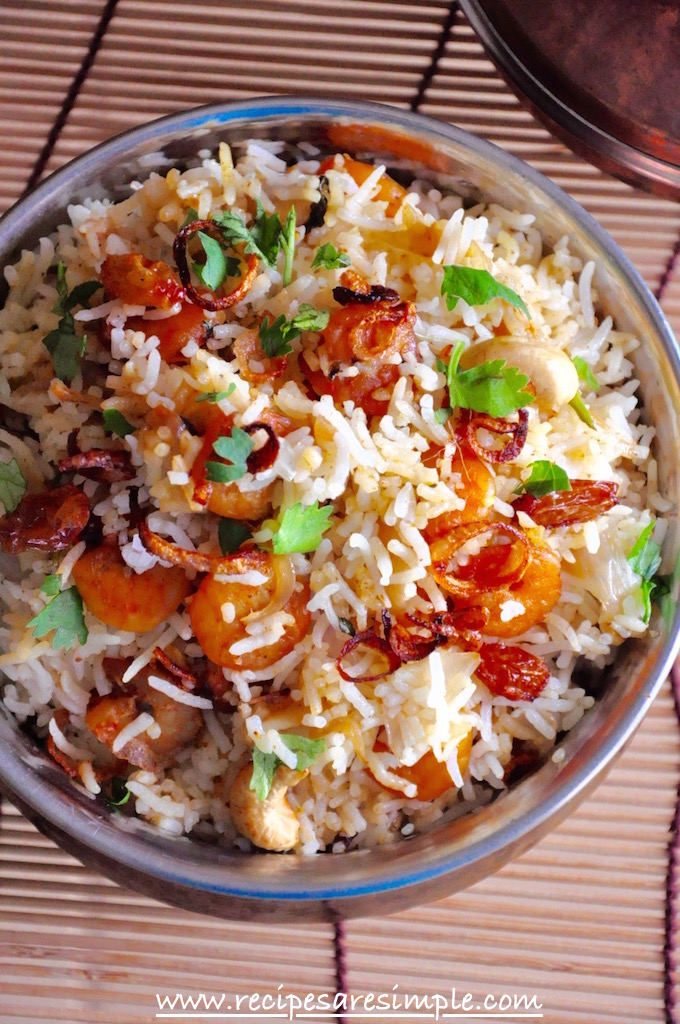 Try it and let us know – Prawns Biryani – Shrimp Biriyani .