26 September, 2013
Pound Cake Recipe – Marble Cake Layered Cake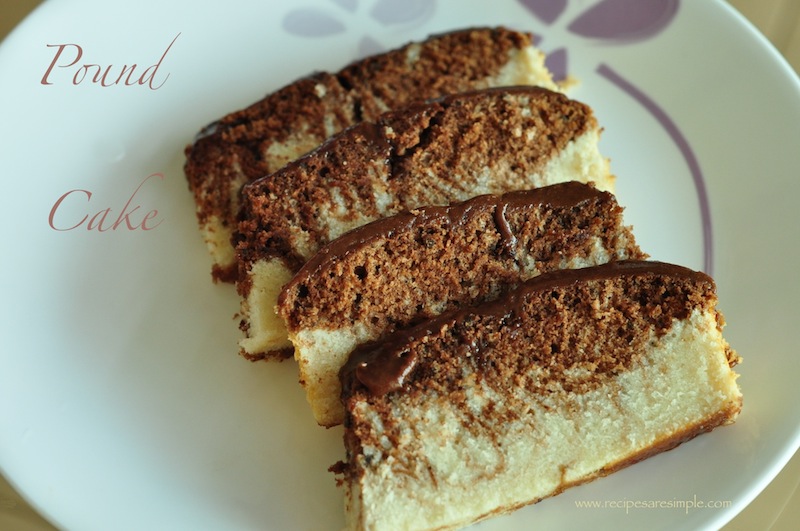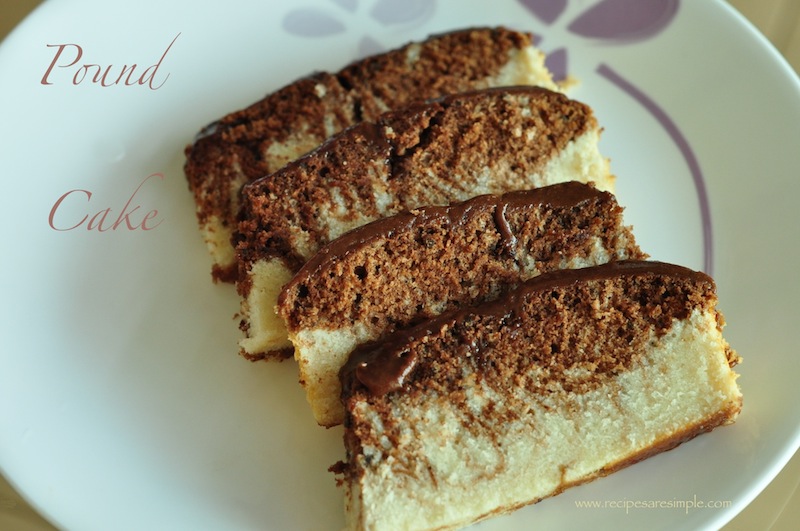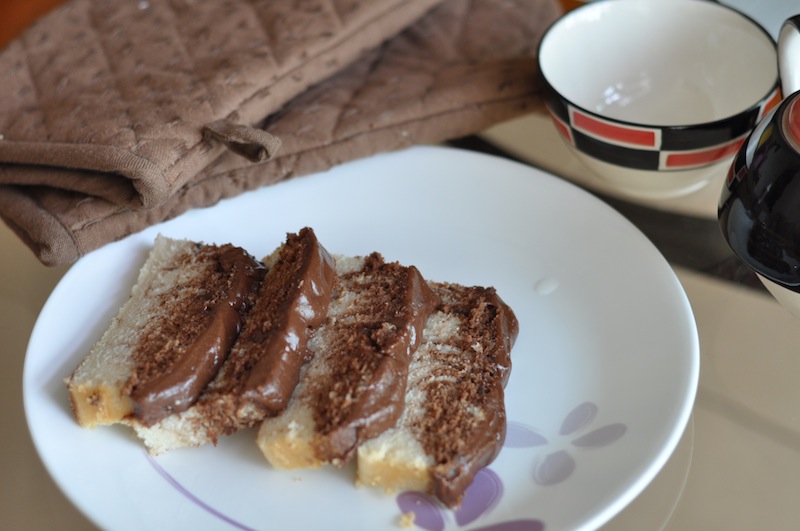 Pound Cake Recipe

Are you one of those moms who always stocks up some Sara Lee frozen cakes for quick tea time snacks?
You Can make the same delicious type of cake at home with many variations. Chocolate chip, Cookies N Cream, Layered or Marble or Plain. It's all delicious. Velvety soft cake that is chilled and served with coffee or tea! Frost if desired.
Pound Cake Recipe
Recipe Type: Main
Author: Recipes 'R' Simple
Prep time: 
Cook time: 
Total time: 
Serves: 6-8
Ingredients:
2 ¼ cups all purpose flour OR 2 ½ cups cake flour
1 ½ cups sugar or extra 2 Tbsp if you like it very sweet
3 ½ tsp baking powder
1 tsp salt
²⁄3 cups vegetable shortening

(not butter)

1 ¼ cups milk
1 tsp vanilla extract
5 egg WHITES only
For frosting (optional)
¹⁄3 cup butter, softened

(not melted)

3 oz baking chocolate bar

(semi sweet) Like Van Houten

1 cup powdered sugar
1 tsp vanilla extract
2-4 Tbsp milk



Method:
Heat oven to 176º C / 350 º F
Grease the bottom and sides of a large rectangular cake pan with shortening (preferred). Recommended: 13×9 " pan. Or 2 Loaf pans.
Lightly flour the surface of the pans. Set aside.
In a large bowl or mixer, beat together the flour, sugar, baking powder, salt, shortening, milk and vanilla extract.
Beat at low speed for 30 seconds.
Then beat at high for 2 minutes, scraping down the sides of the bowl as necessary.
Beat in the egg whites on high for another 2 minutes, scraping down as necessary.
Pour into the prepared pans/pan.
Bake for about 30-35 m for smaller pans and 40 -45 m for large pan OR till toothpick inserted comes out clean.
Cool the cake in the pan for 10 minutes.
Remove to wire rack and cool completely for 1 hour.
Frost if desired when cooled.
Chill and Serve cold.
For frosting:
Melt the chocolate over boiling water (not touching) in a

Baine marie 

.
Cool for at least 5 minutes.
Beat the softened butter, melted cooled chocolate nicely till well blended.
Gradually beat in the powdered sugar on low till well mixed.
Beat in vanilla and milk till smooth and spreadable.

If too thick ; add more milk, if too thin add more powdered sugar.
For Variations:
I have made a Semi Marbled Layered cake. To make such a cake:
Before pouring the batter into the pan/pans, Remove 1 ¾ cups pf the batter to a bowl.
Pour the remaining batter into baking pan.
Stir 3 Tbsp good quality coco powder
and ¹⁄8 tsp baking SODA into the reserved batter in the bowl. Mix well till  smoothely combined.
Drop By Spoonfulls into the baking pan.
For layer effect stir only half way down into the batter and swirl around, not inserting you spatula more than half way down the pan.
For Marbled cake. Use a cake knife and swirl the chocolate batter into the plain batter, cutting through the batter all the way to the bottom. Do not over swirl.(This does not work well with smaller pans).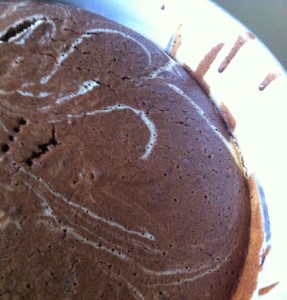 Pound Cake Recipe – Marble Cake Layered Cake
Notes: 
Other Variations:
For Cookies N Cream Cake: Add 1 cup of cream cookies like Oreo (crushed) into the batter before baking. Bake.
For Chocolate chip cake:  Fold in ½ cup semisweet chocolate chips into batter and then continue to bake.
You can add almon extract to the batter instead of vanilla for a change.